All the Times Lady Gaga and Tony Bennett Have Worked Together
Lady Gaga and Tony Bennett are reuniting for a second album of duets.
The duo, who have an age difference of 60 years, have also released a new single and are performing together at Radio City Music Hall in New York City.
Their album, Love For Sale, will be released on October 1 and is available for pre-order. The news was announced as Bennett celebrated his 95th birthday on August 3.
'Love For Sale' by Tony Bennett and Lady Gaga
The singers' second studio album together is made up of songs composed by Cole Porter.
The tracks on Love For Sale will include "It's De-Lovely," "Night and Day," "Love For Sale," "Do I Love You," "I Concentrate On You," "I Get a Kick Out of You," "So In Love," "Let's Do It," "Just One of Those Things" and "Dream Dancing," plus "I've Got You Under My Skin" and "You're The Top" on the deluxe version.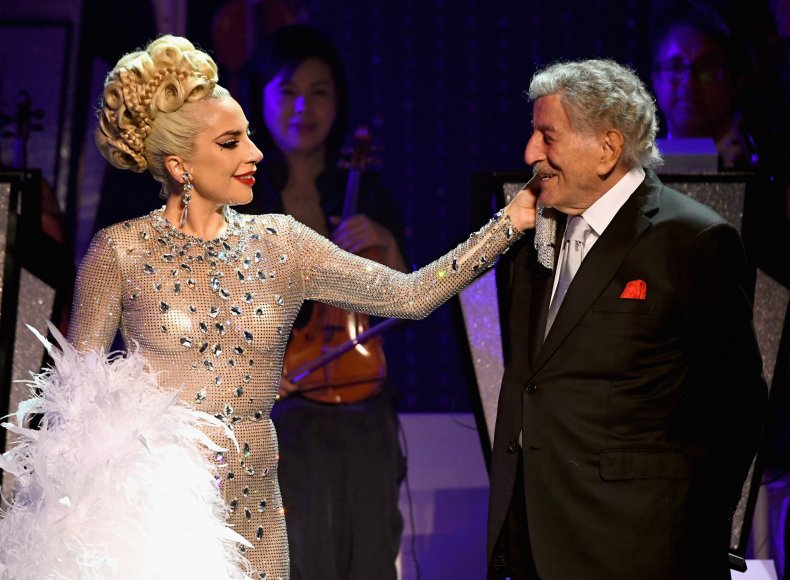 Lady Gaga announced the release on her social media channels, revealing that Bennett had called her on the day they released their first collaboration in 2014 to ask if she'd like to work with him again—this time to celebrate the music of Cole Porter.
She wrote: "I'm always honored to sing with my friend Tony, so of course I accepted the invitation."
Other Projects Lady Gaga and Tony Bennett Have Worked On Together
The singers' 2014 album, Cheek to Cheek, was a collection of jazz standards written by Porter, Irving Berlin, Duke Ellington and others. As well as the title track, it included songs such as "Anything Goes," "Let's Face the Music and Dance" and "It Don't Mean a Thing (If It Ain't Got That Swing)."
The album hit No. 1 on the Billboard 200 and was the highest-selling jazz album in the U.S. in both 2014 and 2015.
They also released a Christmas single in 2014, a cover of "Winter Wonderland."
Lady Gaga later appeared on the album Tony Bennett Celebrates 90, released in 2016. She sang "The Lady is a Tramp" and "La Vie en Rose." Other guest artists included Stevie Wonder, Diana Krall and Leslie Odom Jr.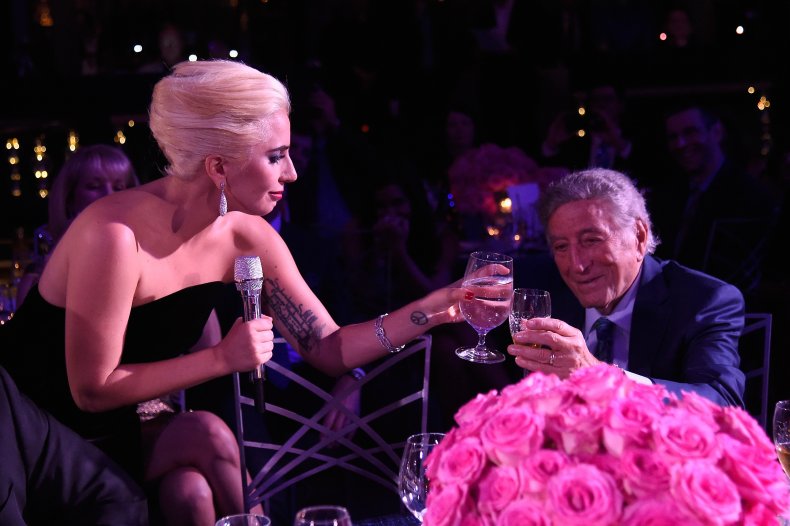 The pair have also had the honor of singing with the Muppets, appearing briefly in the song "We're Doing a Sequel" during the 2014 movie Muppets Most Wanted.
This month, the pair are performing two live shows together at Radio City Music Hall in New York City. The first performance of One Last Time: An Evening with Tony Bennett and Lady Gaga took place on August 3, Bennett's birthday. The second show is on August 5.
Celebrities Wish Tony Bennett a Happy 95th Birthday
Several famous musicians and entertainers wished Bennett a happy 95th birthday on Tuesday.
Messages from Alec Baldwin, Robert DeNiro and the Rolling Stones guitarist Keith Richards were among those shared on Bennett's Instagram account.
Edge and Bono from U2, Bocelli, Steve Buscemi and John Travolta also offered their best wishes, with many of the singer's celebrity friends opening with the line "I get a kick out of Tony Bennett turning 95."
It was revealed earlier this year—in the magazine of the American Association of Retired People—that Bennett was diagnosed with Alzheimer's disease in 2016. He has continued to record, tour and perform in the five years since his diagnosis.
The first single from Lady Gaga and Tony Bennett's album is "I Get a Kick Out of You" and it's available to buy, download and stream now. The album Love For Sale is available for pre-orders now and will be released on October 1.