All The Times Mark Ingram Has Been Lamar Jackon's Hype Man For NFL MVP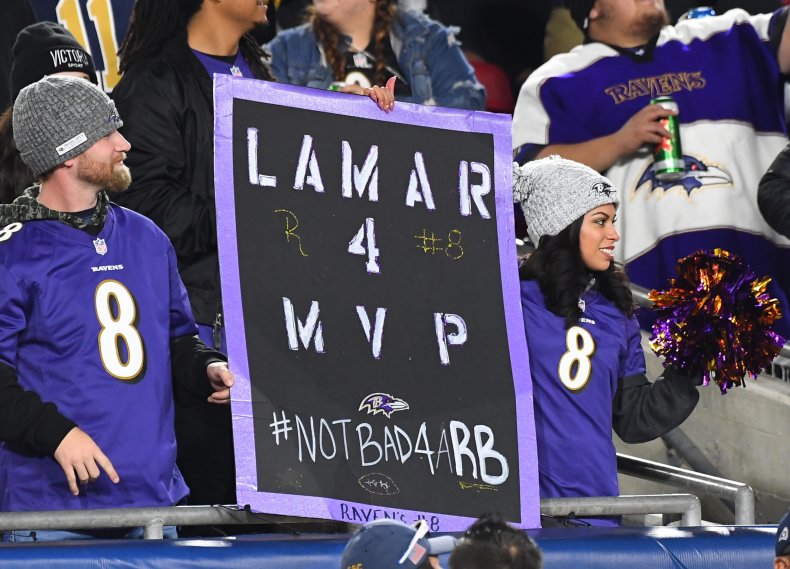 After leading the Baltimore Ravens to a 45-6 victory over the Los Angeles Rams, Lamar Jackson remains the NFL MVP favorite with undying support from his teammate Mark Ingram.
Ingram's latest praise for his quarterback came after the Ravens' win over the Rams.
"LJ for MVP, if you got an issue with it, come see me. Run that back from last week," Ingram said.
The running back began his campaign for Jackson back in Week 7
Ingram as a Jackson's MVP hype man came into the spotlight after the Ravens win against the Houston Texans during week 11. After Jackson threw for four touchdowns and rushed for 79 yards, Ingram took to the post game podium to talk about Jackson's MVP candidacy.
"[He's] the MVP frontrunner, if anybody else got something to say different about that, then come see me," Ingram said.
However, Ingram's support stretches back the Week 7 when the Ravens defeated the Seattle Seahawks. Following the game, Ingram appeared as a guest on Fansided's podcast Stacking the Box and was asked if Jackson should be in the MVP conversation.
"For sure, for sure, and he ain't even playing his best football yet," Ingram said. "I think he should be in that conversation all day."
During Week 9, when the Ravens faced the Cincinnati Bengals, Ingram took it a step further. While sitting on the bench with Jackson during the game, Ingram began an 'MVP' chant directed towards the quarterback and fans quickly picked it up.
The next week, Ingram got his fellow teammates involved in hyping Jackson up during their game against the Texans.
"And you see your MVP right here, you feel me," Ingram said to his teammates after rushing for a touchdown.
As Jackson continues to put up massive numbers -- the quarterback posted 5 touchdowns and rushed for 95 yards against the Rams -- others have expressed their opinions that Jackson should be the league MVP.
"He's [Jackson] the MVP front runner right now," said former NFL player and host of Fox Sport's Undisputed, Shannon Sharpe.
While appearing on Fox Sports' First Things First analyst Chris Broussard went even further than Sharpe, stating that Jackson's "ceiling is the Hall of Fame."
Despite all of the support Jackson has received over the past few games, he has continued to stay humble.
"I'm trying to win a Super Bowl..I'm not worried about MVP," Jackson told the media during his post-game press conference.
Jackson will look to add to his already stellar MVP resume when he leads the Ravens into their Week 13 matchup against the San Francisco 49ers.
All The Times Mark Ingram Has Been Lamar Jackon's Hype Man For NFL MVP | Sports