All the Times the Supreme Court Has Ruled on LGBT Rights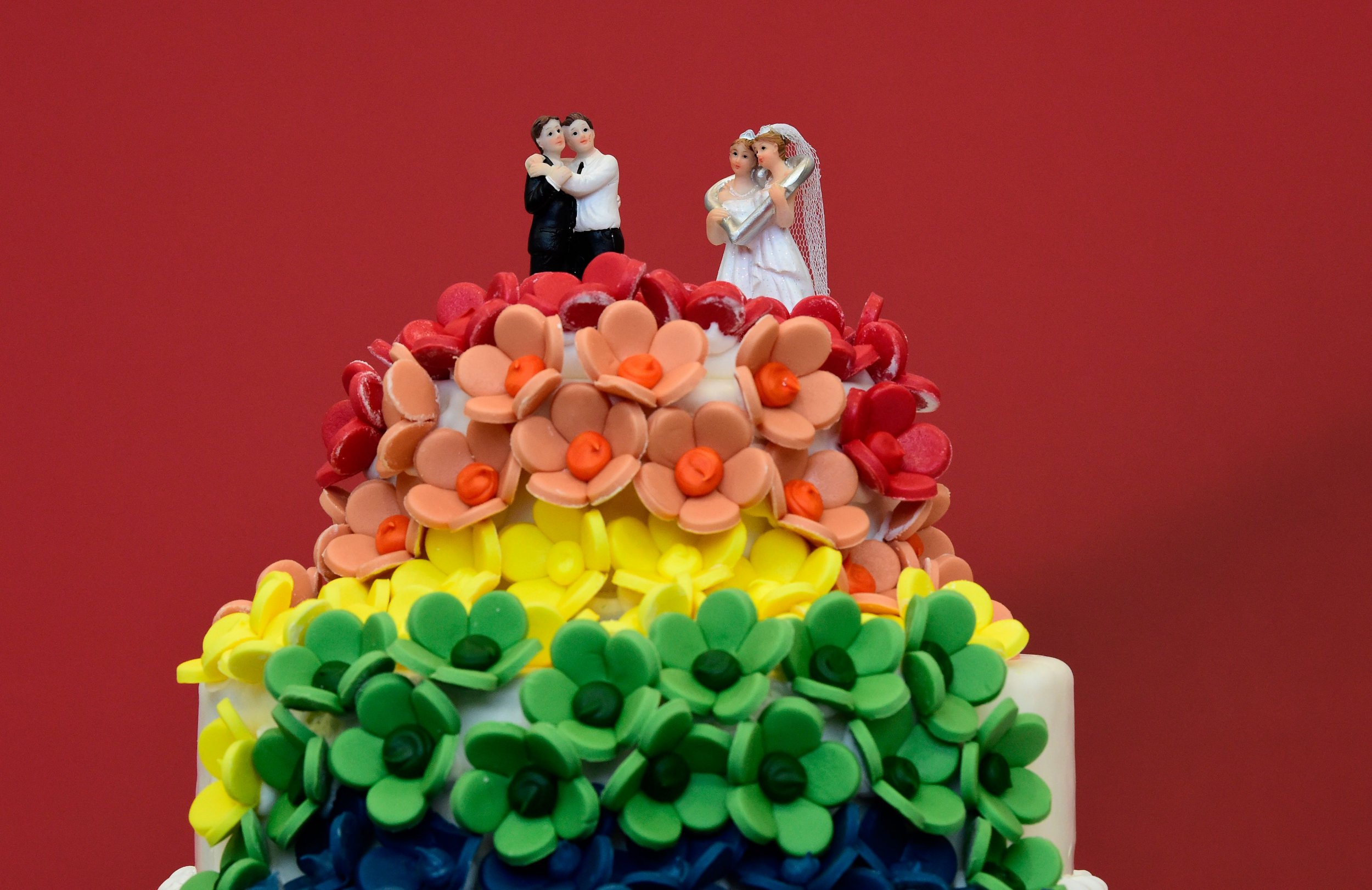 The Supreme Court will hear oral arguments on December 5 in a case that could draw the line between free speech and discrimination.
Masterpiece Cakeshop, Ltd. v. Colorado Civil Rights Commission is, of course, not the first time the Ccourt has decided on LGBT rights, and glancing into the past could give us a peek into future rulings. For instance, conservative Justice Anthony Kennedy has been fairly consistent on voting in favor of LGBT rights.
The current case centers on Jack Phillips, the owner of the Colorado-based Masterpiece Cakeshop, who refused to make a cake for a same-sex wedding. He argues his cakes are art, and as such he shouldn't be forced to make one for anyone he doesn't want to—including David Mullins and Charlie Craig. This same-sex couple ordered a cake from Phillips for their wedding. They claim that Phillips was discriminating against them because they are gay. But Colorado's anti-discrimination law says he can't refuse his service to someone because of their sexual orientation or gender identity.
"He is not merely tolerating someone else's message on his property; he is giving effect to their message by crafting a unique product with his own two hands," the brief submitted to the court of behalf of the Trump administration, in favor of Phillip, stated. "In addition, because Phillips knowingly creates each custom cake for a specific couple and a specific event, observers could reasonably attribute to him a message of neutrality or endorsement."
The case could have serious implications for anti-discrimination law and freedom of expression. And the many prior LGBT right cases that have come before the Supreme Court hint at how this one might go: the court tends to side with anti-discrimination.
One, Inc. v. Olesen in 1958
Win for LGBT Rights
In 1954, the FBI and the Postmaster General of Los Angeles refused to deliver ONE: The Homosexual Magazine on grounds that they found it obscene. ONE was the first LGBT organization in the U.S. to have its own offices, and their magazine was one of the first mass-produced gay publications in the U.S. The magazine sued, and lost the case and subsequent appeal before taking their case to the Supreme Court.
The court didn't even hear oral arguments on the case and issued a short holding that the magazine's writing did not constitute obscenity. Their victory marked the first time the high court not only ruled on LGBT rights, but sided with the LGBT community.
The magazine ceased publication in December 1969.
Bowers v. Hardwick in 1986
Loss for LGBT Rights
In 1986, a police officer in Georgia watched a man have consensual homosexual sex in his own home. Sodomy, at the time, was illegal in Georgia. The man was charged, and the case made it to the Supreme Court, where it found no constitutional protection for acts of sodomy in a 5-4 loss for gay rights. The ruling maintained the Georgia sodomy law that there can be "no connection between family, marriage, or procreation on the one hand and homosexual activity on the other has been demonstrated."
According to the Martin-Quinn score, which rates the ideology of the justices on the court at the time, it was as close to a party line vote that a Supreme Court can get. Every justice who was ideologically liberal voted in favor of gay rights in the case—every justice who was ideologically conservative voted in favor of the Georgia law.
The verdict was overturned 17 years later by Lawrence v. Texas.
Romer v. Evans in 1996
Win for LGBT Rights
In 1992, Colorado residents voted 53-47 for a state constitutional amendment that prevented any laws from including sexual orientation as a protected class in anti-discrimination laws. The case made its way up to the Supreme Court where, in a 6-3 decision, the court found that the Colorado amendment violated the Constitution's equal-protection clause.
Unlike Bowers v. Hardwick, this ruling was not on ideological party lines, according to the Martin-Quinn score. Two conservative justices, Kennedy and Sandra Day O'Connor voted in favor of LGBT rights.
Boy Scouts of America v. Dale in 2000
Loss for LGBT Rights
James Dale was kicked out of his position as an assistant scoutmaster when the Boy Scouts found out he was gay. Dale filed suit, and the New Jersey Supreme Court ruled that the Scouts had to readmit Dale. The Scouts appealed and the case made its way up to the Supreme Court. With a 5-4 ruling, the court decided that dismissing Dale was the Boy Scouts' right. This ruling, according to the Martin-Quinn score, was on ideological party lines.
Eventually, the Boy Scouts lifted its ban on gay youth joining in 2013, on gay adult leaders in 2015, and on transgender members in 2017.
Lawrence v. Texas in 2003
Win for LGBT Rights
Four sheriffs in Texas arrested John Geddes Lawrence Jr. and Tyron Garner for having consensual sex in Lawrence's apartment. At the time, sodomy was illegal in Texas. Their case made it to the Supreme Court, which ruled in the men's favor on a 6-3 vote, overturning Bowers v. Hardwick and declaring sodomy bans unconstitutional nationwide.
Conservative justices Sandra Day O'Connor and Anthony Kennedy were the swing votes. Kennedy wrote that "their right to liberty under the Due Process Clause gives them the full right to engage in their conduct without intervention of the government."
United States v. Windsor in 2013
Win for LGBT Rights
Edie Windsor and Thea Spyer married in Ontario in 2007. When Spyer died, Windsor had to pay more than $360,000 in estate taxes because their marriage wasn't legal in the U.S., even though it was legal in multiple states. She said the Defense of Marriage Act, a law enacted during the Clinton administration that defined marriage as between a man and a woman, was unconstitutional and deprived married same-sex couples from their fifth amendment right to equal protection. On a 5-4 vote, Windsor won.
Kennedy was the swing vote who decided the case. It was the first Supreme Court case that dealt with same-sex marriage, which helped to lay the legal groundwork for the 2015 ruling that would legalize same-sex marriage in all 50 states.
Hollingsworth v. Perry in 2013
Win for LGBT Rights
In 2008, the California State Supreme Court ruled in favor of same-sex marriage. Later that year, voters passed Proposition 8, which banned same-sex marriage in the state. It made its way to the Supreme Court, where the proposition was overturned on a 5-4 ruling, allowing same-sex couples to get married in California. The ruling did not directly affect other states.
Justice Antonin Scalia, the court's most conservative justice, voted in favor of California same-sex marriage, while Justice Kennedy, who had previously ruled in favor of the LGBT community, and liberal Justice Sonia Sotomayor, did not.
Obergefell v Hodges in 2015
Win for LGBT Rights
On June 26, 2015, the Supreme Court voted in favor of same-sex marriage on a 5-4 vote. Once again, Kennedy's vote decided the case.
"As some of the petitioners in these cases demonstrate, marriage embodies a love that may endure even past death," Justice Kennedy wrote the majority opinion. "It would misunderstand these men and women to say they disrespect the idea of marriage. Their plea is that they do respect it, respect it so deeply that they seek to find its fulfillment for themselves. Their hope is not to be condemned to live in loneliness, excluded from one of civilization's oldest institutions. They ask for equal dignity in the eyes of the law. The Constitution grants them that right."