Here Are All The Times Donald Trump Has Defended Himself About Hurricane Dorian Hitting Alabama
President Donald Trump erroneously stated that Hurricane Dorian was going to hit Alabama as the storm made its way toward the United States. Then he doubled down on the claim after the National Weather Service dismissed it. Now, five days later, the president still can't seem to let it go.
The controversy started on Sunday, September 1 with a tweet, in which Trump wrote: "In addition to Florida - South Carolina, North Carolina, Georgia, and Alabama, will most likely be hit (much) harder than anticipated."
Except that wasn't true. The National Oceanic and Atmospheric Administration (NOAA) forecast did at one point say that a small area of southeastern Alabama might be affected by Hurricane Dorian — but by the time Trump tweeted about it the weather agency showed the state wasn't going to be hit at all.
Still, Trump repeated the claim about Alabama to reporters and during a briefing at the Federal Emergency Management Agency (FEMA) headquarters that same day. The media then jumped on the president's error, causing him to go so far as to doctor an official hurricane map with a Sharpie just to include Alabama in Hurricane Dorian's path.
While it was originally unclear who was responsible for falsifying the official government map, The Washington Post reported on Friday that White House officials pointed them to Trump. "No one else writes like that on a map with a black Sharpie," the anonymous official said.
Even though his statements have been entirely debunked, the president still continues to defend himself in countless social media posts and comments to the press. Here are all the times Trump has tried to justify his comments about Alabama and Hurricane Dorian:
The Tweets
Trump has tweeted about Alabama and Hurricane Dorian at least a dozen times since Sunday, September 1.
On Monday, September 2, Trump took to Twitter to bash ABC News over their reporting of his false claims. The network's chief White House correspondent Jonathan Karl had mentioned the issue, prompting the president to call him a "lightweight reporter" and ABC "Fake News!"
Then on Wednesday, Trump retweeted a video posted by the official White House account of his press conference in the Oval Office during which he showed reporters the doctored hurricane map. In the clip, the president said the "original chart" said the storm was going to hit Florida directly and "it would have affected a lot of other states" before it took a "right turn."
He also shared a map from the South Florida Water Management District. The "spaghetti model" map showed lines of the storm extending into Alabama but was dated August 28, days before Trump's original comments on Alabama. The water management district later told CNN that it makes new spaghetti models for storms every 15 minutes.
Trump kept up with his social media posts on Thursday, tweeting multiple different maps of Hurricane Dorian and Alabama. On Friday morning, the president posted three tweets in which he alleged that the media went "crazy" over his comments and were "hoping against hope that I made a mistake (which I didn't.)"
In addition to his tweets, Trump's official Instagram account posted multiple times about the issue. The most recent Instagram post included a photo of a tweet by the Alabama National Guard, which read: "#HurricaneDorian is projected to reach southern Alabama by the early part of the week. We are watching closely and #ready to act. Are you?" The tweet was from August 30.
Official Statements, Comments to the Press
Hours after posting the original tweet about Hurricane Dorian and Alabama on Sunday, Trump told reporters outside the White House about the storm's path.
"The original course was dead into Florida. Now it seems to be going up to toward South Carolina, toward North Carolina. Georgia is going to be hit. Alabama is going to get a piece of it, it looks like," he said.
Later that day, the president spoke at a FEMA meeting and said that new information showed that Hurricane Dorian "may get a little piece of a great place: It's called Alabama." He went on to say that this information "just came up, unfortunately" but did not elaborate on where he got the information from and there was no forecast from the NOAA on Alabama getting hit.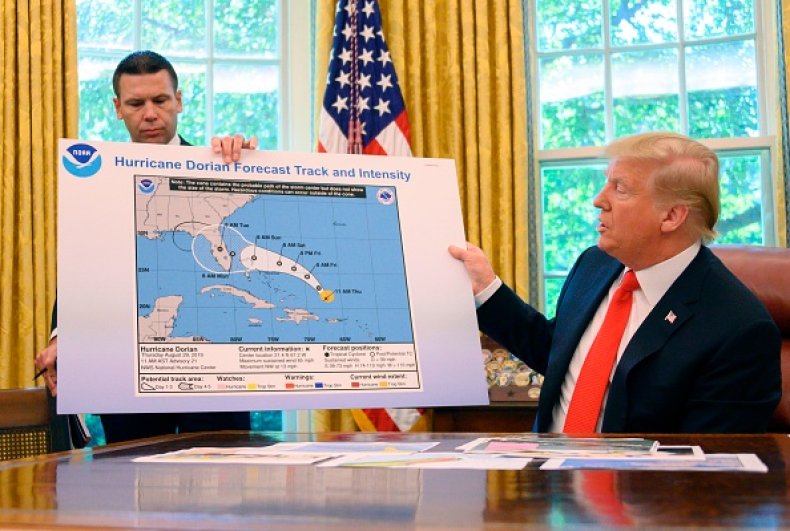 By Thursday, the White House stepped in to help Trump and circulated a statement on official letterhead from Rear Admiral Peter Brown, a Homeland Security and counterterrorism adviser. Brown said that he briefed Trump multiple times about Dorian as well as models that showed the potential path of the eye of the storm.
"These products showed possible storm impacts well outside the official forecast cone," Brown wrote. He added that "the president's comments were based on that morning's Hurricane Dorian briefing, which included the possibility of tropical storm force winds in southeastern Alabama."
That same day, Trump called Fox News reporter John Roberts into Oval Office to defend himself. In an internal email Roberts sent about his meeting with the president (which was obtained by CNN) he wrote that "[Trump] stressed to me that forecasts for Dorian last week had Alabama in the warning cone. He insisted that it is unfair to say Alabama was never threatened by the storm."
Sharpie-gate
Trump appeared in the Oval Office on Wednesday to discuss Hurricane Dorian and displayed a NOAA forecast chart from August 29. Quickly, reporters noticed that the map had been altered with a black line that took the hurricane's projected path into Alabama.
Janice Dean, a senior meteorologist for the Fox News Channel, blasted the map as "inaccurate, misleading and fake."
Trump also claimed during the Oval Office presser that "Alabama was in the original forecast" and that "they actually gave that a 95 percent chance." He never said who "they" was and the NOAA never gave such a forecast for Alabama.
At first, it was a mystery as to who doctored the map. Legal experts noted that falsifying a National Weather Service forecast and try to pass it off as an official document is a violation of federal law.
One White House official reportedly told Fox News that it "was someone in the room when Trump was meeting with his emergency team" but wouldn't say exactly who it was. Then, the Post reported that it was actually Trump himself.