All of the Ways Guzmán and Ander Could Return in 'Elite' Season 5
Elite season 4 is streaming on Netflix now and fans have been watching—and re-watching—the Spanish teen drama ever since it dropped in mid-June. The new series featured some new characters after several of the show's original cast departed the series at the end of Elite season 3. But fans were not prepared to see Elite originals Guzmán (played by Miguel Bernardeau) and Ander (Arón Piper) leave their classmates behind.
Throughout season 4, Ander and Guzmán's relationships were truly put to the test.
For Ander, not only did he reconcile with long-term boyfriend Omar (Omar Ayuso), but he was also the main driving force behind opening up their relationship to the new kid on the block, Patrick Blanco Commerford (Manu Ríos).
After several steamy threesomes, it quickly became clear Ander and Patrick had a deeper connection which ultimately jeopardized his relationship with Omar, the person he loved most.
On the other hand, Guzmán was struggling to make his long-distance relationship with girlfriend Nadia (Mina El Hammani) work.
Elite fans will recall Nadia moved to New York on a scholarship to study at Columbia University at the end of season 3 and sadly, the distance was too much of a strain on their relationship.
After calling it quits with Nadia, Guzmán set his eyes on new girl Ari (Carla Díaz). The pair quickly began dating but in the end, Ari's true feelings were for Samuel (Itzan Escamilla), leaving Guzmán feeling rejected and quite frankly, lonely.
Not everything was doom and gloom for Guzmán and Ander despite their respective heartbreaks. Ander and Omar managed to salvage their relationship, delighting Elite fans across the world.
Things did take a bittersweet turn, with Omar insisting they put a pause on their relationship so Ander could fulfil his dream to go traveling. In short, they agreed to see other people and would try to pick up where they left off once Ander returned to Spain.
It was no surprise Ander was joined by Guzmán, who is now technically a killer on the run after he killed seedy businessman Armando in the series finale.
Actors Miguel Bernardeau and Arón Piper have not yet confirmed their exit, or their return to Elite season 5 , which has already been given the green light by Netflix.
Regardless of their character journeys, fans are hopeful this will not be the last time they see Guzmán and Ander.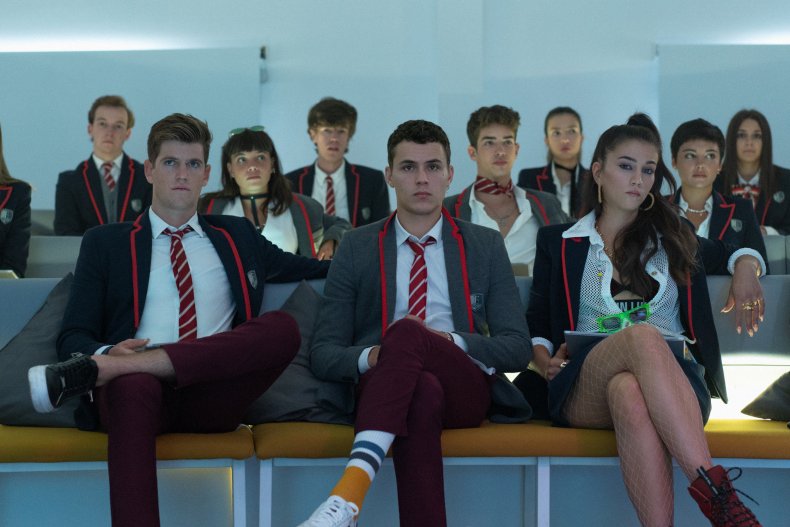 All of the ways Guzmán and Ander could return to Elite
1. Guzmán becomes a murder suspect
Elite would not be Elite without an unsolved murder at the hands of one of Las Encinas' students.
This time around, it was unexpectedly Guzmán who ended up being the killer of the series.
He shot and killed Armando (Andrés Velencoso), the man who had been sexually abusing Ari's sister Mencía and attacked the former on the pier, leaving her for dead.
Guzmán chased down Armando who violently attacked him, causing the former to shoot in self-defense.
At the end of Elite, Guzmán with the help of Samuel (Itzan Escamilla) and Rebe (Claudia Salas) were seen dumping Armando's lifeless body into the same lake the murder weapon from Elite season 1 was chucked into.
Armando's death is currently a secret between Rebe, Guzmán, and Samuel but what if one of them spills the truth?
If so, Elite fans could see Guzmán being extradited back to Spain to stand trial for Armando's murder.
2. Ander can't live without Omar
Ander and Omar are one of the most popular couples to come out of Elite.
In season 4, their relationship was pulled in all different directions with Omar willing to sacrifice his happiness so Ander could follow his dreams.
The couple put a pause on their relationship but did not stop short of confessing their undying love for one another.
They promised each other they would reunite once Ander returned from traveling and there is always the possibility Ander could turn his back on his adventures to be with Omar.
3. A coronavirus storyline
The fifth season of Elite is currently in production and it would be hard to ignore the existence of the coronavirus pandemic.
There is a high chance the upcoming series will not touch on the ongoing pandemic, but if the show's writers did choose to include it in the plot, it could serve as an excuse to prevent Ander and Guzmán from going traveling around the world.
4. Nadia and Guzmán reunite
If Guzmán and Ander do return to Elite season 5, they do not necessarily have to return to the world of Las Encinas.
One thing is for sure fans are hoping at some point down the line Nadia and Guzmán will get back together.
A Guzmán-and-Nadia reunion is not entirely unrealistic in Elite season 5 as Guzmán's travels could take him to New York City.
Hopefully, fans will not have too long to wait for Elite season 5 to land on Netflix.
Elite seasons 1 to 4 are streaming on Netflix now.