All of WikiLeaks' Messages to Donald Trump Jr.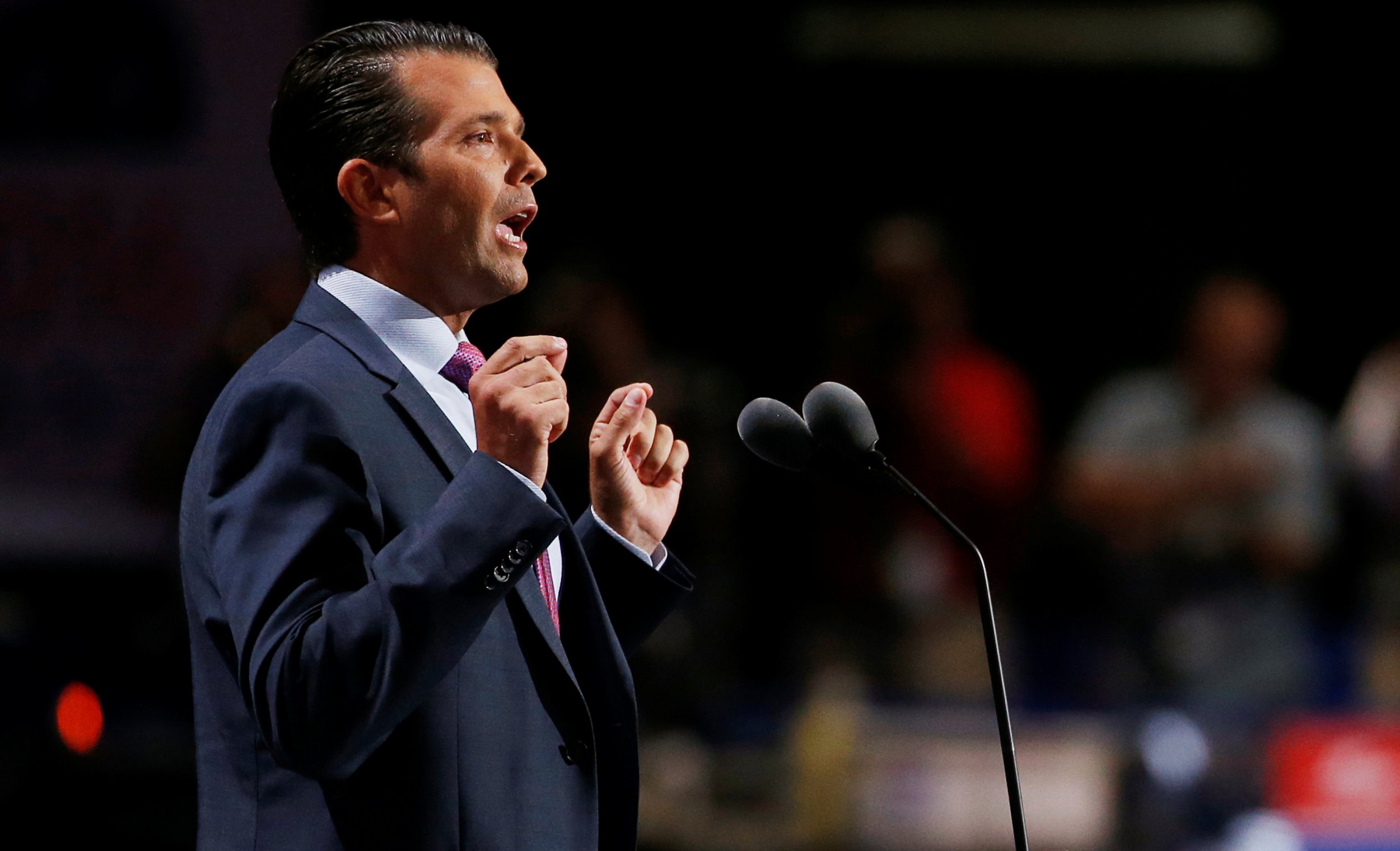 Early last October WikiLeaks urged Donald Trump Jr. to get his father to promote the transparency group's trove of hacked Democratic Party emails.
The direct message on Twitter came just minutes before then–presidential candidate Donald Trump sent out a tweet in support of WikiLeaks' release of the hacked emails that gave a glimpse into the presidential primaries as fought by candidate Hillary Clinton.
"Hey Donald, great to see you and your dad talking about our publications. Strongly suggest your dad tweets this link if he mentions us wlsearch.tk," the WikiLeaks Twitter account wrote to Trump Jr. The messages were first obtained by The Atlantic, but were shared online by Trump Jr. on Monday.
"You guys can get all your followers digging through the content," WikiLeaks' message continued. "There's many great stories there the press are missing and we're sure some of your follows [sic] will find it." The account is thought to be helmed by the website's publisher Julian Assange and a handful of his closest supporters, including his activist girlfriend Sarah Harrison.
Fifteen minutes later, candidate Trump sent out this tweet: "Very little pick-up by the dishonest media of incredible information provided by WikiLeaks. So dishonest! Rigged system!"
The messages between WikiLeaks and Trump Jr. have been turned over by Trump Jr.'s lawyers to Congress and the ongoing investigations examining whether the Trump campaign assisted Russia's push to interfere in the 2016 election.
Read more: Did Trump really win the election?
According to America's key intelligence agencies, which published a report about it early this year, one way in which Russia interfered was by hacking and stealing about 150,000 emails from the Democratic Party and Clinton's campaign. The agencies found that the emails were then published by WikiLeaks.
Assange maintains the group did not receive the trove of emails from Russia. But the group's messages with Trump Jr. show WikiLeaks calling on him to spread and publicize the hacked emails.
The initial messages were sent on October 3. Four days later, WikiLeaks began publishing emails stolen from Clinton's campaign director John Podesta.
"I cannot confirm the alleged DM's from @DonaldJTrumpJr to @WikiLeaks. @WikiLeaks does not keep such records and the Atlantic's presentation is edited and clearly does not have the full context," Assange tweeted Monday.
"Here is the entire chain of messages with @wikileaks (with my whopping 3 responses) which one of the congressional committees has chosen to selectively leak," Trump Jr. tweeted after the story broke.
The chain shows WikiLeaks encouraging Trump Jr. to promote an unverified story from a little-known news outlet, True Pundit, that said Clinton called for a drone strike on Assange. The WikiLeaks founder has lived only in Sweden and the United Kingdom since WikiLeaks began drawing U.S. attention by releasing the Iraq War Logs in 2010.
The chain also show WikiLeaks soliciting Trump Jr. on October 21, 2016, to allow them to publish his father's tax returns.
"If we publish them it will dramatically improve the perception of our impartiality," the message to Trump Jr. said. "That means that the vast amount of stuff that we are publishing about Clinton will have much higher impact, because it won't be perceived as coming from a 'pro-Trump' 'Pro-Russian' source."