All-You-Can-Eat Chinese Restaurant Goes Bankrupt in Two Weeks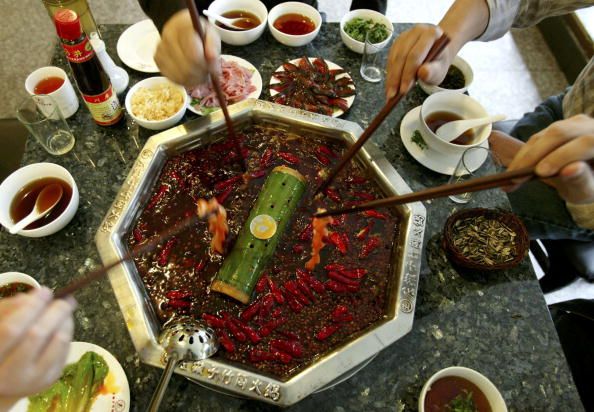 A Chinese hot pot restaurant was forced to shutter after an all-you-can-eat offer left the company around $78,000 in debt.
Jiamener, a restaurant in the city of Chengdu in China's Sichuan province, had offered a monthly membership for $19 that allowed customers to eat an unlimited amount of food throughout the month starting June 1. But the customers were so enthusiastic about the all-you-can-eat hot pot deal that they ate the restaurant into bankruptcy. The restaurant was forced to close after less than a month because hundreds of new customers began flooding in, taking full advantage of the buffet.
Reports suggested that at least 500 customers visited the restaurant every day. Patrons allegedly shared the monthly membership card with their family members, and customers formed long lines that lasted from 8:00 a.m. until long past normal closing hours. The restaurant's overworked staff was reportedly working 10-hour shifts to keep up with the demand. One of the restaurant owners said he had only slept two or three hours a night during the promotion period.
One of the restaurant's owners told local media that the company was aware that it might lose money from the deal, but it had aimed to develop a loyal clientele. Still, the promotion proved so disastrous that the restaurant lost money and is now deeply in debt.
Chengdu city is the capital of Sichuan and has a population of around 14 million inhabitants. In recent years, the city has become a popular tourist destination, particularly for Australian visitors. Throughout the past several years, the city has developed the most successful economy on mainland China, with Shanghai and Tianjin following close behind. It has a busy nightlife and plenty of restaurants, but the city is especially well-known for its hot pots.
A hot pot is a method of Chinese cooking in which food is prepared in a pot of soup placed in the middle of the table. Soup broth is placed on a burner in the middle of the table and meat, seafood, vegetables and tofu are thrown into the pot.
"If you speak to a local about your stay in Chengdu, they'll probably ask if you've sampled hotpot. Everyone who lives here seems to love it, and trying it should be a mandatory part of everyone's culinary tour of Sichuan," notes one Chengdu tourism website. "Hotpot restaurants can be found on pretty much every street in Chengdu, but the quality and taste can vary hugely….. Sichuan food is renowned for being spicy, oily and packed with plenty of numbing Sichuan peppercorns, and the traditional hotpot is no exception. Even for those used to the local cuisine, hotpot can still be quite taxing on the digestive system."
Reports did not suggest that any of the customers who visited Jiamener had fallen ill from overeating.