All You Need to Know for Tonight's Republican Debate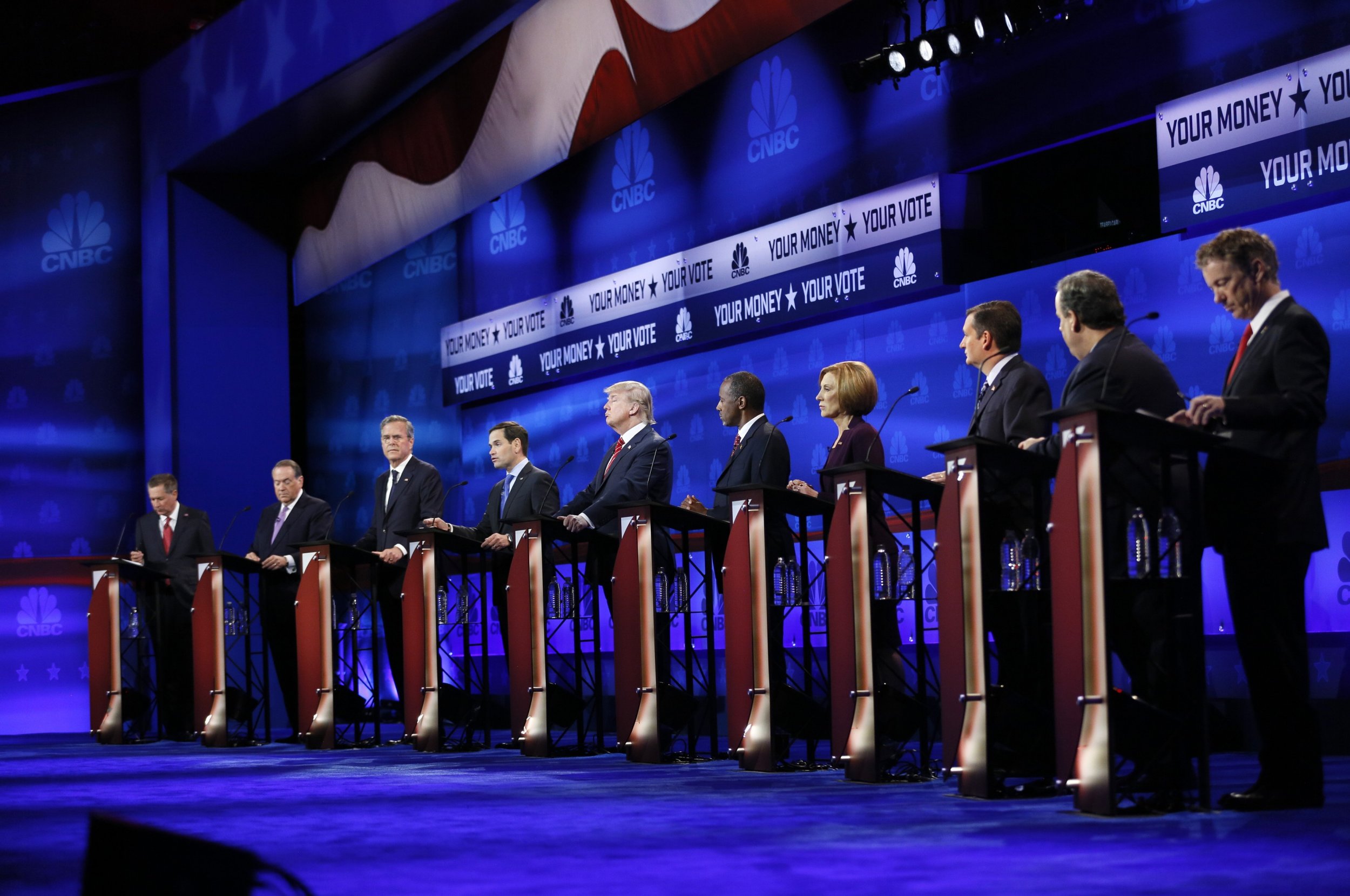 The eight top-ranked Republican presidential candidates will face off Tuesday night in the fourth GOP debate of the election season, an event the host—Fox Business Channel—has billed in an advertisement as "the real debate about our economy and our future."
The channel is going out of its way to contrast this debate with the fumbled showdown hosted by CNBC two weeks ago. That event prompted widespread conservative derision of the channel, and of the media in general.
Real estate mogul Donald Trump is the top candidate in the polling criteria Fox used to decide which candidates would land spots on the debate stage. Trump is followed by retired neurosurgeon Ben Carson, Florida Senator Marco Rubio, former Florida Governor Jeb Bush, former business executive Carly Fiorina, Texas Senator Ted Cruz, Ohio Governor John Kasich and Kentucky Senator Rand Paul. They will take the stage at the Milwaukee Theater in Wisconsin at 8 p.m. CT, 9 p.m. ET for two hours.
New Jersey Governor Chris Christie, who had been on the main stage during the previous three debates, failed to qualify for a spot. Once seen as a rising star in the Republican party, Christie has seen his campaign struggle to gain traction during this election season.
"It doesn't matter the stage, give me a podium and I'll be there to talk about real issues," he said in a Twitter message posted on Thursday.
He will participate in the "undercard" debate before the main event, during which he'll be joined by former Arkansas Governor Mike Huckabee, former Pennsylvania Senator Rick Santorum and Louisiana Governor Bobby Jindal. That debate will start at 6 p.m. CT, 7 p.m. ET.
Viewers of the main debate can expect the host to go wonky, with plenty of discussion about tax rates and tax plans. Most of the top-tier GOP candidates have rolled out proposals to simplify the tax code and lower rates, but many have faced blowback over the idea that their plans offer disproportionate benefits to the wealthy. Job creation and America's sluggish economic growth also will be front and center.
The Republicans in the 2016 presidential race are eager to paint themselves as champions of the middle class, and have been touchy about portrayals that suggest they're too friendly with Wall Street or the billionaire class. They'll be pressed to explain exactly how their policies line up with their rhetoric.
The candidates will be eager to tout their own economic records—for Trump, it's the wealth he has accrued and "great deals" he has made in business over the years; for Kasich, it's the Buckeye State's return to growth after years in the doldrums; and for Bush, it's his home state's boom in the 2000s (he'll probably omit the subsequent real estate crash that happened shortly after he left office).
It will be interesting to see if the debate's moderators try to challenge those narratives or individual frailties, such as Rubio's problems with personal money management. When CNBC did so, the candidates derided the questioners for taking a page out of the Democrats' talking points.
Reince Priebus, chairman of the Republican National Committee, criticized CNBC's moderators for their handling of the event, calling them "extremely disappointing."
The moderators for the debate sponsored by Fox and The Wall Street Journal are Fox's Neil Cavuto and Maria Bartiromo and the Journal's top editor, Gerard Baker. They have said they aim to be the "anti-CNBC."
The other Republican contenders, South Carolina Senator Lindsey Graham, former New York Governor George Pataki and former Virginia Governor Jim Gilmore, failed to gain enough of support to qualify for either debate. Wisconsin Governor Scott Walker and former Texas Governor Rick Perry have already dropped out of the GOP race.
Tuesday's debate will be streamed online at FoxBusiness.com.
The three Democratic candidates—former Secretary of State Hillary Clinton, Vermont Senator Bernie Sanders and former Maryland Governor Martin O'Malley—will face off in their third debate on Saturday night.
Emily Cadei contributed to this report.