Professor Who Correctly Predicted 7 of Last 8 Elections Says Bernie Sanders Will Win Nomination Or Democrats Will See Brokered Convention
A political science professor with a history of correctly predicting the outcome of U.S. presidential elections said Democratic Party could be facing a broken national convention when it comes to determining who will be nominated to face President Donald Trump in November.
Allan Lichtman, who serves as a political science professor at American University and is the co-creator of the "The Keys to the White House" prediction model, made the comments in an interview with The Independent.
Lichtman told the publication he believes that Vermont Senator Bernie Sanders, the current frontrunner in the Democratic presidential race, is the most likely candidate to receive the nomination. However, if Sanders isn't nominated, Lichtman said there will be no clear winner and force a brokered convention.
"I think the most likely outcomes are [Bernie] Sanders wins or nobody wins, and for the first time in over 50 years we actually have a convention nominating the candidate," he told The Independent. "And that would be very interesting, who knows what might come out of that."
For a candidate to win the nomination, he or she must obtain 1,991 delegates. If no candidate manages to do so, the process becomes brokered or contested, allowing superdelegates to enter the fray and vote on a second ballot. Rounds of voting would continue until a winner is declared.
Superdelegates step in if a candidate does not have a majority of delegates and they vote on a second round, which would open up the possibility of the nomination going to any candidate. The New York Times reported that only nine of 93 superdelegates questioned by the newspaper said that Sanders should receive the nomination based solely on arriving at the convention with a plurality, instead of the majority of delegates.
Currently, Sanders leads the other candidates with 45 delegates. He's followed by former South Bend, Indiana Mayor Pete Buttigieg with 25, former Vice President Joe Biden with 15, and Massachusetts Senator Elizabeth Warren with eight. Between Saturday's South Carolina primary and Super Tuesday, 1,344 delegates are up for grabs.
According to Five Thirty Eight, there is a 52 percent chance that no one will receive the amount of required delegates. Sanders leads the candidates with 32 percent chance of reaching it, double Biden's likelihood of 16 percent.
Lichtman told Newsweek that Super Tuesday's results may indicate whether there will be multiple rounds of voting when the convention comes. "To knock [Sanders] out -- that would be a big surprise, but I think you could make it close enough to go into multiple rounds of voting, particularly if some of the lesser contenders win some primaries," Lichtman told Newsweek. "Will Klobuchar win Minnesota? Can Bloomberg win a primary or two? Remember these are not winner take all. Even if Sanders wins a lot of primaries on Super Tuesday, he may not accumulate enough delegates to get a majority."
Lichtman told Newsweek that if Sanders does not enter the convention with a majority, there isn't a "superstar candidate" that could definitively get the nomination, and it's unclear who delegates would pick.
"Based on my 13-key system, this election is primarily is going to be a referendum on Donald Trump, and there is no way to predict which of the many contenders is more electable than the other," he said. "So, primary voters, for anyone in the Democratic party, support who you believe in. Don't try to calculate electability. That's a false poll."
Lichtman's model has correctly predicted all but one presidential election since 1984. The only election the model, developed by Lichtman and Vladimir Keilis-Borok, missed was in 2000 when it said Al Gore would defeat George. W. Bush. However, the model does not predict primary results.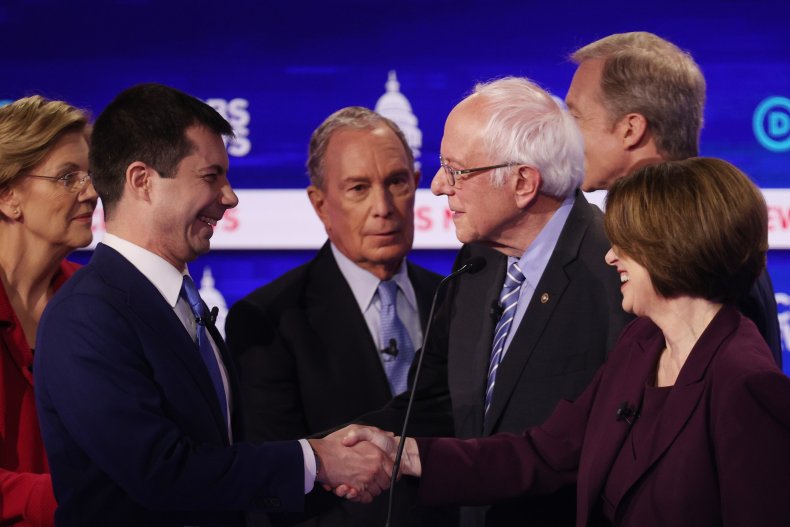 As the candidates prepare for Super Tuesday, Sanders leads candidates in California, the Super Tuesday state with the most delegates at 415. The poll from UC Berkley's Institute of Government Studies, conducted for the Los Angeles Times, found 34 percent of 3,002 likely California voters preferred Sanders, double the amount that preferred Warren.
A nationwide Fox News poll conducted ahead of Tuesday's primaries showed Sanders leading the other candidates with 31 percent, 13 points more than Biden, who took second place in the poll.
On Thursday, Lichtman gave The Independent his prediction for the general election, saying the coronavirus outbreak may cost President Donald Trump his reelection. He said that while it is uncertain what impact the virus will have, the economic troubles that have come with the novelty virus may hurt Trump's chances.
"One of the big issues that is clearly hanging fire is what's going to happen to the economy in light of the coronavirus crisis," Lichtman told The Independent. "We have no idea, the crisis could peter out or it could lead to a worldwide pandemic that could slide America into recession, which would obviously doom Donald Trump."
Correction 12:02 PM ET: An earlier version of this story had incorrectly listed the number of delegates that could be won on Super Tuesday.