Allbirds vs. Rothys vs. Tieks: Who Makes the Most Comfortable Flats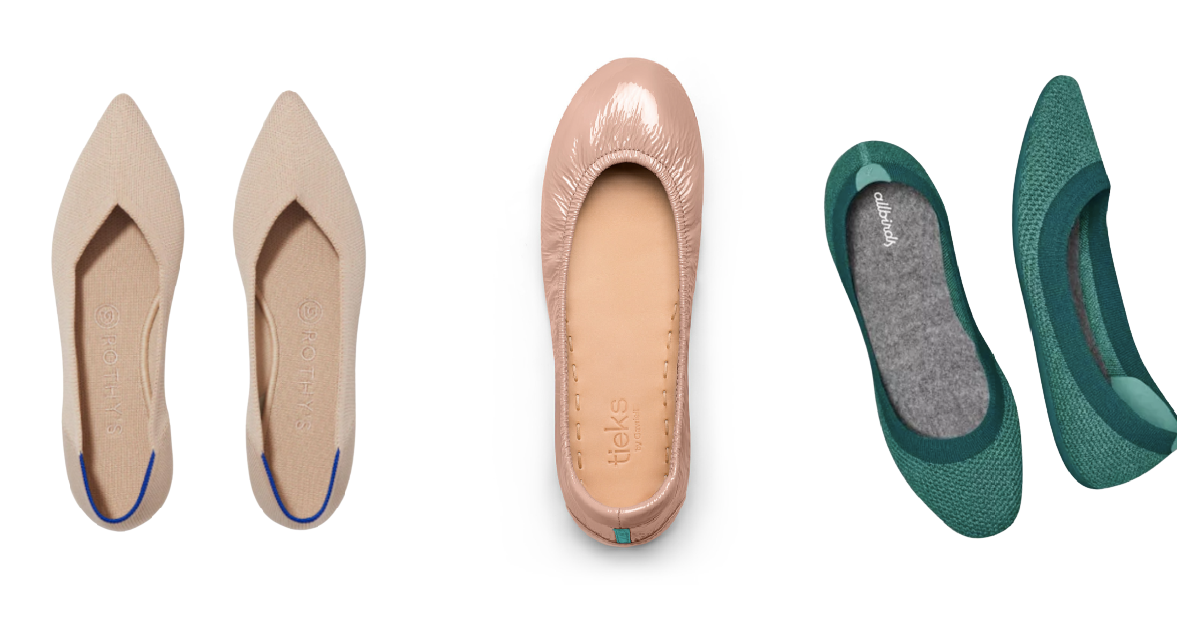 When it comes to comfy sneakers, Allbirds reign supreme. But if it's quality flats you're looking for—flats that are well-fitting, cozy, don't break the bank and are sustainable to boot—then a little more research is required. After all, flats are a whole different ball game. There's less support, a somewhat formal look and arguably, more to the style. Aside from Allbirds, other brands like Rothy's and Tieks also have pretty good reputations for their flats. So, whose is best?
To be clear, here's what we're looking for in our flats: first and foremost, comfort. Flats should be commuter-friendly and blister-resistant (duh!). Second, there should be no lack of style. After all, who wants ugly flats? And third—last but not least, of course—they should be somewhat cost-efficient. As in, under $200. Oh, and as a bonus, each of these brands focus on sustainability and make machine-washable flats, too.
Ready for our recommendation? Newsweek compared some of the most popular styles at Rothy's, Allbirds and Tieks so you could make the best decision for you.
Best Comfortable Flats From Allbirds, Rothy's and Tieks
Rothy's The Point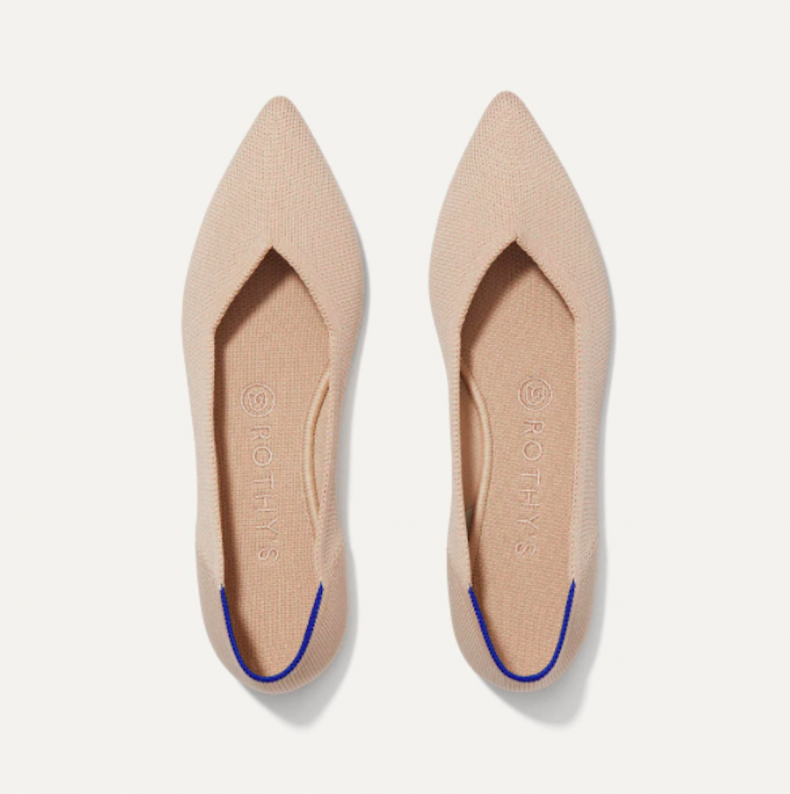 Price: $145
What You Need to Know: With a not-so-subtle pointed toe that could make even the sleekest pair of stilettos jealous, the characteristic we love most about The Point by Rothy's is just how dressy it is. Even if you're wearing jeans and a tee, you can slip on these comfortable, eco-friendly and machine-washable flats to elevate instantly. They easily transition from day to night, but if your work look trends on the more casual side of the spectrum lately (raise your hand if you're still working from home), slipping on The Point after a day of working-from-the-couch makes any outfit immediately evening chic. This style from Rothy's also comes in more than 20 different colors and patterns, so you never have to worry about foregoing fashion. Clearly, The Point rates high (at least with us!) on cuteness and versatility, but it also gets sustainability points for being designed with thread spun from recycled plastic water bottles.
User reviews: Rothys.com reviewers have awarded The Point with a 4.6-star rating out of a possible five. One user wrote, "Love my Rothy's—this is my 4th pair. I'm a weird one where I have to go with different sizing between the flats, The Loafer and The Point, but all are equally comfortable!"
Buy at Rothy's.
Rothy's The Flat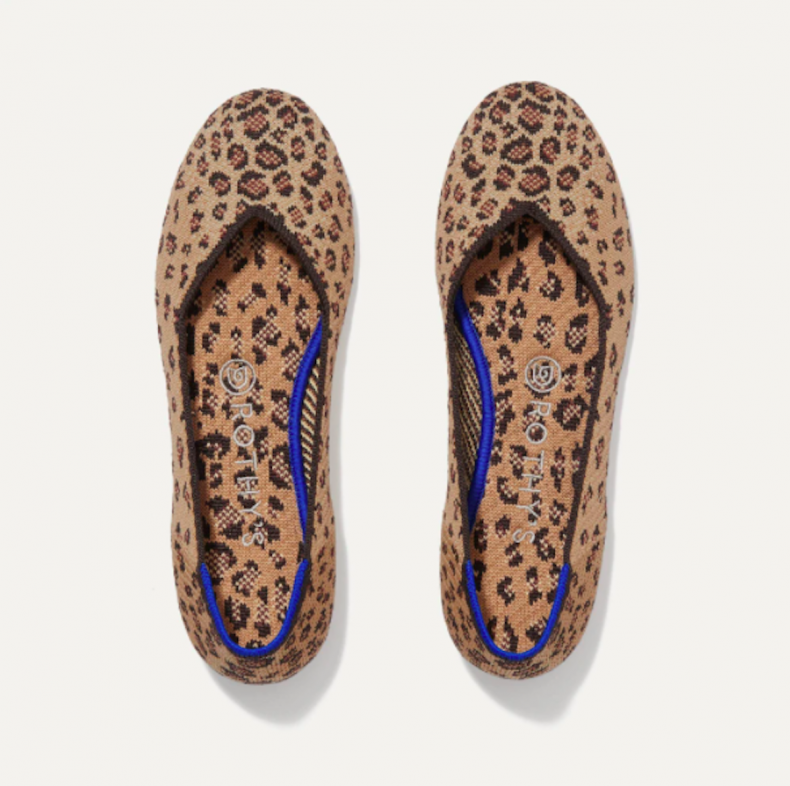 Price: $125
What You Need to Know: Slightly more casual but certainly just as comfortable is The Flat, also from Rothy's. The rounded toe brings the wow factor down a bit, but if it's an everyday flat that you're on the prowl for, this one might be more your speed. This Rothy's style comes in 20 different colors and designs, ranging from the cheetah, above, to a wisteria-inspired print and even camo. Visuals aside, dare we say The Flat is even more comfortable than The Point, at least in terms of walkability, and also if you plan on wearing The Flat during an 8-hour workday. Even still, all Rothy's shoes are specifically designed to conform to the contours of your feet. You may be skeptical and worried about blisters, but these shoes really are a good option for those on their feet all day.
User reviews: The Flat has amassed an overall rating of 4.9 stars out of a possible five on Rothys.com. However, this print in particular has fewer reviews than some of the other colors and designs. The cheetah print is considered a neutral now, so perhaps more people will be inclined to buy it. One happy customer wrote, "These are my third pair of Rothy's. They are soo cute and comfy."
Buy at Rothy's.
Allbirds Tree Breezers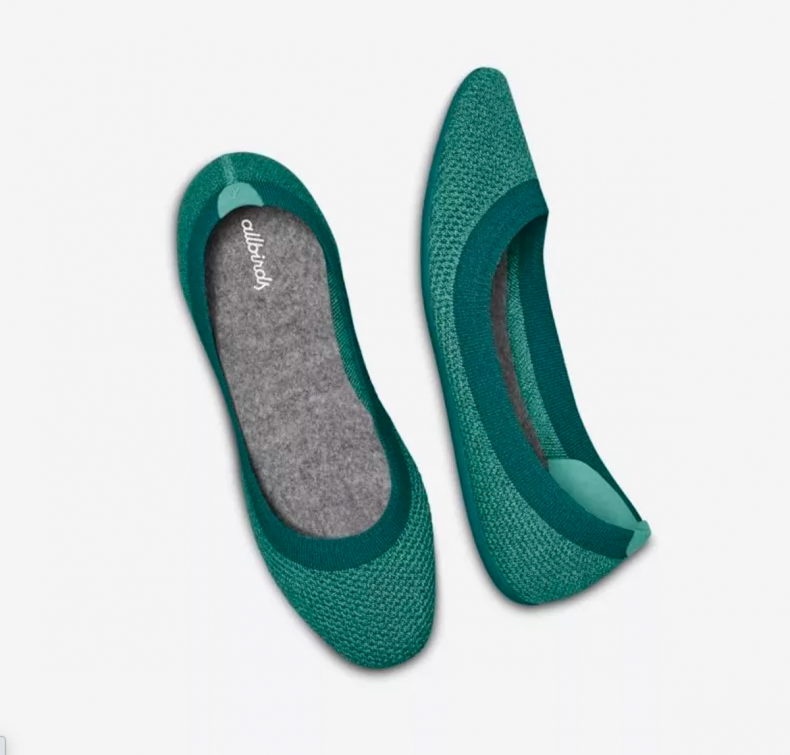 Price: $95
What You Need to Know: If you're an anti-flats person—who somehow still found themselves here—these are the shoes we would recommend trying first. For starters, the Tree Breezers from Allbirds are the least expensive of all the flats compared here, and if you're unsure about whether you can be converted to a frequent flat wearer, you'll want to spend less before shelling out more. The Tree Breezers are the sole flat style that Allbirds makes, and that's because, well, they couldn't make a better flat! These flexible shoes are made with moisture-wicking eucalyptus fibers as well as an odor-reducing insole made from castor bean oil and Merino wool. (Of course, that nabs these shoes extra points for honoring Mother Nature!)
User reviews: With 1,234 reviews and a 4.8-star rating on Allbirds.com, it's not hard to see why customers love these flats so much. One reviewer wrote, "Lightweight and comfortable. Perfect to just skip on and go. Casual or a little dressy, especially the black. Great for packing."
Buy at Allbirds.
Tieks Blush Patent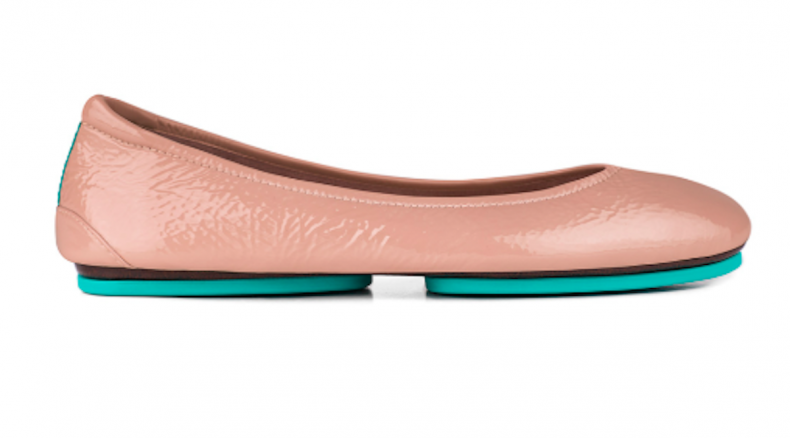 Price: $195
What You Need to Know: And then, there's Tieks. As a brand, Tieks prides themselves on giving the classic ballet flat an upgrade into something significantly more comfortable and therefore, more wearable—all without sacrificing style. The Blush Patent flat is made with 100 percent soft, full-grain leather, and most uniquely, it features a bright teal thick, non-skid rubber outsole patch for shock absorption, traction and support. (There's also a vegan line, too, if that's something that's important to you.) Tieks—no matter which style or collection you get—are also super portable, as they can be folded and unfolded repeatedly without losing shape. Oh, and despite being leather, they can be thrown in the washing machine, too, for the ultimate convenience factor!
User reviews: In a review post for Tieks, blogger Cailtin Houston wrote, "Tieks are the perfect combination of comfort and chic. The best part about Tieks is that they are stylish enough to go from day to night. With the addition of a blazer and a clutch, I took an easy daytime outfit to a stylish nighttime outfit. Whether it's the sporadic date night or girls night out, Tieks are the perfect shoe for Moms."
Buy at Tieks.
Tieks Neon Collection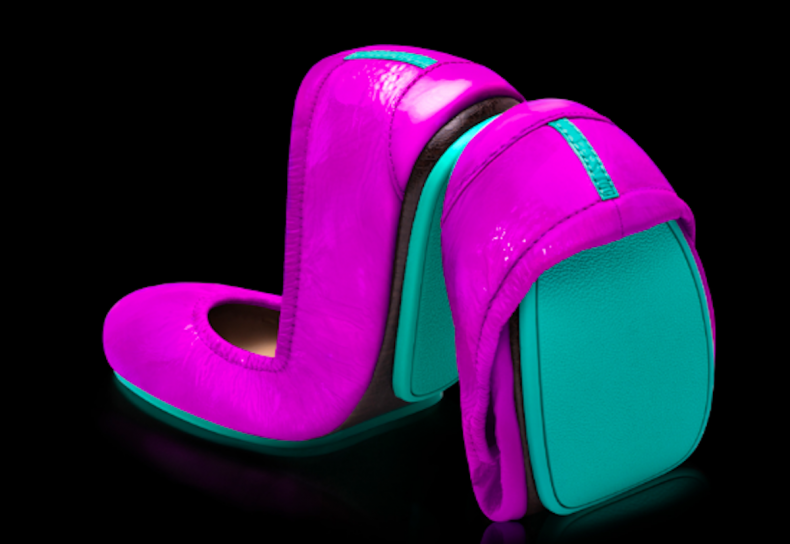 Price: $195
What You Need to Know: Who says sustainable and comfortable flats have to be boring and muted? Not these! Tieks is bringing back their Neon Collection after a surge in popularity and calls for it to make a return. With super bright colors like Mini Pop Pink, Pop Pink, Ultraviolet (above), Unmellow Yellow, Outrageous Orange and Galactic Green, you'll always stand out in the crowd, like a highlighter amid a lineup of black felt-tips. The Neon Collection is everything we love about Tieks—style and comfort included—just, you know, brighter.
User reviews: In a review of Tieks, a blogger at Cinnamon and Style wrote, "I'd recommend them to any woman, and can definitively say there will be additional pairs of Tieks in my (near) future. Unlike other flats I've tried, Tieks offer extra cushioning and support that keep my feet happy after a full day of wear. I receive compliments every time I wear them, and find myself reaching for my Tieks multiple times a week—so much so that my other flats are making their way to the back of my closet!"
Buy at Tieks.
Newsweek may earn a commission from links on this page, but we only recommend products we back. We participate in various affiliate marketing programs, which means we may get paid commissions on editorially chosen products purchased through our links to retailer sites.