Allegations Against Texans QB Deshaun Watson Prompt FBI Investigation
Houston Texans quarterback Deshaun Watson spoke with investigators from the FBI, his lawyer said at a Wednesday press conference.
However, attorney Rusty Hardin said the FBI questioned the NFL star not about the accusations of sexual assault and inappropriate behavior against him. Rather, they spoke with Watson about allegations that one of the women suing him attempted extortion.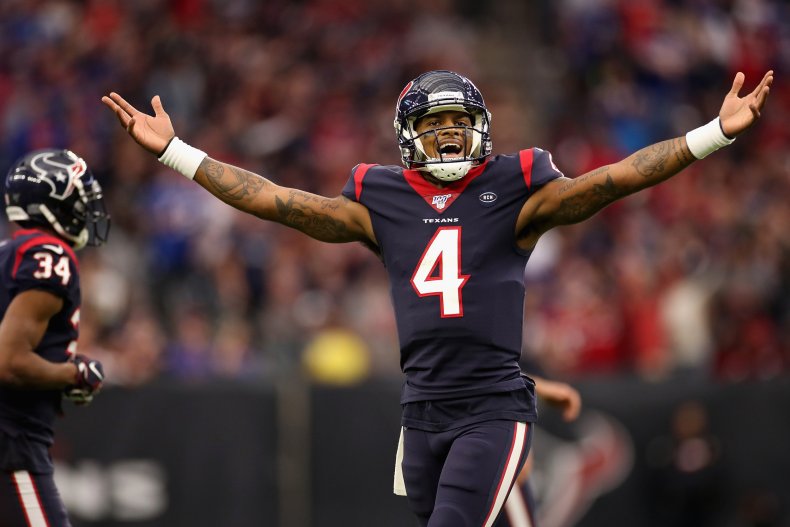 Hardin backtracked on a prior statement made on Tuesday in which he said he did not believe the FBI had been involved in Watson's recent legal matters. But during Wednesday's press conference, Hardin stated Watson had indeed met with FBI investigators.
Watson is facing 22 civil lawsuits from women accusing him of sexual misconduct and sexual assault. Tony Buzbee, the attorney representing Watson's accusers, first revealed during a Tuesday interview with Amy Dash of the website League Of Justice that the FBI had become involved.
Buzbee said he'd met with FBI investigators three times about the allegations of sexual misconduct. He said several plaintiffs in the case have also met with the FBI.
"Until yesterday, I did not know that they were also apparently—and I have no reason to doubt this—investigating Mr. Buzbee's allegations," Hardin said. "Well, I'm glad to hear they are. I wasn't aware of it, but we wouldn't be aware of it. They wouldn't tell us. They're conducting a private investigation."
Hardin continued: "We were not the ones who contacted them; they contacted us. We talked to [the FBI]. We even let them interview Deshaun—and if you all can find a lawyer that will let his client talk to the FBI if the lawyer had thought his client had done anything wrong or had any exposure, then I'll be very, very surprised."
Hardin said that while Watson met with the FBI, he has not met with NFL investigators, because the league did not want to become involved with any criminal investigations.
During a Wednesday interview with The Athletic, Buzbee denied the FBI is investigating any of his clients regarding extortion.
"That's ridiculous, and he [Hardin] knows it," Buzbee said. "He's just trying to deflect."
At least 10 women have filed criminal complaints with the Houston Police Department against Watson, including two of them who are not currently suing him.
Hardin stated at the press conference that he's met with the Harris County District Attorney's office regarding those charges. He also said grand jury subpoenas have been sent out by local authorities but claimed to not know any further details regarding them.
"We will be given the opportunity to tell our side, and we will get an even-handed hearing," Hardin said.
Newsweek contacted the Houston office of the FBI for comment and further information but did not hear back in time for publication.