The alligator that killed a woman in South Carolina earlier this month was reported to have clenched her leg with its jaw before performing a twisting move known as a death roll, while she was waist-deep in a pond behind her friend's home on Kiawah Island, around 25 miles outside Charleston, according to an additional report from the Charleston County Sheriff's Office.
Cynthia Covert, a 58-year-old resident of Johns Island who was reported to be about 5-feet tall and around 100 pounds, lost her grip on a rope thrown to her by witnesses who tried to pull her out.
Covert was reported to have calmly said "I guess I won't do this again," while clutching the rope just moments before she disappeared into the water. She was dragged under water by the 10-foot alligator, which was estimated to weigh around 400 to 500 pounds, the report said.
When firefighters, deputies and first responders arrived a short while later, her body did not surface for around 10 to 15 minutes before it appeared briefly with the alligator still clenching her leg. The alligator dragged Covert underwater again before they both reappeared, at which point a deputy was reported to have shot the reptile several times with his 9mm service pistol, which eventually killed the alligator.
Deputies, firefighters and other first responders arrived a short time later, but say they saw no sign of the alligator or Covert for 10-15 minutes after getting there. Covert's body finally surfaced across the pond, with the alligator still holding her by the leg. It quickly dragged her back under water, deputies said.
When the alligator resurfaced with Covert's body again, a deputy fired several shots from his 9mm service pistol, killing the alligator and allowing first responders to retrieve Covert's body, according to the sheriff's office.
Covert's body was retrieved intact from the water but had several wounds on her left leg. She was reported to have drowned and her death was ruled accidental.
The alligator was reported to have lived in the pond along Salt Cedar Lane for 20 years, according to the South Carolina Department of Natural Resources (SCDNR). No evidence that people had been feeding the alligator was found, the department notes.
The alligator was reported to have killed a deer a day before the latest incident in the same spot where Covert was attacked, according to her friend, who said Covert came to do her nails.
"When Covert was doing her [the friend's] nails on the porch she saw the alligator in the pond and was fascinated by the alligator," according to the friend, the report said. "(She) stated after Covert was finished with her nails she went outside of the porch and was taking pictures of the alligator."
The friend was reported to have started yelling for Covert to get back as soon as she spotted her on the water's edge, urging that the reptile had snatched a deer from that spot "the other day," to which Covert was said to have replied, "I don't look like a deer," the report said.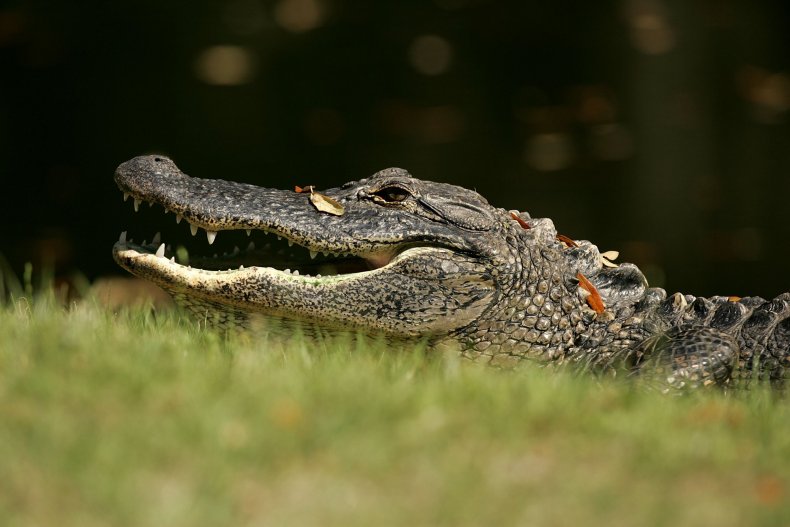 The friend also noted Covert was "very talkative and acting strange," on the day of the incident. The friend explained "that at the salon Covert acts very professional but today she was very relaxed and excited that her boyfriend was coming from Tennessee to visit."
Covert was reported to have arrived at the friend's home with a glass of wine but the friend didn't see her drink any more alcohol or take any other substances, according to deputies.
The latest is the third fatal alligator attack reported in South Carolina in four years. In August 2018, a 45-year-old woman was killed in an alligator attack on Hilton Head Island, while in July 2016 a 90-year-old woman died after an encounter with an alligator in a pond outside a care facility, the SCDNR reports.
Last year, a 9-foot alligator was reported to have bitten a 68-year-old South Carolina woman at night while she was walking her dog, leaving her with injuries to her arms and legs.
Uncommon Knowledge
Newsweek is committed to challenging conventional wisdom and finding connections in the search for common ground.
Newsweek is committed to challenging conventional wisdom and finding connections in the search for common ground.
About the writer
Soo Kim is a Newsweek SEO Reporter is based in London, UK. She reports on various trends and lifestyle stories, from health, fitness and travel to psychology, relationships and family issues. She is also a South Korea expert who regularly covers Korean culture/entertainment for Newsweek, including the latest K-dramas, films and K-pop news, and is the author of the book How to Live Korean, which is available in eight languages. Soo also covered the COVID-19 pandemic extensively from 2020 through 2021 after joining the general news desk of Newsweek in 2019 from the Daily Telegraph (a U.K. national newspaper) where she was a travel reporter/editor from 2010. She is a graduate of Binghamton University in New York and the journalism school of City University in London, where she earned a Masters in international journalism. Languages spoken: English and Korean.
Follow her on Twitter at @MissSooKim or Instagram at @miss.soo.kim
You can get in touch with Soo by emailing s.kim@newsweek.com