Alleged Arrest of Trucker Protest Leader Pat King Captured on Livestream
Freedom Convoy leader Pat King was allegedly arrested by Ottawa police in a moment captured by the protest organizer himself during a Facebook livestream.
"I am being arrested by these officers right now," King told viewers on a Facebook livestream Friday afternoon. "I am being arrested. We will talk to you guys soon."
King's arrest would be the third of the convoy's most vocal proponents. His fellow organizers Tamara Lich and Chris Barber were arrested and charged on Thursday.
King's arrest comes as Ottawa police cracked down on protesters, canceling the day's House of Commons sitting and closing in on Parliament Hill. Parliamentarians are hopeful they will resume debate over Prime Minister Justin Trudeau's emergency powers on Saturday.
The Ottawa Police told Newsweek that the total number of arrests from Friday's police operations has not been announced as the investigation is still ongoing.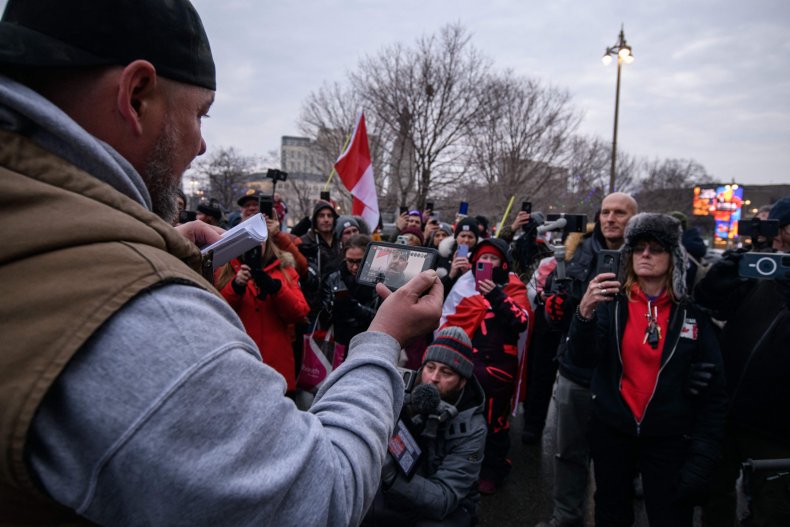 In the livestream, King is heard asking an officer, from inside his vehicle, what he is being arrested for. The officer is heard telling the protest organizer that his arrest is for mischief, counseling to commit the offense of mischief, counseling to obstruct police and counseling to commit the offense of disobeying a court order.
King responds by saying he would like to contact his lawyer.
The officer says he just wants to "make sure everything is safe" to which King tells him "You are safe man, you always have been."
Ottawa police also did not confirm or deny to Newsweek that King was apprehended on Friday, adding that details of an individual's arrest would not be released until charges are laid.
Over the last two days, police have attempted to end the protests which have been going on for three weeks, towing vehicles that have forced a gridlock and arresting protesters within the demonstration perimeter zone.
On Friday afternoon, police, including officers wearing high-visibility yellow jackets and tactical teams dressed in camouflage, were seen moving in large "public order units."
"DEMONSTRATORS: You must leave. You must cease further unlawful activity and immediately remove your vehicle and/or property from all unlawful protest sites. Anyone within the unlawful protest site may be arrested," the Ottawa police tweeted Friday afternoon.
Authorities said they would move slowly towards protesters to give people who want to leave the opportunity and time to do so.
On Thursday, Lich and Barber were both arrested and charged with counseling to commit the offense of mischief. Barber was also charged with counseling to commit the offense of disobeying a court order and counseling to commit the offense of obstructing police.
Both are expected to appear in court Friday.