Alleged Capitol Rioter Asks to Be Freed From Ankle Bracelet, Says It Hinders Exercise Regimen
Alleged Capitol rioter Joshua Doolin on Friday asked authorities to free him from the ankle bracelet he wears because it hinders his exercise regimen.
During a hearing in Washington, D.C., Doolin argued that the monitoring bracelet he wears on his left leg interferes with his workouts and playing basketball, according to the case file.
He also complained about suffering from "annoying blisters" as a result of wearing the device. Doolin's defense also argued that the ankle bracelet restricts his movements and ability to work as a bread delivery man in which he is required to travel, NBC News reported.
Doolin said during the hearing that the "physical labor" he is required to do for his job is best done wearing shorts, but he said that he has to wear jeans because he doesn't want "the company or myself look bad."
His defense said that the period required to compile evidence in the January 6 cases may take long and therefore could require Doolin to wear the monitoring device for a lengthy period.
The prosecutor reportedly defended the necessity of Doolin wearing a GPS ankle bracelet because he "contemplated" bringing weapons on January 6, which the prosecutor found "quite concerning."
In response to Doolin's remarks, the judge on Friday suggested that he meet with his lawyers and pretrial officers to "work something out" to help him perform his job, according to NBC.
Doolin's charges include assaulting, resisting or impeding certain Capitol officers, aiding in stealing government property, restricted building or ground without lawful authority, violent entry and disorderly conduct at the Capitol, according to a court document. Doolin, who was arrested in Florida on June 30, pleaded not guilty to all counts.
According to the prosecutor, Doolin is accused of carrying zip-ties around the Capitol and "obtained a riot shield."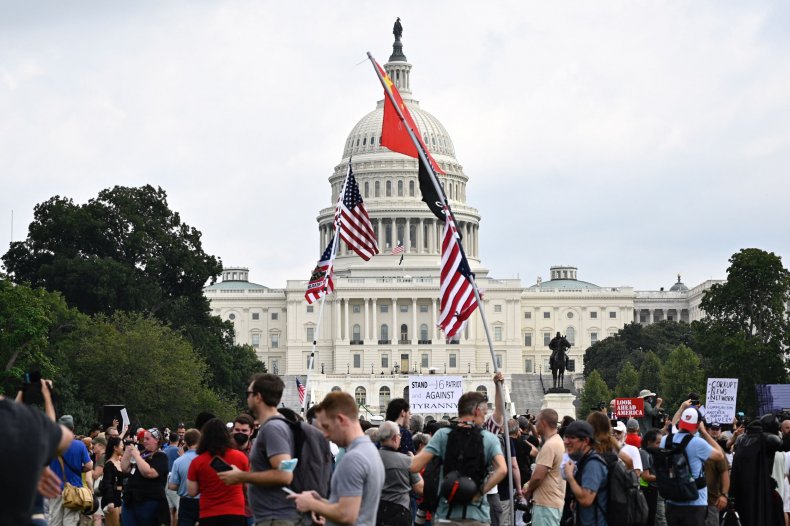 Doolin is one of five people charged with assaulting police officers with flagpoles and other objects during the riot. The others are Jonathon Pollock, Olivia Michele Pollock, Joseph Hutchinson and Michael Perkins.
The group was identified through surveillance footage and bodycam videos. According to a court record, an FBI investigator "identified a group of individuals who appear to have moved together from the Washington Monument to the Capitol grounds on the afternoon of January 6, 2021."
During the January 6 attack, Doolin dropped the flagpole that he carried, according to the court document, and retreated after he was hit with "chemical spray." But Perkins grabbed the flag and threw it "in the direction of Jonathan Pollock and the line of police officers."
Newsweek contacted Doolin's lawyer, Allen H. Orenberg, for comment but didn't hear back in time for publication.