Alleged FedEx Employee Says Company 'Doesn't Care' About Packages in Viral Video
An alleged FedEx employee claimed in a now-viral video that the company "doesn't care" about customers' packages.
The video was posted to TikTok last week by "Stroganoff" (@kingstroganoff), who wrote: "We don't care!!!" The post has received more than 2.7 million views and nearly 90,000 likes.
"I'm telling y'all right now: Stop ordering through FedEx," the TikToker said at the beginning of the video. "We do not care about y'all's packages...we on bulls**t in here."
In the video, the TikToker can be seen roughly handling packages as he removes them from a conveyor belt and sorts them into different areas. Several packages are tossed down a chute, and one—which is already damaged—is punched by the TikToker.
Stroganoff isn't the first FedEx worker to go viral in recent months. Last month, a FedEx delivery driver named Roger Ruiz took to TikTok to share just how packed the company's delivery trucks are in the days following Black Friday.
"This is what a FedEx truck looks like after Thanksgiving. Please shop in person," he said.
The video showed stacks of boxes stacked so tightly together that there was hardly any room for Ruiz to walk.
In the video's caption, he wrote: "F**k work but i'll see y'all tomorrow."
Commenters of Ruiz's video were sympathetic. Stroganoff's viewers, on the other hand, were highly critical of him.
"Man is havin a tantrum cause he's gotta move a box," said EMBY.
"Imagine that's a Christmas present for a little girl or boy with struggling parents who saved up to make them happy. You wouldn't think of that [though]," wrote toribeams.
"Crazy [because] it takes more work to act like that then [sic] to actually do the job," commented ftp_jose.
Some commenters who claimed to have worked for the company felt that the video misrepresented FedEx.
"Was a manager for FedEx for 3 years. Would've loved to catch you doing that," said Drew Gipson.
"As a FedEx worker, I can assure you that I have never done this or seen this behavior in my workplace," added another TikTok user.
In a statement to Newsweek, FedEx said of the video: "The views expressed in this post do not reflect the extraordinary commitment and dedication shared by more than 600,000 FedEx team members around the world who are focused on helping to deliver the holidays for our customers this season. We can confirm that this individual is no longer employed within our operations."
FedEx previously estimated that it will deliver "100 million more packages this year than it did from Black Friday to Christmas in pre-pandemic 2019 and 10 percent more than the record 2020 season during Covid," CNBC reported.
The network added that "overall e-commerce will increase 13 percent from the record 2020 holiday season to 3.4 billion packages shipped," according to ShipMatrix data.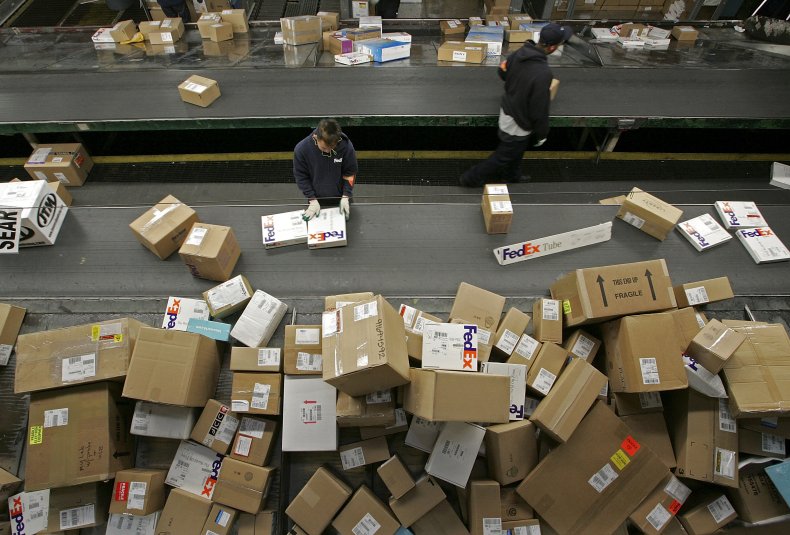 Updated 12/16/2021, 3:54 p.m. ET: This story has been updated with a statement from FedEx.