Alleged Kenosha Protest Shooter Arrested, Charged With Murder
The person accused of shooting three people during Tuesday night's protests in Kenosha, Wisconsin, was arrested and will be charged with 1st-degree intentional homicide.
The 17-year-old, whose name is not being officially released as he is a juvenile, was apprehended in Illinois on Wednesday and is set to appear in court for an extradition hearing to Wisconsin on Friday. The complaint ticket alleges that he fled the state of Wisconsin to "avoid prosecution," according to USA Today reporter Nick Penzenstadler. He was listed as a "fugitive" in Lake County, Illinois, court records.
Tuesday marked the third night of protests that erupted after Kenosha officers shot Jacob Blake, a Black man who is at least temporarily paralyzed, according to his father. Officers responded to reports of multiple gunshot victims late Tuesday night, and two people were killed. The third victim was taken to the hospital in serious condition, according to the Kenosha Police Department.
The suspect told Richie McGinniss, the Daily Caller's chief video director, that he was armed to "protect this business." He added that part of his "job" was to "help people."
"If there's somebody hurt, I'm running into harm's way. That's why I have my rifle, because I can protect myself, obviously. But I also have my med kit," the 17-year-old told McGinniss.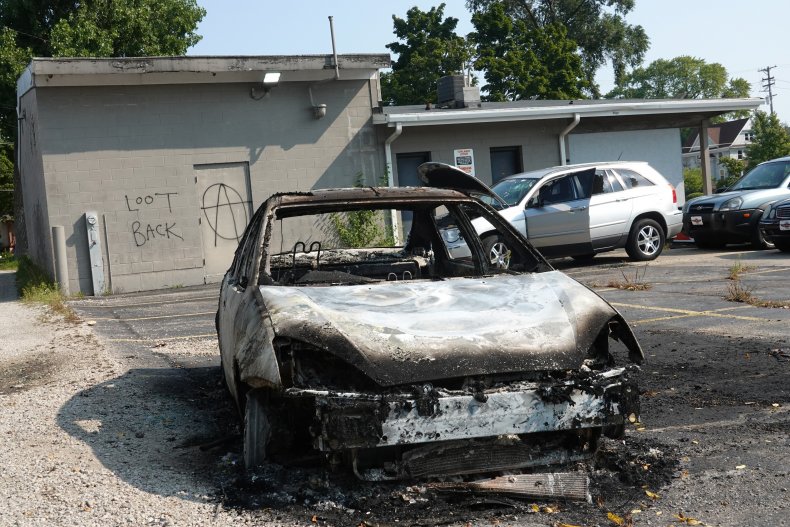 On Wednesday, Sheriff David Beth told reporters during a briefing that he didn't know "for sure" but thought the suspect to be part of a group of people who pushed him to deputize gun-owning civilians. Ahead of the shooting, he said he received a call asking why he wasn't deputizing citizens and having them patrol the city of Kenosha with their own firearms. A proposal that prompted a "hell, no," from the sheriff.
"What happened last night is probably the perfect reason why I wouldn't," Beth said. "That would have been in reality a deputy sheriff that killed two people and the liability that goes with that would have been immense.
Once a civilian is deputized, they fall under the Constitution, the state of Wisconsin and Beth's guidance, he said, making the department liable for their actions. He called it a "scary, scary thought" that civilians with guns would be on the streets under their authority and said the group taking patrolling the streets into their own hands creates "confusion."
Whereas people are accustomed to seeing a uniformed officer with a firearm, Beth said if he armed his wife with an AR-15, the level of intimidation vastly increases, something that doesn't help the volatile situation.
Kenosha County authorities issued an arrest warrant for the suspect on Wednesday morning, and he remains in custody pending his extradition to Wisconsin, according to the Antioch Police Department.