Alleged Kenosha Protest Shooter Says He Had a Rifle to 'Help People' as He Runs 'Into Harm's Way' in Online Video
A new video on social media shows the alleged shooter in the Kenosha protests, a 17-year-old boy from Illinois, moments before Tuesday night turned violent in the Wisconsin city.
In the video, posted to Twitter by The Daily Caller's chief video director, Richie McGinniss, the young man is seen standing in front of a boarded-up building with an AK-47 and a first aid kit.
Asked by McGinniss why he's armed, the 17-year-old replies, "So people are getting injured, and our job is to protect this business."
The teen continues, "Part of my job is to also help people. If there's somebody hurt, I'm running into harm's way. That's why I have my rifle, because I can protect myself, obviously. But I also have my med kit."
McGinniss wrote on Twitter that the full video will be posted soon. Newsweek reached out to McGinniss for comment but did not hear back in time for publication.
Late Tuesday night, two people were fatally shot during a third consecutive night of protests in Kenosha as demonstrators took to the streets to demand justice for Jacob Blake, who was shot seven times in the back by police on Sunday.
A third person involved in the shooting was taken to the hospital with "serious but non-life-threatening injuries," according to the Kenosha Police Department.
Kenosha County Sheriff David Beth told The New York Times that the investigation was focused on whether the shooting was the result of a conflict that broke out between protesters and a group of armed men protecting businesses.
On Wednesday afternoon, the minor, who is from Antioch, Illinois, was arrested in Illinois in connection with the Kenosha shooting. He will be charged with first-degree intentional homicide and is set to appear in court Friday for a hearing on extradition to Wisconsin.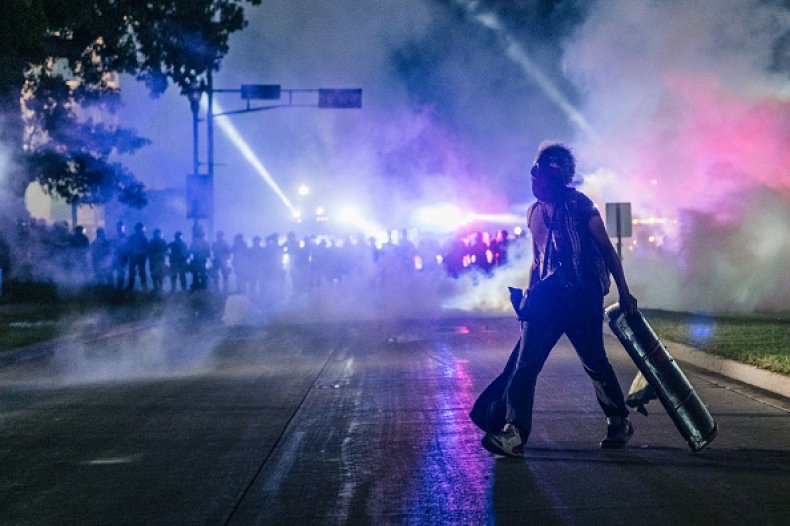 The 17-year-old is listed as a "fugitive" in Lake County, Illinois, court records. The county's complaint ticket says he "fled the state of Wisconsin with the intent to avoid prosecution."
Videos of the shooting were posted onto social media. One depicts an armed male falling to the ground and then firing at protesters who seemed to be trying to disarm him.
On Wednesday, President Donald Trump said he would send federal troops into Kenosha to assist local law enforcement.
"We will NOT stand for looting, arson, violence, and lawlessness on American streets," Trump wrote on Twitter. He said he had spoken with Wisconsin Governor Tony Evers, who has accepted the federal assistance.