Alleged Snapchat Threat to Uvalde Students Ends in Teen's Arrest: Police
Police in Uvalde, Texas, reportedly arrested a 17-year-old for allegedly threatening Uvalde High School students in Snapchat messages that included an image of a toy gun.
Luis Ortiz Jr., 17, was arrested last Wednesday afternoon and charged with initiating a false alarm or reported emergency, according to the Uvalde Leader-News. Threats were allegedly made to five current and former students of Uvalde High School. Officials scheduled a mental health evaluation for Ortiz before releasing him the next day. The arrest came just over two weeks after 19 children and two adults were killed during the mass shooting at Uvalde's Robb Elementary School.
Uvalde Police Chief Daniel Rodriguez reportedly said that he was contacted about the alleged threat by embattled Uvalde Consolidated Independent School District Police Chief Pete Arredondo, who was alerted to the Snapchat messages by concerned parents of the students. Arredondo informed investigators that messages included Ortiz threatening to "end" those who hurt him. The messages also allegedly included a picture of a hand holding what appeared to be a handgun.
"There were some threats made, and our investigators jumped on it quickly and narrowed it down to this individual," Rodriguez told the Leader-News, while adding that he believed Ortiz may have been suffering from mental health issues and that he asked police for help after allegedly admitting to the threats. "Not only is he going to be held accountable for what he did, but we're also trying to help him."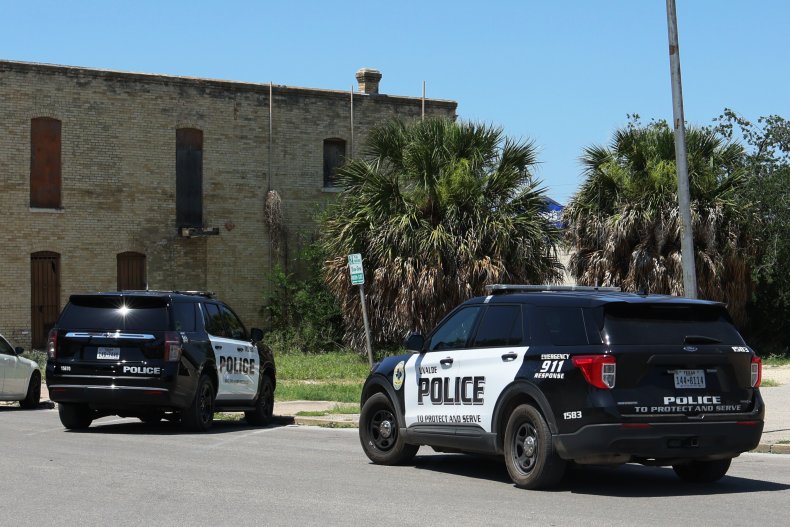 Uvalde Police Lieutenant Mariano Pargas Jr. told the paper that Ortiz "actually said he wasn't going to harm anybody, it was just something he said, but he never intended to harm anybody," adding that the 17-year-old "doesn't own a gun." Police said that the weapon in the photos was a Glock airsoft pistol that belongs to one of Ortiz's friends, who Pargas said "had nothing to do with any threats."
Ortiz faces up to two years in jail and a $10,000 fine if convicted of making the alleged threats.
Newsweek reached out to the Uvalde Police Department and the Uvalde Consolidated Independent School District for comment.
Ortiz was not the only young person arrested for allegedly threatening violence against students following the tragedy at Robb Elementary, with a wave of shooting threats coming across the country in the immediate aftermath.
Many of the threats also appeared to be false. The arrest of a 10-year-old boy for allegedly threatening to shoot up an elementary school in Lee County, Florida, has drawn heavy criticism from a civil rights group who accused the local sheriff of heavy-handed treatment for political gain, including releasing the boy's mugshot and a video of his "perp walk," when no real threat was made.