Allen Maldonado Teases the Evolution of Cousin Bobby on 'The Last O.G.'
When The Last O.G. premiered on TBS on April 3, it was instantly clear that Tracy Morgan was back to dazzle us with his charm and hilarity. Making the comedy series even more alluring, Morgan—the show's creator who also plays the protagonist Tray—tapped queen comedienne of the moment Tiffany Haddish to star as his fresh-out-of-jail character's ex-girlfriend and baby mama, Shay. The show, executive produced by Oscar winner Jordan Peele, also features another megastar cast member: longtime comedian Cedric the Entertainer.
With a star-studded lineup like that, who wouldn't expect weekly laughs? But even though just about everyone in the cast is delivering side-cutting lines, one character won the affection of viewers almost instantly: Tray's little cousin, the ever-energetic, ever-lovable and exuberantly funny Bobby, played by Allen Maldonado (Black-ish, Survivor's Remorse).
From the moment Bobby appears on the screen, his presence causes a disruption. (He quite literally makes Tray pass out when he seemingly appears out of thin air during a park scene in the first episode). But Bobby's disruptions aren't the annoying or bad kind. They're just the type Tray, a man who's been in lockup for the past 15 years, needs when times get tough. As if he's telepathic and just knows Tray is on the brink of disaster, poof! Bobby appears.
Whether he's providing laughs through his authentically aloof and endearing personality or offering Tray his bizarre takes on the facts of life, Bobby is the wingman Tray never knew he needed to help him adjust to life on the outside. "Everybody needs to have a Bobby in their lives," Maldonado told Newsweek recently. "Everybody needs to have that one person who will support them no matter what."
In a story all about second chances, Bobby's that (silly) sturdy shoulder Tray can lean on when his new chance at life seems too complicated to bear. And yet, Bobby's efforts to help Tray also serve as his own second chance to establish a support system for himself. During an interview with Newsweek, Maldonado talked about his character's experiences on the comedy series and the many ways Tray's return to Brooklyn will impact Bobby's life.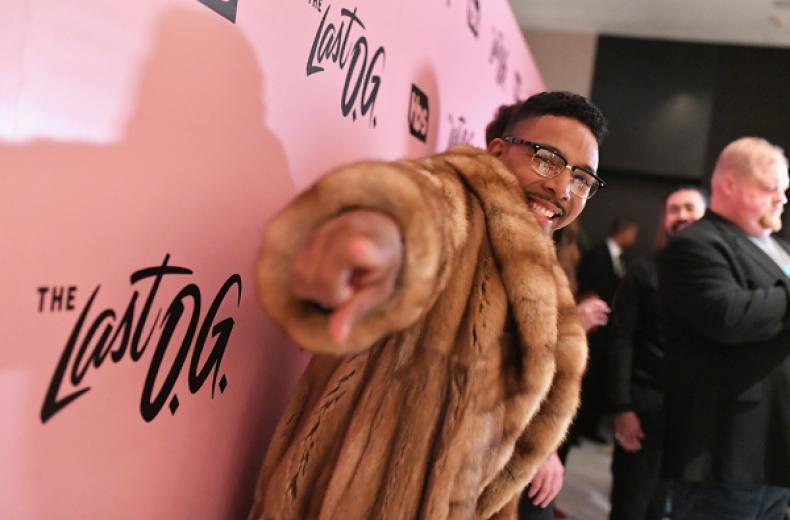 How did you end up with the role of Cousin Bobby?
When I began auditioning for the role, it was just Jordan Peele and Tracy Morgan [attached to the show], and that was enough for me to know I wanted to be involved. This was kind of before [Peele's 2016 movie] Get Out really took off, and Tracy Morgan is a legendary comedian, so I was ready to go and excited to be a part of the project. And then I read the material and it was hilarious.
During the audition process, there was this special moment at the last screening test when I finally met Tracy, and he screamed out, "Cousin Bobby!" And we started improving. I mean we started improving from my first step through the door! We did not touch one line from the audition script, and our chemistry was just that instant. It was special. It felt like I had known him for years and I think everybody in the room kinda felt the same way. We just improved for 15 minutes. Jordan would throw out these ideas and scenarios and we'd take off and run with it. And that was special. That's never happened in all of the years that I've been auditioning and screen-testing. So I think that was one of the major points of me landing the role. And then once I landed the role, Tiffany signed on, and Cedric signed on.
It has to be surreal to work with iconic comedians like Morgan and Cedric.
It's unbelievable. These are the people I watched growing up, idolized and studied as far as what they do, as far as comedy—I'm a student of the game—as an actor. I don't call myself a comedian because I honor that position so much, being that standup is an art form. I totally respect the people who have mastered it. I definitely have my comedic chops when it comes to theater, TV and film. And I studied these individuals, and have taken on a lot of their positions and ideas and added them to my work. These are individuals that I've looked up to. And it's one thing to be on the show with them, but to know now that these individuals are my friends is bigger than anything.
How was working with Tiffany Haddish?
Tiffany is incredible. I knew Tiffany from years ago from an MTV pilot that never saw the light of day. We did this pilot together where we had to reenact horrible dates. So we'd be put in these funny, crazy situations. And I think she was playing a friend of the girl that caught me cheating. It was a hilarious scene, and I knew then that she was ridiculously funny. To flash forward to now and see how her stardom is moving and everyone's recognizing how talented and beautiful she is—it's all come full circle. I love seeing people [I met] when I first started who worked hard and are extremely talented become successful down the line. That's the beautiful part of this journey in life and in acting. Those are the magical moments that you look over and it's like, "Wow, this is beautiful."
How often do you stick to the script? You and Tracy mostly improved during your auditions. Is that the case when the cameras are rolling, too?
We definitely stick to the script, but we add our own nuances. It's the job of the writer to lay down the map and the road you must travel, but how you travel down that road is the actor's job. Whether you go up that road doing a wheelie and spinning on your head—that's all the actor.
We see Bobby's already positioning himself as Tray's right-hand man by helping him adjust to life on the outside. In what ways will Tray help Bobby?
Bobby has been on his own since his brother passed. I don't know if you noticed in the first episode, but I also play my older brother Clyde in flashbacks, too. Clyde is a whole other character. He's menacing, he's violent, he's dangerous. He's not Bobby at all. But since the death of his brother Clyde, Bobby's kinda been left on his own. And with Tray coming back—someone he's idolized as a kid—it's finally giving him that guidance that he's been yearning for and that kind of mentorship that he's been needing to transition himself out of the streets and hustling and different things like that. So with Tray being out, it gives Bobby motivation to better himself, better his life and actually have someone by his side.
So we'll see Bobby building relationships with his little cousins, Tray's twins, too?
Of course. You'll see in future episodes Bobby wants to inject himself into this family. I think that's from an abandonment issue that he has. But the chance of being a part of a real family—he's all in. He doesn't hold any punches. There's no warming up for Bobby. He's all in on day one like, "We're family for life." So definitely, later on in the season, you'll see more and more of Bobby evolving with the family and himself.
One of the things I like about the show is how blatantly you guys depict the gentrification of Brooklyn. What was the motivation behind showing that in such an unfiltered way?
Reality. I spent my summers in Harlem as a kid, and even the gentrification in Harlem is real. It's not the same vibrant energy that I once felt in Harlem as I kid. I didn't grow up in Brooklyn, but I hear the same stories occurring in Brooklyn. People tend to think that these rough areas are predominately violent or filled with negative people, but I think the opposite. It's just people that were underserved, a community that's been historically underserved. And it's unfortunate when the community finally gets served that these individuals get pushed out. I think it's important for us to focus on that in the show, being that [The Last O.G.] is about second chances and everybody in those areas—even outside of people who have been in jail—deserves a second chance in their own communities that they grew up in and fought hard to build. I love that we captured that in our show.
If there's one thing you hope viewers can learn from your character, what would it be?
Pure love. Bobby comes from a place of pure love and loyalty to his family and his cousin Tray. And even though he may not be the sharpest tool in the shed, he's the most fun, and you often may not want to listen to his advice, but you know it comes from a good place. Everybody needs to have a Bobby in their lives. Everybody needs to have that one person who will support them no matter what, no matter how crazy of an idea—they'll always have your back whether you win, lose or draw. And I think that's what you get from the character Cousin Bobby.