Allen West Admits 'Flicking' Mask Off Person Who Confronted Him for Not Wearing One
Allen West, the former chairman of the Republican Party of Texas and a 2022 gubernatorial candidate, said that when someone at Dallas-Fort Worth International Airport insulted him on Wednesday, he responded by "flicking" off the person's mask.
A press release from West said the individual had "cursed and insulted" the Texas Republican for walking through the airport without a mask. His statement also said airport police responded to the incident and made a report.
"After being berated, West responded by flicking the individual's mask off," the statement said.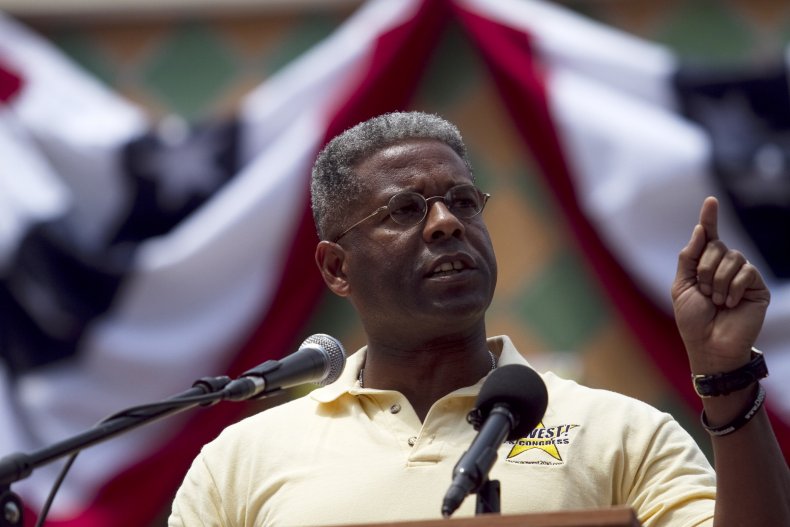 West elaborated on the confrontation on Twitter.
"This morning at the airport a man starts yelling at me and tells me to put my mask on and calls me an idiot," West tweeted. "I walked over to him and asked if he called me an idiot, he continued to yell at me. I pulled down his mask and said see, nothing happened."
"He put up his fists and I walked away," West said in another tweet. "I did call him a stupid man. I have spoken to DFW PD. There's no mask law, nothing has ever passed in the US House and Senate making wearing a mask law."
DFW Airport requires travelers to wear masks while walking through the terminal, and the Transportation Security Administration has a federal mandate requiring all people to wear masks in airports, buses and rail systems. Shortly after taking office, President Joe Biden signed an executive order that requires masks on public transportation.
West did not identify the other person in his press release or on Twitter. He also did not indicate if the person had recognized him, though his statement did refer to the man as "a left-wing partisan."
"Left-wing activists have brazenly badgered and assaulted conservatives and perceived heretics of the COVID orthodoxy and liberal dogma since the beginning of the Trump administration and onward," he said in the statement.
West is unvaccinated against COVID-19 and was hospitalized for COVID-related pneumonia last month. He has promoted unproven therapies, such as hydroxychloroquine and ivermectin, as treatments for the virus, even though the Food and Drug Administration has said both have shown no proven effectiveness for prevention or recovery from COVID-19 and may have dangerous effects on one's health.
West, a former Florida congressman, announced he would run for Texas governor in 2022. In doing so, he will be challenging the GOP incumbent, Greg Abbott. Former President Donald Trump has already endorsed Abbott for a third term, although some have suggested Abbott could be a presidential candidate in 2024.
Contacted for comment by Newsweek, a DFW Airport spokesperson said there would be no statement about the incident.
Update 11/4/21, 5 p.m. ET: This story has been updated after Dallas-Fort Worth Airport declined to comment on the incident.