After taking home an award at the ESPYs, United States Soccer Women's National Team player Allie Long realized someone stole a number of items from her hotel room.
Coming off their World Cup championship, the Women's National Team celebrated in New York City with a parade fit for champions. After making their way through the streets surrounded by thousands of cheering fans, Mayor Bill de Blasio gifted each player with a key to the city.
Their whirlwind week also included attending the annual ESPY awards on Wednesday night in Los Angeles. At the award show dedicated to the best athletics has to offer, the women's soccer team was named the Best Team.
"We literally just got off a plane a couple of hours ago," Carli Lloyd said after the team won the award. "Thank you to ESPN, all of our followers, supporters around the world ... super proud of all of these 22 fabulous ladies."
On Thursday, midfielder Long posted on Twitter that after the ESPYs show, someone stole her wedding ring, cash and the key to New York City that de Blasio had just given the team.
"Do you make copies @NYCMayor? I would love a new one," Long concluded the tweet.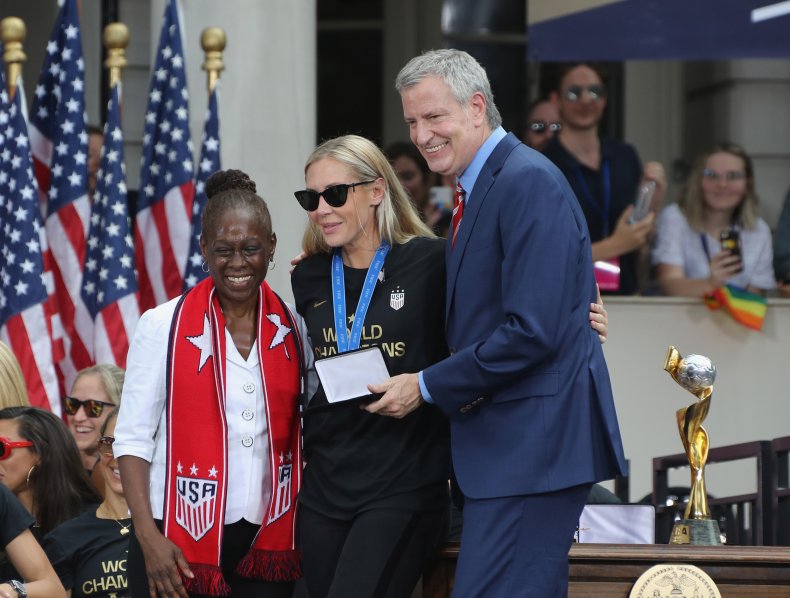 Fortunately, the message got to de Blasio, who responded on Twitter on Friday morning. He wrote that he was sorry to hear about the robbery and told her to "hang in there." While the mayor couldn't solve the issue of her missing wedding ring or cash, he could get her a new key.
"Like any good New Yorker, we keep a spare for our neighbors!" de Blasio posted on Twitter. "We got you covered."
Long also posted about the burglary on Instagram on Thursday. She posted a photo of herself, with her World Cup medal in her mouth, alongside her husband, Jose Batista. She captioned the photo, "Take my ring but not my mans (or my medal thank God)."
People commenting on her photo posted messages of support, including those who were also in the world of sports. Amanda Nunes Leoa, the reigning champion of the UFC Women's Bantamweight and Featherweight divisions, and Nina Ansaroff, the UFC strawweight championship, both used emojis in their comments to applaud how Long handled the situation.
Long and Batista got married in 2016. Her teammate, forward Alex Morgan, was her maid of honor. Forward Tobin Heath was also in the bridal party and gave a toast at the wedding to the happy couple.