Allies Ted Cruz, Donald Trump Endorse Different Candidates for Ohio Senate
After being closely aligned with Donald Trump, Texas Senator Ted Cruz is breaking with the former president and campaigning for a different Republican candidate in Ohio's hotly contested Senate race.
With Ohio's primary a week away, Senate candidate Josh Mandel is scheduled to make multiple campaign stops over the weekend. Cruz is continuing to stump for Mandel even after Trump later gave his coveted endorsement to former writer and venture capitalist J.D. Vance. Following the caustic 2016 election, Cruz became a staunch ally of Trump, raising questions why the Texas Republican is bucking the former president in the key race.
Cruz earlier this month endorsed Mandel, a Marine and former state treasurer. A social conservative who remains popular among evangelical Christians, Cruz said in a statement announcing the endorsement that Mandel checked all the right boxes, calling him "a proven fighter for our American way of life, a champion for the unborn, and a stalwart advocate for our religious liberties."
Mandel touted the endorsement in his own statement, saying his campaign has the backing of more than 100 faith leaders, as well as the National Association for Gun Rights, Ohio Value Voters and Right to Life Action Coalition of Ohio.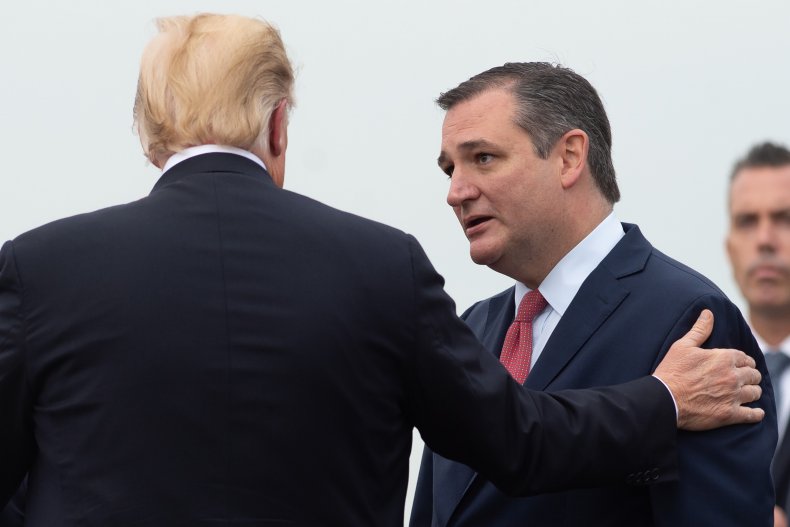 Over the weekend, the two are scheduled to campaign in Ohio churches, which have been key for Mandel's campaign.
"I'm sidestepping all of the Republican Party groups and, instead, I'm running a campaign through churches," Mandel told KSAT, which reported that his campaign has prominently featured Christian imagery, despite the candidate's Jewish faith.
Jon Morrow, chief executive officer of the conservative Committee for a Better Ohio, told Newsweek that Cruz "has always been a very staunch advocate of Israel" and Mandel has close ties to pro-Israel Christian groups. "There's a lot of relationship that's been built between Ted Cruz and Josh," he said.
Mike Gonidakis, president of Ohio Right to Life, told Newsweek that Cruz "read the tea leaves" when he earlier endorsed Mandel in the crowded field. He said Mandel seemed like a "winner" at the time, but a Fox News poll released Tuesday shows Vance has pulled ahead slightly, with 23 percent support of those surveyed. Mandel is second with 22 percent.
Gonidakis said he suspects Cruz still aspires to run for president and backing Mandel will help secure support in a crucial state like Ohio.
"They're going on a church tour, which is a very conservative base and very loyal too," said Gonidakis. "He is definitely earning support of voters with this tour with Josh Mandel."
Elsewhere, Cruz has endorsed businessman David McCormick in Pennsylvania's Senate Republican primary (Trump has endorsed television personality Mehmet Oz).
At the moment, Trump hasn't attacked Cruz for backing a different candidate. But Donald Trump Jr. appears to have taken a veiled swipe. Mandel has been endorsed by the conservative Club for Growth, which has previously backed Cruz. Last week, Trump Jr. posted an ad attacking Mandel, calling him "the Club for Chinese Growth backed establishment candidate."
While Cruz has a following among the Republican base in Ohio, Gonidakis (whose group earlier endorsed Vance) said that Trump has more pull after carrying the state twice.
"When it comes down to the popularity contest, I'm not sure an endorsement by an elected official other than President Trump would move the needle significantly," he said.
Newsweek has reached out to Trump for comment.