When a 500-pound alligator set its eyes on Andrew Grande's 4-year-old daughter, he acted fast to protect her.
Grande's daughter and son were with a babysitter catching crabs near a canal by their home in League City, Texas, last month, when the 11-foot 7-eleven inch reptile appeared.
Grande had seen alligators in the Galveston County area before but this one was different, said Grand. "He was by far the biggest one we've ever seen," he said to CNN.
"They never come to us like that," the father told the Houston Chronicle. "It was a beast. I had a gut feeling it wanted my daughter as a snack."
When the reptile quickly moved to within around three feet of his daughter, Grande acted fast and got his daughter, his son and the babysitter over a fence. But even then he wasn't sure they were safe.
Grande predicted that if the alligator had jumped out of the water he would have just broken the fence, "he was just that heavy," he said.
The alligator continued to wait for an opportunity to attack, it retreated and returned many times, recalled Grand. "It kept going up and down. It would look straight at me," he said to the Houston Chronicle. "It seemed like it was playing a game."
Grande made a number of phone calls and eventually found the man he needed, alligator hunter Thomas Reynolds, who arrived at the scene two hours later.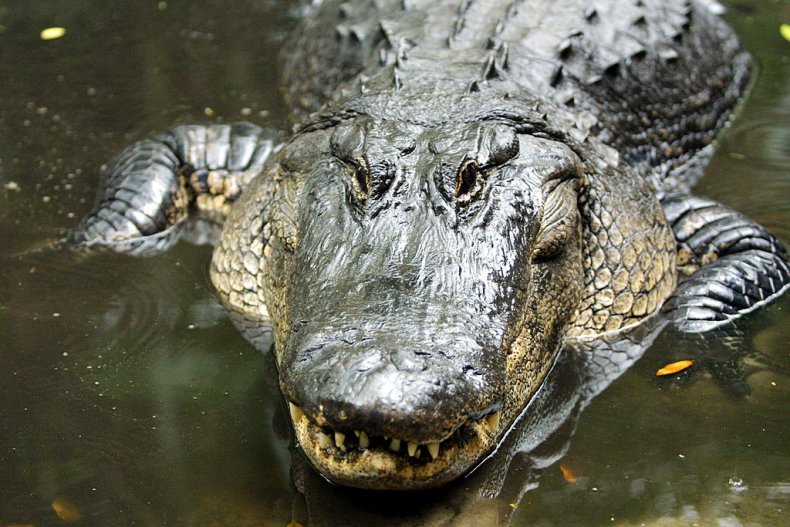 Reynolds captured the alligator by using a rope and noose technique. Holding the rope above the alligator's head until it bites on it, then tightening it around the animals snout.
But it took a lot longer and a lot more man power to wrestle the enormous alligator into submission and get the situation under control.
"After about 30 minutes of trying to secure the alligator, the nuisance alligator hunter called Texas Game Warden's Jennifer Provaznik and Austin Shoemaker for assistance," a representative from Texas Parks and Wildlife Department (TPWD) told Newsweek. "Because of the size of the alligator, the wardens, along with neighborhood residents and workers, were able to lift the alligator out of the water and onto land with two catch poles, rope, and multiple pieces of wood. A total of seven people hoisted the approximate 500lb alligator out of the water, secured it and transferred it to a transport vehicle."
TPWD said that after this incident the alligator could not be returned to the wild. "Typically when alligators exhibit this type of behavior, it is indicative of having been fed by the public. Once alligators learn that humans can be a source of food for them, the alligators cannot be returned to the wild. Texas Game Wardens encourage residents to let wild animals be wild and to only watch them from a safe distance. Not only is it dangerous to feed wildlife, it's also against the law."
The alligator in the aforementioned incident was safely delivered to Gator Country Adventure Park in Beaumont, the largest alligator sanctuary in Southeast Texas.
As according to Texas law, alligators may be hunted with a resident or non-resident hunting license, though regulations apply.
Newsweek has contacted Texas Parks and Wildlife Department for further comment.