'I Just Heard a Scream': Alligator Bites Florida Man on Face
A Florida man was heard screaming after he was bitten on the face by an alligator while swimming.
The man had been swimming in Lake Thonotosassa, towards the northeast of Tampa, when the attack occurred, Fox 13 reported.
"I just heard a scream and I looked up, and I didn't see anything," a witness told Fox 13.
The man then emerged from the water with a "big gash" on his face, and covered the gaping wound with a towel. The seriously injured man was then rushed to hospital, in critical condition.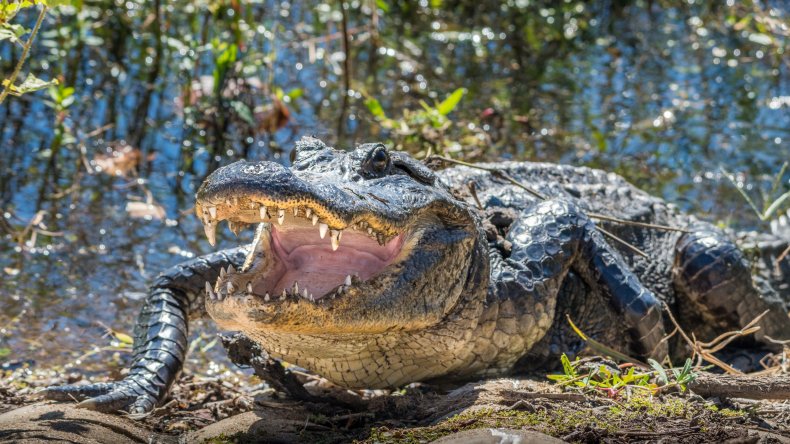 The witness told the news outlet that he did not appear to be panicking at first.
"I didn't know what had happened I thought maybe he hit a rock or maybe there was something that spooked him," the witness said. "It was pretty gnarly, it was definitely an alligator bite on his face[...] And I had a med kit in my car so I gave him gauze and an emergency kit to stop the bleeding and then the ambulance showed up."
Florida is home to 1.3 million alligators. They can be found in all 67 counties of the state that is home to more than 21 million people.
Alligator trappers are currently searching for the alligator responsible for the attack. Despite the state's abundant alligator population, attacks remain very rare. Alligators, while territorial, will only usually attack if provoked.
On occasion, an alligator is deemed a nuisance if it displays threatening behavior. An alligator may be considered a nuisance if "it's at least 4 feet in length and believed to pose a threat to people, pets or property," Florida Fish and Wildlife Commission (FWC) says on its website. Nuisance alligators are usually euthanized and not relocated, as they will often attempt to wander back to the site of their capture.
Jamie Slatton, a local to Lake Thonotosassa, told Fox 13 that he and his kids have swam in the area for years. He told the news outlet that a nuisance alligator had been lurking in the waters for the past four months. A trapper has frequented the area recently, searching for the gator.
"The reason we've been calling on him is he's been coming up, you know, on our banks in front of the house, and he's not scared. When you walk down it by the lake, you'll stand right there and look at you like he's in a hunting mode," Slatton told Fox 13.
Newsweek has contacted the Florida Fish and Wildlife Commission for comment.
This has not been the only alligator attack to occur recently.
Earlier this month, a hunt was launched for an alligator that attacked a 13-year-old girl in Zolfo Springs, Hardee County.
An 80-year-old woman also died after an alligator attacked her at a golf course in Englewood on July 15.
Less than a week after this particular attack, just 30 miles away, a 43-year-old man was also attacked and treated for serious injuries.
Alligators are most active during the summer months, meaning attacks can increase. During the warmer months people also tend to swim more, bringing them into closer contact with the predators.