A Florida alligator had to be euthanized after wildlife officials found it with a knife embedded in its head.
The Florida Fish and Wildlife Conservation Commission (FWC) said it launched an investigation into the incident after photos of the animal were posted on social media, according to Orlando news station WESH. The alligator was reportedly spotted swimming in a pond in the Florida city of Deltona, located northeast of Orlando.
FWC officials conducted a search for the injured alligator on Friday last week and continued looking throughout the weekend. The animal was eventually spotted and, after it was removed from the water, had to be killed because of the extent of its injuries. Currently, there is no information on whether the perpetrator is known or if there are any suspects.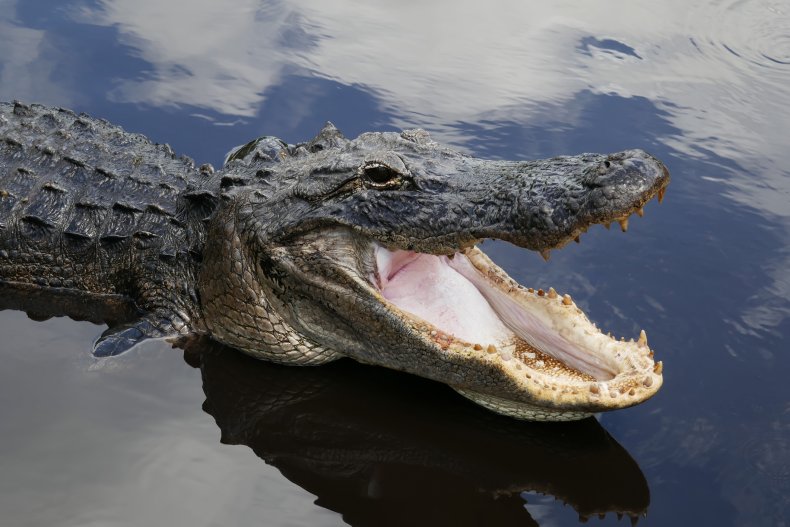 An FWC spokesperson told Newsweek: "The alligator in question was captured Sunday, July 31st by a contracted nuisance alligator trapper. The alligator was 4 feet 9 inches in length. Due to the injury to its head, it was humanely euthanized. We are conducting an investigation. At this time, we have no leads.
"Per Florida Statute 379.409, it is illegal to intentionally kill, injure, possess, or capture, or attempt to kill, injure, possess, or capture an alligator unless authorized by rules of the commission. The FWC encourages people to report violations immediately by calling the Wildlife Alert Hotline at 888-404-FWCC (3922)," they said.
Alligators have lived in Florida's marshes, swamps, rivers and lakes for centuries and are found in all of the state's 67 counties. The FWC says there are about 1.3 million alligators across the state. Because of human population growth in the state and with many residents seeking waterfront homes or engaging in water-related activities, there is potential for alligator-human interactions and conflict.
"I'm not a fan of gators but people are much scarier," wrote one social media user in the Facebook comment section of a WKMG news report on the injured animal in Florida.
It is legal to hunt alligators in Florida if one applies for a permit, though demand often exceeds the number of permits that are supplied. The hunt is also regulated and restricted to specific dates.
Outside of the hunt, it is illegal to indiscriminately kill a wild American alligator in Florida or any other state, according to the University of Georgia.
The FWC says that those concerned about an alligator should call FWC's Nuisance Alligator Hotline on 866-392-4286.
"Remember, never feed an alligator and keep your distance if you see one," it adds on its website. "Swim only in designated swimming areas during daylight hours. And keep pets on a leash and away from the water."
Despite protections in place for alligators, this is not the first time that one of the animals has been found suffering from a knife embedded in its head.
In 2019, another alligator was found in a similar condition in Texas. Erin Weaver, who spotted the animal swimming near her home in Houston, told Texas news station KTRK that the animal had what looked like "a steak knife that was sticking out of his head" and that she wanted to get help for it.
In that instance, a park official said they were optimistic the alligator was not in pain. A search was conducted for the alligator a few days after it was spotted, but the animal was not immediately found as of June 20 that year.
Update, 8/4/22, 11:28 a.m. ET: This article has been updated to include a statement from a Florida Fish and Wildlife Conservation Commission spokesperson.