Massive 12-Foot Alligator Weighing 463 Pounds Discovered Roaming Florida Highway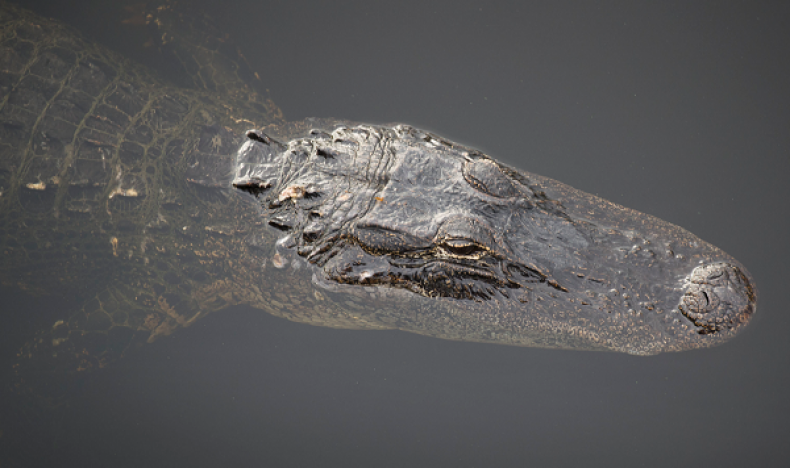 A humongous alligator was picked up from a Florida highway in early June, according to a Tallahassee Democrat report on Thursday. The reptile, standing 12-feet long and weighing over 460 pounds, was so big that authorities had to close off a highway in Leon County while waiting for the animal to be removed.
The Tallahassee Police Department and Florida Highway Patrol responded to calls regarding the monstrous alligator on June 3. They later discovered the creature wandering near an exit on I-10 and contacted alligator trapping company Vaughan's Gators to help remove it. An expert in trapping nuisance alligators, Broderick Vaughan, owner of the company, was in awe of the animal's size while speaking with the Tallahassee Democrat.
"I've been the trapper here in Leon County since April 2010 and that was the third biggest gator I've captured," he said. "That was a pretty big one and he wasn't happy that we were trying to remove him."
The reptile was reportedly in shock when authorities arrived at the scene, walking in circles near the exit after apparently being hit in the snout by a passing vehicle. Although Vaughan managed to contain the animal by taping its snout shut and hoisting it onto a truck, the alligator couldn't sustain its injuries so it was later euthanized instead of being placed back into the wild.
Vaughn gave the gator a name, Nascar Allie Gator, and shared photos of it on the company's Facebook page shortly after it died. "Just another nuisance alligator call, it's going to be a busy week," he wrote.
Allie Gator may have been a massive reptile, but it still wasn't as big as the alligator captured in Florida just a few months before. A 12-foot, 750-pound reptile was found near an office parking lot in Jupiter in April. It took some wrangling, but responders managed to safely remove the large animal and relocate it.
One of the largest reptiles captured in Florida was a 1,000-pound alligator in Lake Okeechobee. Jim Howard, a pilot who enjoys landing alligators in his spare time, landed the 12-foot, half-ton animal off the lake in April 2018. It was the state's second-largest alligator recorded after a 13-foot, the 10-and-a-half-inches reptile was captured on Orange Lake in April 1989. That alligator weighed a whopping 1,043 pounds, according to the Florida Fish and Wildlife Conservation Commission.