75-Year-Old Wins Tug of War with Alligator That Had His Golden Retriever in Its Mouth
A Florida man saved his daughter's golden retriever from the jaws of an alligator that emerged from a pond behind his house.
Buddy Ackerman, 75, said he was watching the dog, Osi, for his adult daughter while she was on vacation. Osi was "doing his business" in Ackeman's yard in Palm Harbor when the 7' 7" gator bit down onto the pooch's rear end.
"He was squealing a good bit when the thing grabbed him," Ackerman told WFTS in Tampa Bay. "I go up and slip and fall on my rear end, and the two of us are tugging. Alligator is going one way. I'm going the other."
Ackerman kicked the alligator in the snout twice, causing the creature to let go of Osi. "The thing opened his mouth and backed up a little," he said. "I don't know what would have happened with people with little Pekingese or something running around. I guess we'd say goodbye."
Jody Ackerman called her father a "hero," adding, "Osi and I are so very grateful that nobody was hurt."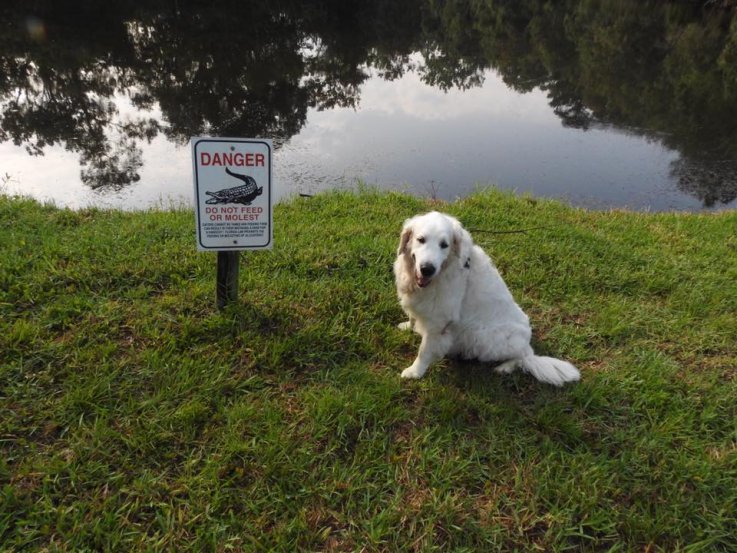 The alligator was captured by animal control the following day.
It's estimated there are more than 1.3 million alligators in Florida. According to the Florida Fish and Wildlife Conservation Commission, they're more aggressive this time of year because it's their mating season.
Officials with the Florida Fish and Wildlife Conservation Commission warn that dogs often attract alligators' attention and advise against letting pets swim, play or drink near waters that may contain alligators.
the commission connects alligator encounters to Florida's "tremendous human population growth" and new developments on the waterfront.
"Remember, never feed an alligator and keep your distance if you see one," Reads a notice on the FFWCC website. "Swim only in designated swimming areas during daylight hours. And keep pets on a leash and away from the water."
The gator in Ackerman's backyard was actually small for an adult American alligator: Males generally reach between 9.8 and 15-feet long, while females average 8.5 feet.
On June 20, a 12-foot gator was captured by a trapper 250 miles away in Tallahassee. The gargantuan 463-pound reptile was discovered crossing Interstate 10. The road was closed and Leon County gator trapper Broderick Vaughan was called in.
The alligator had already been hit on the highway by a semi, and had to be euthanized days later.
"He had been hit by a truck," Vaughan said. "His head was cracked up pretty bad."
75-Year-Old Wins Tug of War with Alligator That Had His Golden Retriever in Its Mouth | News