Alligator Found Lurking Out of Storm Drain in Florida Neighborhood Street
A 6-foot-long alligator has been found lurking outside of a storm drain in Florida.
The reptile was discovered by a jogger who came across the neighborhood intruder while out for a run in Venice on Monday morning.
A photo taken at the scene shows the gator's head camouflaged by the road as it peeks out of the drain's opening.
Four Sarasota County Sheriff's Office deputies were needed to help free the animal after it became trapped under a concrete slab along Cerromar Terrace.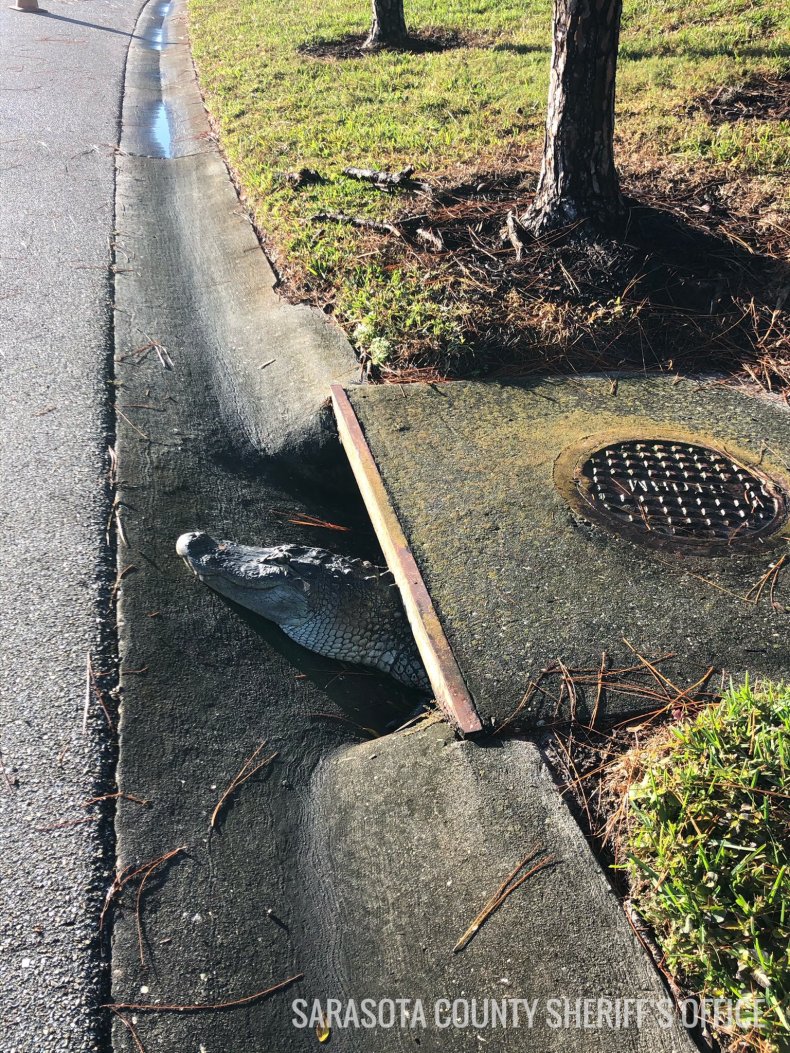 "Imagine coming across this bad boy on your morning jog!" the Sarasota County Sheriff's Office wrote in a Facebook post alongside a snap of the entrapped alligator.
A trapper was reportedly called to help out, but never showed up, so the gator was released back into the nearby lake.
"He returned safely to the lake he typically calls home," the Sheriff's Office said.
One local woman thanked the deputies for their efforts and said she too came across the alligator that morning.
"I did almost trip over him this morning!" she wrote in response to the Sheriff's post. "I was about four feet from him when I realized!"
"Just never know when you'll come across a gator... after all, we are in Florida," one woman noted, as another added: "This guy is getting to be a regular here!"
It's no secret that Florida is home to plenty of alligators, with most residents reporting a run-in with the beasts at least once.
Earlier this month, a video surfaced in Fort Myers showing a golfer approach an alligator on the course and gently reach out to grab his ball from the reptile's tail.
In less fortunate news, a Florida man was attacked by an 8-foot alligator that bit down on his leg and attempted to drag him into a canal.
Mark Johnson, 61, was walking his golden retriever Rex close to the bank of a canal in Port St. Lucie in August when the gator lunged from the water and took him by surprise, clamping down on the bottom of his right leg.
According to Johnson, the animal's powerful jaws grabbed hold of his leg after his foot slipped on a muddy bank. He said it tried to drag him under the water and only loosened its grip after he made the split-second decision to gouge its eye.
"This gator was coming in fast. He was aggressive," he told local media outlet WPTV. "My foot was hanging out of the corner of his mouth. He starts clamping down pretty tight and he started to pull, and the next thing I do, is instantly, you know, here's my fingers, I poke [in the eye.] I had to do something."
The Florida Fish and Wildlife Conservation Commission said a trapper went to the area and removed an alligator that was about 8-foot long, and weighed close to 250 pounds. The animal was humanely euthanized after being captured, officials said.