Alligator Found With Two Arrows Stuck in Its Side and Rope Wrapped Around Snout in Florida
Police in Florida are looking for information after an alligator was discovered with two arrows stuck in its side.
The Lee County Sheriff's Office responded to a call after the animal was found in a pond behind a residence on Oak Hill Loop in Fort Myers. Officers are investigating the incident as a case of animal cruelty.
The alligator was reportedly removed safely from the pond by police and officials with the Florida Fish and Wildlife Conservation Commission.
"The gator had two arrows impaled into its side and a rope wrapped around the gators snout and webbed feet," Crime Stoppers wrote on Twitter.
An estimated 5 million American alligators are spread out across the southeastern U.S., with roughly 1.25 million in the state of Florida alone, according to the Defenders of Wildlife. There are more than 1,000 American crocodiles, not including hatchlings, in Florida.
A 2019 report by the University of Florida's Institute of Food and Agricultural Sciences said the number of nuisance alligator reports appeared to have increased in recent years. This may be at least partially caused by people moving to coastal and freshwater locations, particularly as populations of the previously-endangered American alligator has started to recover. However, unprovoked attacks remain rare.
The report states that, on average, there is one fatality a year caused by an alligator in the U.S. It notes that 58 fatalities are caused by hornets, wasps, and bees. Dogs account for a further 28.
Last month, footage of a huge, hissing alligator in Florida's Everglades was released by a wildlife photographer after a close encounter with the predator.
The video, taken by Conny Randolph, was shared on the Big Cypress Gallery's Facebook page, an art gallery in the Everglades. It shows a large alligator, called Snaggletooth or Loosescrew, emerging from a swamp behind a set of trees and walking towards Randolph, before sinking back down into a swamp.
Randolph retreats a little and can be heard saying: "I'm going to back up a little bit," while the alligator clicks and hisses in the background. The filming then stops after 23 seconds.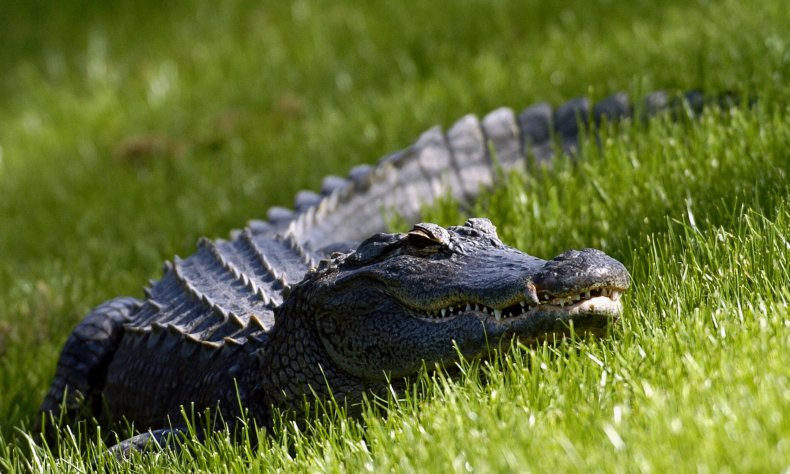 "An encounter with Loosescrew, aka Snaggletooth," said Big Cypress Gallery. "When wildlife approaches, slowly and carefully give them their space."
The alligator in the film made Loosescrew Sanctuary his home. According to Clyde Butcher, who owns the sanctuary and Big Cypress Gallery, he is an "impressive, dominant bull alligator."