A man in southeast Louisiana could be dead from an alligator attack in flood waters following Hurricane Ida. A woman reportedly called authorities to say her husband had been attacked by a large alligator. She reportedly helped him, propped him on some steps and steered the family pirogue to higher ground, only to turn around and see he was gone.
The St. Tammany Sheriff's Office said they received a call from a woman who claimed her 71-year-old husband had been attacked by a large alligator while he was wading through the flood waters following the wrath of Hurricane Ida, which struck Louisiana on Sunday.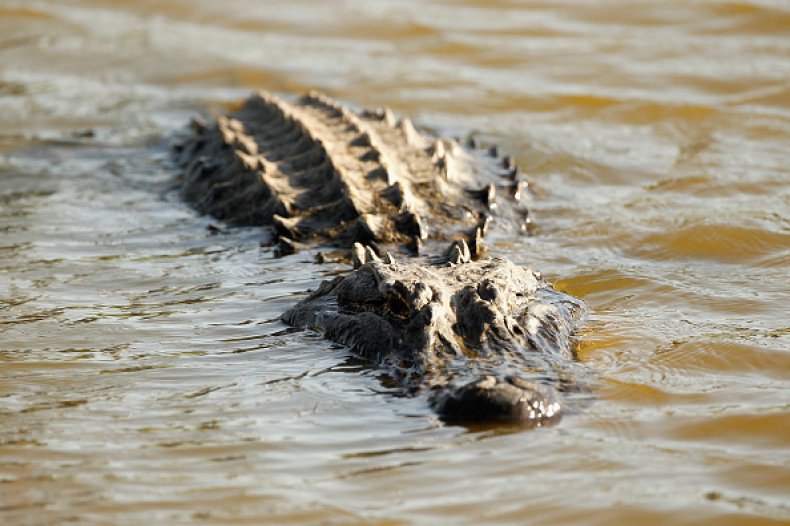 The woman said she was inside their house when she heard a ruckus happening outside. That's when she saw her husband tussling with the large gator, according to WDSU in New Orleans. She pulled him to safety on some steps and went inside the house to retrieve a first-aid kit for his badly injured arm. She called authorities and then steered the boat to higher ground. Upon looking for him, he was gone.
The sheriff's office has looked for the man since that call, but they've had no luck.
Hurricane Ida has caused two deaths so far, including one person in Ascension Parish who died after a tree fell on their house, and a man who drowned while trying to drive through floodwaters on Interstate-10 in Lakeview.
St. Tammany Parish borders Lake Pontchartrain to the northeast, and it's the western border of Mississippi. It's home to towns like Slidell, Mandeville, Madisonville and Pearl River. The parish endured hurricane-force winds Sunday night as Hurricane Ida crept inland.
Ida struck south Louisiana as a powerful Category 4 storm with 150 mph winds around noon Sunday at Port Fourchon in LaFourche Parish. The storm brought blinding rain with its winds, and it appeared to move west of New Orleans and Lake Pontchartrain until a quick jog to the east Sunday afternoon.
Ida's winds hit New Orleans with monster force during the afternoon and evening, leading to an electrical transmission tower falling into the Mississippi River. Next thing, the city went into a blackout.
This happened as winds of 120 mph whipped through the Crescent City during one of the most powerful storms the area has ever seen in recorded history. And that includes Hurricane Katrina, which made landfall exactly 16 years to the date.
Hurricane Ida is still working its way through the country, but its winds have slowed down to 35 mph, reducing it to a tropical depression over northern Mississippi by Monday night.
The governors of Louisiana, Mississippi and Alabama each declared a state of emergency in advance of Ida's landfall, and several parishes in southeast Louisiana were under mandatory evacuation orders. The city of New Orleans, which was devastated by Hurricane Katrina, did not order mandatory evacuations as its mayor said it was "too late" by Friday night.