Officers with Florida's Lake Country Sheriff's Office were called to remove a three-foot alligator from a private school's pool during a recent swim team practice.
"DFC Faust and Deputy Brownsberger responded to a call at Montverde Academy in reference to a 3-foot alligator that had decided to try out for the swim team, preventing the actual swim team from practicing," a Facebook post published by the department on March 11 stated.
Several photos accompanied the post, which showed the two officers holding the alligator and the reptile at the bottom of the pool.
Lieutenant Fred Jones, the press information officer for Lake County Sheriff's Office, told Newsweek the department receives many calls about alligators, especially during the breeding season.
He explained officers have responded to calls about alligators found in homes and in pools. Many of the officers, Jones said, are accustomed to dealing with alligators.
Florida is known for its alligator population and with the growth of the number of people moving to waterfront homes, there have been more interactions between humans and alligators.
According to the Florida Fish and Wildlife Conservation Commission (FWC), Floridians understand how to coexist with alligators, but there is a potential for conflict.
The Statewide Nuisance Alligator Program (SNAP) was established as a way for officials to respond to alligator threats in "developed" areas while conserving alligators in their more natural habitats.
The FWC has a nuisance alligator hotline people can call if they run into an alligator they need assistance removing.
"There are situations when smaller alligators wind up in places that are not acceptable, such as swimming pools, garages, etc., and must be removed," agency officials said.
They said that alligators smaller than four feet are not large enough to be dangerous to people or pets, however, they should not be handled.
"You should never handle an alligator, even a small one because alligator bites can result in serious infection and it's illegal," officials said.
Officers with the Lake County Sheriff's Office managed to wrangle the alligator out of the pool.
One used a safety hook to bring the alligator to the edge and the second officer grabbed the gator.
"His mouth was then secured with electric tape and temporarily detained so they could safely transport him to Lake Apopka where the gator was released on its own recognizance," the Facebook post concluded.
Deputy First Class Joshua Faust, one of the responding officers, told Newsweek it took about 30 to 40 minutes to get the alligator out of the pool. He said the swim team found it just before they were getting ready to start practicing.
He explained it took some time to get the alligator out because it continued to walk around the bottom of the pool.
And, although Faust said he had some experience working with alligators in people's yards and on the roads, this was his first time handling an alligator in a pool.
Facebook users commended the officers, and some cracked a few jokes about the situation.
"They should have kept the little guy in there! Would have made the team swim faster and improve their times," one person wrote.
Another asked if the gator made it on the swim team.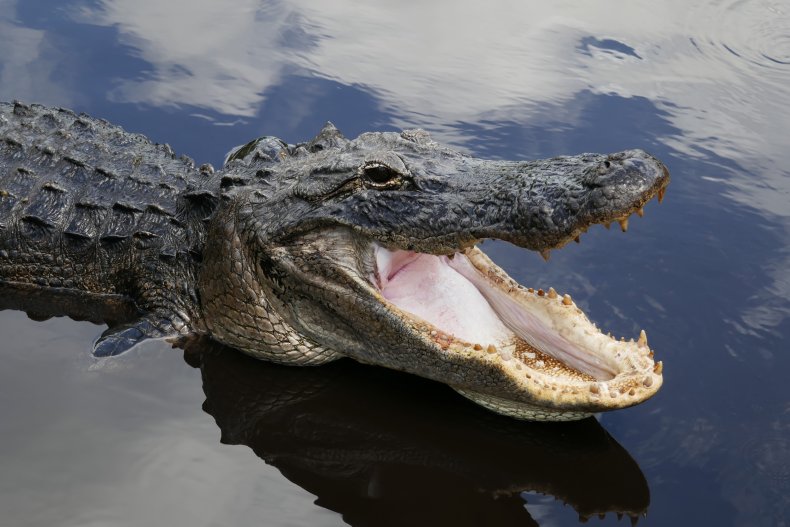 Another officer was hailed for removing an alligator from a Florida homeowner's swimming pool.
Newsweek previously reported that Deputy Heather Harris of the Pinellas County Sheriff's Office subdued the animal, taped its snout shut and removed it from the pool.
Updated 03/16/2022, 6:00 p.m. ET: This story has been updated with comments from Lake County Sheriff's Office's Lieutenant Fred Jones and Deputy First Class Joshua Faust.