Alligators in Texas Lake Have Started Attacking Boats and No One Knows Why
Alligators living in a Texas lake have suddenly started attacking boats and no one knows why.
The lake in Sugar Land, a city about 20 miles southwest of downtown Houston, has seen a flurry of alligator attacks on boats in recent days, and residents are concerned, Houston TV station KHOU reported.
In the past two weeks, two boats have been targeted by the reptiles that dwell in the lake.
In Texas, there are around 400,000 to 500,000 alligators. They live across the state's coastal marshes and wetlands. Alligator attacks are not usual for this particular lake.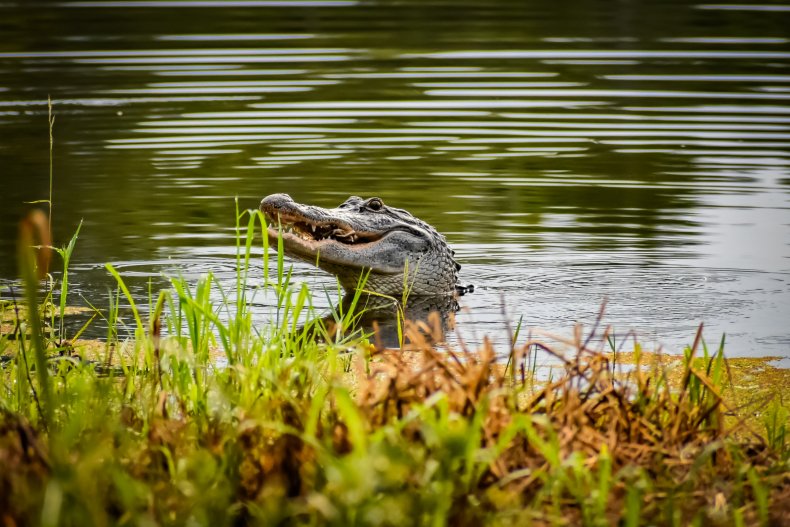 Dee Connors, president of a local rowing club that often uses the lake, told KHOU that she has been rowing for 20 years and "we've never had an alligator attack."
The first attack occurred when a man in his 80s accidentally hit an alligator with an oar, Connors told the news outlet.
"[The next day], the alligator chomped the end of his boat and his boat started sinking, but he made it to shore. He had to walk his boat about a mile, but nobody was hurt," she said.
A second attack occurred just days after.
"Another one of the rowers was just rowing out behind me and another one of the alligators chomped the end of his boat, he didn't get it as hard as the first one so he was able to row it to shore," Connors said.
Alligators are not usually aggressive towards humans. They are usually shy and prefer to keep their distance. But attacks may occur due to other factors. Alligators that have been accustomed to being fed, for example, tend to be bolder in approaching humans. This means they can pose a danger. Alligators can attack if they feel threatened or provoked.
Locals are not sure why the alligators in Sugar Land appear more aggressive recently. Although some suspect it could be down to the cleaning off weeds along the riverbank—this potentially could have exposed their nests, leading them to feel more threatened.
Alligator trappers have been searching for the alligators responsible for the attacks. Connors told KHOU that they have caught one alligator so far—but the second attack happened afterwards.
"So it's the wrong one or there's another aggressive gator," she said.
As Sugar Land city has expanded, so has the alligator population. According to the Texas Sugar Land government website, this has increased the potential for conflict between alligators and people.
Newsweek has contacted the City of Sugar Land for comment.