A witness in the trial of NXIVM founder Keith Raniere took to the stand and claimed that actress Allison Mack, best known for her role as Chloe Sullivan on Smallville, lured her into Raniere's sex cult.
Identified only as Nicole, the aspiring actress testified that she had moved from California to New York and was experiencing a rough patch in her life when she met Mack and was invited to join NXIVM, New York Times reported. Like many women brought into the alleged pyramid sex slave scheme, Nicole was under the impression NIXVM was a self-help group owned by Raniere.
While on the stand this week, Nicole explained she was a struggling actress when she first met with Mack at the Ace Hotel in Manhattan in 2016 and said the Smallville actress suggested the group could "fix how I'm feeling."
Mack allegedly gave Nicole the impression she would receive help with her career. However, Nicole said she had to hand sensitive information over to Mack, including a solo sex tape and a letter falsely claiming her father sexually abused her, in order to join, Nicole testified.
After being recruited as a "slave" for NXIVM, Nicole said she began receiving assignments from Mack. Nicole was allegedly ordered to stop having sex with her former boyfriend, and to spend three months abstaining from sex completely. Nicole testified that she began spending more time at Mack's home in Clifton Park in upstate New York, about 25 miles north of Albany.
Her first few meetings with Raniere didn't seem alarming, she told the court. Nicole said they would go on walks but claimed Raniere, who organized the so-called women's empowerment group in Albany in the 1990s, would call her at 3 or 4 a.m. in the morning to arrange meetings.
Then her first alleged sexual encounter with Raniere came. Nicole testified Raniere took her to a house and ordered her to take off all her clothes. After commenting on her body, she said he blindfolded her and then drove her to another property where her hands and feet were then bound to a table. Nicole said she felt "super vulnerable and exposed." Then, according to her testimony, another person entered the room and began performing oral sex on her while Raniere asked her questions about her sexual past.
"I was so confused," Nicole said.
She tried to remain calm under the "terrifying" circumstances and told the court she replied she was "okay" when Raniere asked because she "didn't think that there was an option" to answer him differently.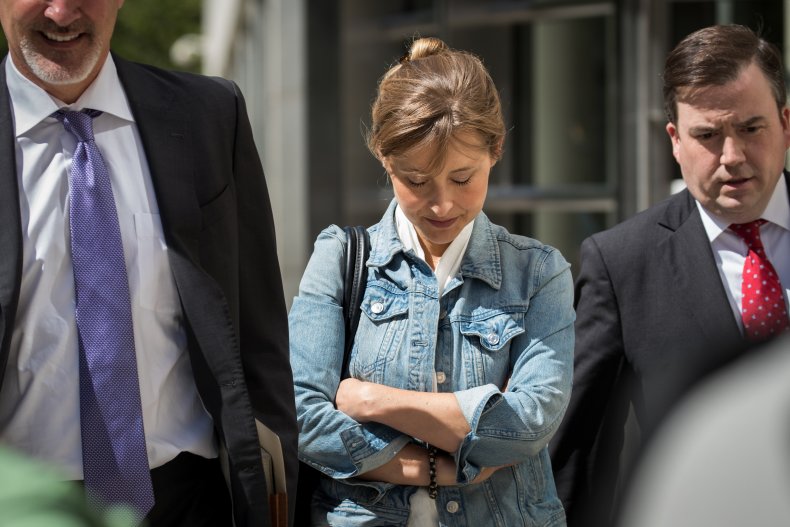 After the incident, Nicole said returned to Mack's home and revealed the events. Nicole said Mack in response called her "brave."
"I think she also said I had earned working more with Keith," Nicole recalled.
Mack was arrested in April 2018 for her role in Raniere's alleged sex cult. She subsequently pleaded guilty to charges of racketeering conspiracy and racketeering while Raniere is facing charges for sex trafficking as well as child exploitation and child pornography in addition to others. Mack is facing a maximum for 40 years behind bars and is expected to be sentenced in September.