Despite Nxivm Sex Cult Charges, Allison Mack Wants to Act, Go to Church and 'Contribute to Society'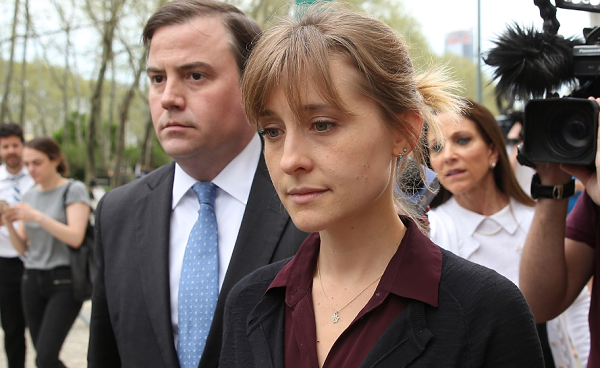 Allison Mack is currently facing sex trafficking charges after admitting to branding women in Keith Raniere's alleged sex cult, Nxivm, but the Smallville actress asked the judge presiding over her trial for leniency, according to court documents released Tuesday.
Mack, who appeared on Smallville, is spending her days on GPS-monitored house arrest at her parents' home in Los Alamitos, California. Under the conditions of her house arrest, she is only allowed to visit with her attorneys and make court appearances in Brooklyn. Her lawyers urged the judge to ease her restrictions and allow her to work again as an actress along with finishing school and attending church.
"While the instant charged have deprived her of pursuing her acting career, Ms. Mack is nevertheless interested in contributing to society," court documents said. "These activities not only will allow Ms. Mack to use her time productively while awaiting trial but will also assist with her reintegration into society if she is vindicated of the charges or even in the unlikely event that she is convicted after trial."
Mack was arrested in April for recruiting women into Raniere's Nxivm's DOS organization. Raniere, the founder of the controversial self-help group Nxivm, was referred to as "Vanguard" by victims of the DOS group, who were lured into joining under the impression they were receiving life coaching and empowerment teaching. In turn, women were allegedly used for a pyramid scheme where they were branded with Raniere's initials, controlled by "masters" and forced to perform sexual acts.
In a May interview with The New York Times Magazine, Mack confessed to suggesting to brand women near their pubic area, which she said was supposed to represent women's devotion to the "sisterhood" of Nxvim. Frank Paralato, a former publicist for Nxivm, said some women had burn marks with the letters "A" and "M," which may have represented Mack's significance within the higher levels of the alleged cult.
Raniere was arrested on sex trafficking, racketeering conspiracy and forced labor conspiracy in March.