Allison Mack Forced NXIVM Sex Cult Members to Follow 500-Calorie-a-Day Diets, Witness Testifies
More details of Allison Mack's treatment of fellow NXIVM members were revealed when one witness testified against the Smallville actress during trial on Friday. The woman, identified only as Nicole, accused Mack of not only sexually exploiting her but claimed Mack forced an extreme diet on India Oxenberg, a former NXIVM member who is also the daughter of Dynasty actor Catherine Oxenberg, according to The New York Post.
Nicole claimed Mack put Inda Oxenberg on a 500-calorie-a-day diet for more than a year. The restrictive diet was a part of Mack's plan to help India Oxenberg reach a goal weight of 107 pounds, which she deemed was NXIVM founder and the cult's leader Keith Raniere's ideal weight for a woman.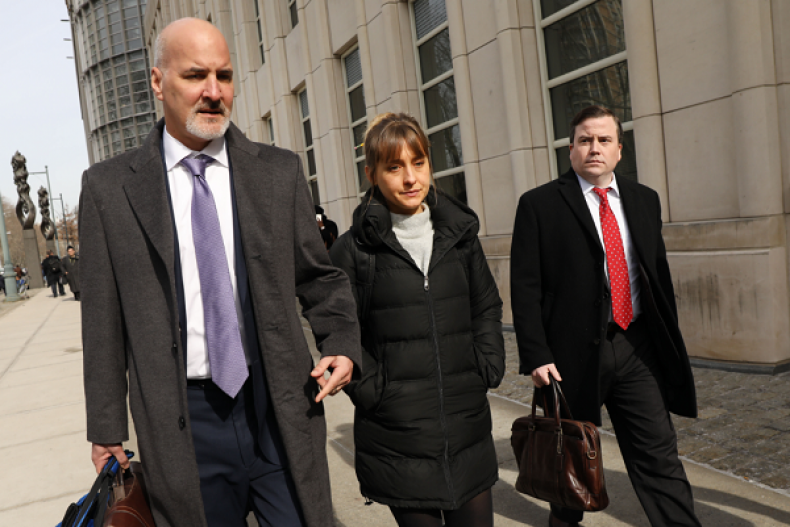 "When India and I became close, they would use her to make me behave," Nicole said. "Alison was trying to have [India Oxenberg] get down to a certain weight. It was just really hard to watch, sometimes ... It was tough on her."
India Oxenberg's harsh diet was also used as a tool to keep women from leaving the group, Nicole testified. "The first thing Allison said is, 'Look what this is doing to India, she hasn't eaten since she got your email," Nicole recalled. "And India said, 'Well, that's not entirely true.'"
Mack plead guilty to two federal counts for her role in NXIVM, a self-purported self-help and women's empowerment group that actually operated as a sex pyramid scheme, in which women were recruited and branded as "slaves" by Raniere and a select group of women referred to as "masters."
Raniere, who is facing a range of criminal charges including sex trafficking and forced labor conspiracy, is similarly on trial in New York, although he has pleaded not guilty to charges.
Catherine Oxenberg explained how her daughter ended up in Raniere's cult in her book, Captive: A Mother's Crusade to Save Her Daughter from a Terrifying Cult, which released in August 2017. The actor, who is the daughter of Yugoslavia's Princess Elizabeth, said she took India Oxenberg to an NXIVM event as a way to bond with her daughter, who was 19 at the time, in 2011. However, she never expected India Oxenberg to get so deeply involved with the group.
Following Nicole's testimony on Friday, Catherine Oxenberg told People magazine confirmed her daughter was on an extreme diet but said she wasn't aware of the severity of it. "I knew India was on a restricted diet of between 500 to 900 calories, but I had no idea it was down to 500 calories for a year," Catherine Oxenberg said.
"It's so many layers of disgust. When you think it can't get worse, it does. The layers of sadism and cruelty are endless," she continued.