How Long Will Allison Mack Go to Jail? Everything We Know After Actor Pleads Guilty in NXIVM Case
Actress Allison Mack pleaded guilty Monday to charges related to her involvement in the Albany, New York–based sex cult NXIVM. She was accused of helping cult leader Keith Raniere lure women into NXIVM, a marketing company which presented itself as a self-help and development group, to make them sex slaves.
Best known for her role as Chloe Sullivan on Smallville, Mack pleaded guilty to racketeering and racketeering conspiracy charges during a Monday court appearance in Brooklyn, New York. Fox News reported she had entered her plea before jury selection was made ahead of her scheduled court appearance. She admitted to her involvement in NXIVM and apologized to those affected.
"Through it all, I believed Keith Raniere's intentions were to help people. I was wrong," she said, according to E! Online. "I must take full responsibility for my conduct and that is why I am pleading guilty today. I am and will be a better person as a result of this."
The judge scheduled Mack's sentencing for September 11. If convicted, she faces up to 20 years behind bars. Sean Buckley and William F. McGovern, Mack's lawyers from Kobre & Kim, declined to provide comment to Newsweek.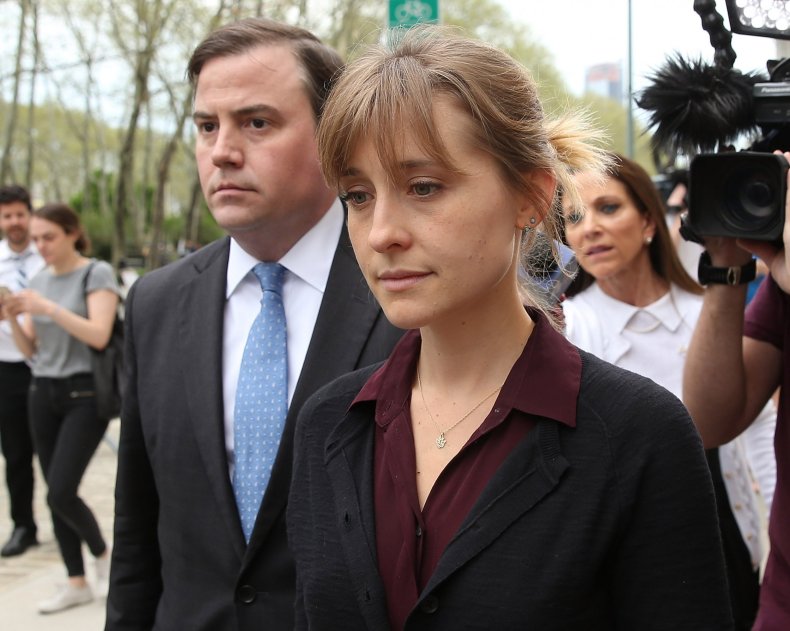 In April 2018, Mack was arrested by the FBI for her then-alleged involvement in NXIVM. She was released into her parents' custody and held under house arrest in California. The Justice Department said she was being indicted for sex trafficking, sex trafficking conspiracy and forced labor conspiracy.
Prosecutors said Mack served as Raniere's "master" who "directly or implicitly required [recruits] to have sex with" him, the legal complaint stated.
"As alleged in the indictment, Allison Mack recruited women to join what was purported to be a female mentorship group that was, in fact, created and led by Keith Raniere," U.S. attorney Richard P. Donoghue said in a press release, according to CBS.
"The victims were then exploited, both sexually and for their labor, to the defendants' benefit," Donoghue's statement continued, "This Office and our law enforcement partners are committed to prosecuting predators who victimize others through sex trafficking and forced labor."
NXIVM's operations were suspended after allegations claimed the organization was behind a sex cult. Nancy Salzman and her daughter Lauren Salzman, who were also members of NXIVM, were the first to plead guilty in the case.