'Smallville' Star Allison Mack Uses Scientology Case to Defend Nxivm Forced Sex Labor
Allison Mack's attorneys cited a previous case against the Church of Scientology in effort to defend the Smallville actor against sex trafficking charges. Mack, who was arrested in connection with Nxivm sex-slave cult leader Keith Raniere, was accused of using photos and documents to coerce lower-ranking members of the group into free work and sex with Raniere.
In court documents, obtained and released by Deadline on Friday, Mack's attorneys recalled a 2009 case against the Church of Scientology with similar accusations of forced sex and labor to suggest Mack and Raniere were not guilty of committing "serious harm" to others.
"The government argues that Ms. Mack obtained forced labor through 'threats of serious harm,' with serious harm being the embarrassment that would result from the exposure of one's collateral," the court documents said. "Courts have found, however, that such an outcome, albeit embarrassing, does not amount to serious harm under the statute."
Mack and Raniere allegedly threatened to release naked images and malicious statements made by other members of the cult against relatives. Their lawyers argued their actions didn't fall in line with the threat of "serious harm" that would influence anyone to engage in forced labor or sex.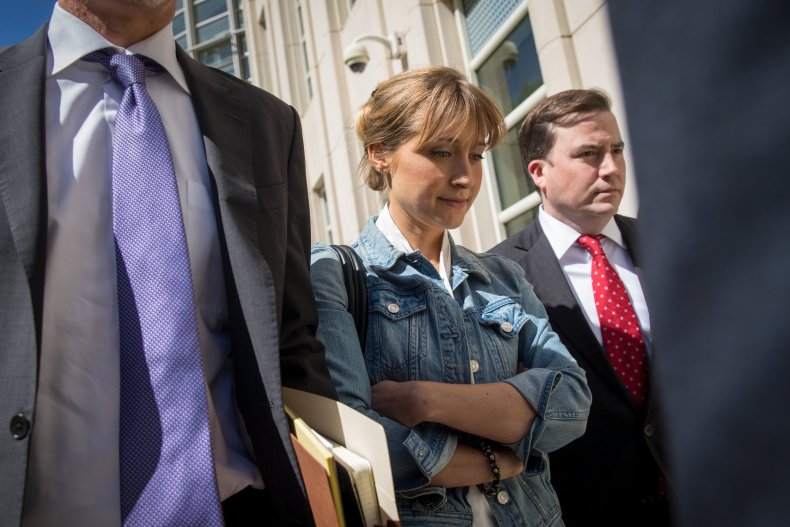 A couple unsuccessfully sued the Church of Scientology in 2009 over similar claims, which Mack's lawyers referenced during court on Friday. "The court did not find that plaintiffs were compelled to remain in the organization even though, if they chose to leave, they would be 'excommunicated' from their friends and family and labeled a 'dissenter,'" Mack's lawyers said. "The threat of reputational damage and isolation from loved ones therefore did not qualify as serious harm."
Mack was arrested and accused of being a recruiter in the cult, in which women were allegedly branded, assaulted and blackmailed for attempting to leave, in April.
"As alleged in the indictment, Allison Mack recruited women to join what was purported to be a female mentorship group that was, in fact, created and led by Keith Raniere," United States Attorney Richard Donoghue said in a statement at the time. "The victims were then exploited, both sexually and for their labor, to the defendants' benefit."
Mack was released on a $5 million bond. She, along with Raniere, is facing a 15-year minimum, maximum life in prison if convicted on multiple counts of sex trafficking.
See the full indictment HERE.