Allison Williams Joins Conservative News Outlet After Leaving ESPN Over Vaccine Mandate
Former ESPN reporter Allison Williams is joining conservative news outlet The Daily Wire after leaving the sports network because of its vaccine mandate.
"When one door closes another opens," Williams tweeted on Friday. "Beyond excited to collaborate with the Daily Wire to expose the side of these mandates in sports that isn't being told."
The conservative publication has hired Williams to lead a new sports series that will be available only to its paying members, according to a statement released Friday.
"The Daily Wire is one of America's fastest growing media companies and I am thrilled and honored to join them," Williams said in a statement. "I am proud to be a part of a company that fights for our rights and I cannot wait to bring agenda-free sports reporting to the Daily Wire's members and millions of followers."
Williams, who is not vaccinated against COVID-19, announced over the weekend that she would be leaving ESPN after the Walt Disney Co., which owns the sports network, ordered all employees to be vaccinated by October 22.
"Leaving ESPN was one of the most difficult decisions of my career, but it was the right thing to do," Williams said Friday. "I respect people who choose to get the COVID-19 vaccine, but it was not the appropriate medical decision for me at this time. No one should be forced to choose between their livelihood and the freedom to make their own health care choices—it is simply un-American."
Williams, who joined ESPN in 2011 and covered college football and basketball for the network, has cited her fertility plans as the reason why she chose not to get vaccinated.
"Throughout our family planning with our doctor, as well as a fertility specialist, I have decided not to receive the COVID-19 vaccine at this time while my husband and I try for our second child," she said.
The Centers for Disease Control and Prevention is encouraging all people to get vaccinated and emphasizes that the vaccines are safe for those trying to conceive, pregnant mothers and those breastfeeding.
In fact, the federal agency is encouraging pregnant mothers to get vaccinated, with the U.S. seeing an increasing number of deaths among unvaccinated pregnant patients since the rapid spread of the coronavirus's Delta variant.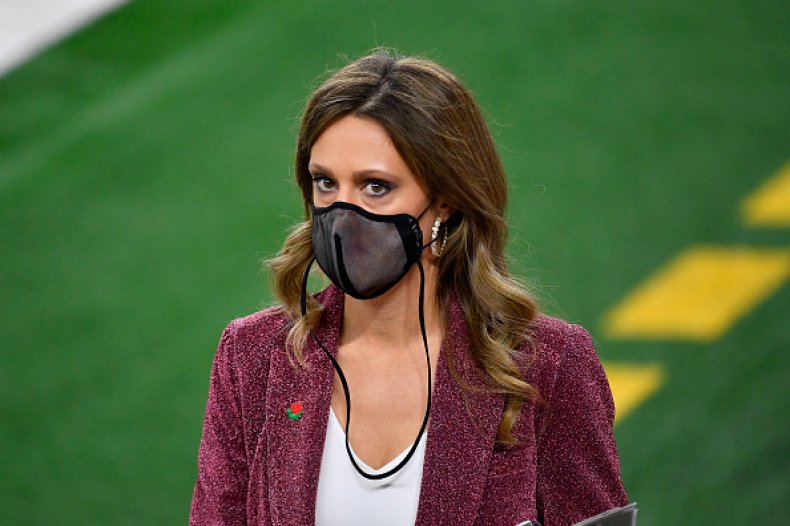 Back in September, Williams announced that she would be unable to be on college football sidelines for the first time in 15 years because ESPN is requiring live-event staffers to be vaccinated.
"My heart hurts posting this but I'm at peace with my decision," Williams said.
In a video posted to her Instagram, the reporter said, "I have been denied my request for accommodation by ESPN and the Walt Disney Company, and effective next week, I will be separated from the company."
While Disney is requiring employees to get vaccinated, The Daily Wire has said it will not comply with President Joe Biden's directive that says employers with more than 100 workers must issue vaccine mandates or require weekly coronavirus testing.
"The Biden administration continues to pressure businesses into acting as the enforcement arm of the federal government's tyrannical vaccine regime. It's a shame so many businesses are going along with it. We won't," Daily Wire co-CEO Jeremy Boreing said.
The conservative outlet said it will be fighting the measure in court.
"Allison is a massive talent. ESPN's loss is our members' gain," Daily Wire Editor Emeritus Ben Shapiro said.