Allyson Felix: Husband, Olympic Record and Nike Deal Details of Track Sprinter
Six-time gold medalist and track runner Allyson Felix will be competing in her fifth Olympic Games in Tokyo in July. It will also be her first Olympics she qualifies for as a mother, after having her first child in November 2018.
As well as being considered one of the U.S.'s most decorated athletes on track and field, Felix has also been a tireless campaigner for athlete mothers, especially when negotiations with Nike turned sour around the time she gave birth to her daughter.
Felix's campaigning has been as successful as her athletics career, and she was included in Time magazine's 100 Most Influential People of 2020.
Here's all you need to know about the athlete.
Allyson Felix's Age
Allyson Michelle Felix was born in Los Angeles on November 18, 1985, making her 35 years old. She won her first Olympic medal when she was only 18, achieving silver in the 200 meters at the 2004 Summer Olympics in Athens, behind Jamaica's Veronica Campbell. In that race, Felix set a World Junior record over 200m with her time of 22.18.
Allyson Felix's Husband
Felix is married to Kenneth Ferguson, who also shares her passion for running.
Ferguson is himself a former sprinter and hurdler, who won three gold medals in the 2003 Pan American Junior Athletics Championships.
The couple married in 2018, the same year Felix gave birth to their daughter, Camryn.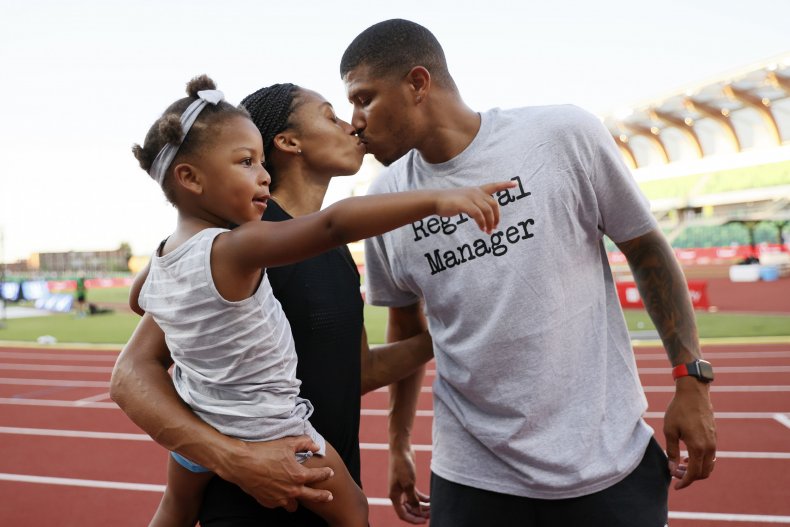 Felix opened up about how her and Ferguson make time for one another, despite their busy lives, in an interview with People magazine in March 2020. "I think it's just important to really try to schedule time for ourselves in," she said. "For me, it's been hard because a lot of that is asking for help sometimes but it's just — we have a great support system and it's amazing."
Felix added that her parents helped out a lot with childcare so that the couple can spend time focusing on their relationship.
Allyson Felix's Olympic Record
Felix's main event is 400m sprint, but she has also competed at top level in the 100m, 200m, 4x100m relay and 4x400m relay.
She is one of the greatest sprinters in U.S. history, and since earning her first medal at the 2004 Olympics, has gone on to hold the record for the most Olympic track-and-field medals won by an American woman. She has won nine medals at four different Olympic games.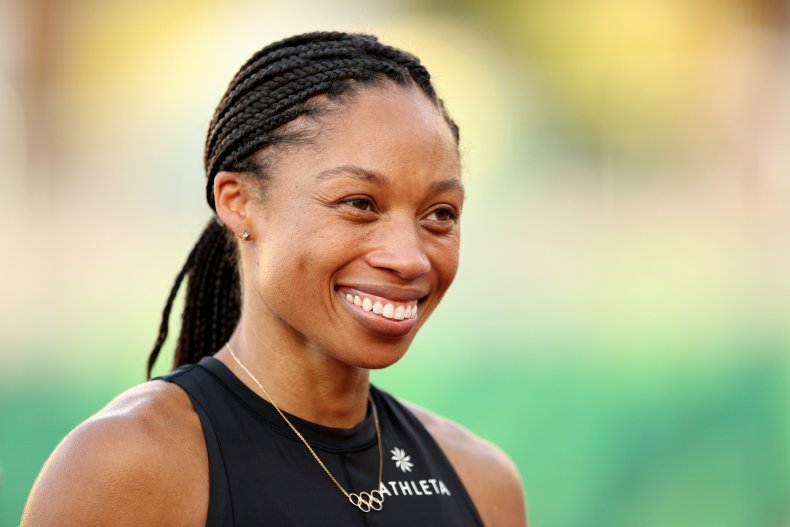 If she wins one more medal at the 2021 Tokyo Olympics—which will reportedly be her last Olympics—she will become the most decorated female track athlete from any country.
Allyson Felix's Nike Deal
Felix's daughter was born premature at 32 weeks in November 2018 and the athlete had to undergo an emergency cesarean section to allow her and her daughter to survive. Around that time, Allyson Felix had been negotiating a new contract with Nike, as her previous one had come to an end in late 2017.
In May 2019, Felix called out Nike for cutting her pay by 70 percent after Camryn was born. In a column for the New York Times, she said that Nike declined her request for the company to contractually guarantee that she wouldn't be punished if she didn't perform her best in the months surrounding childbirth.
"If I, one of Nike's most widely marketed athletes, couldn't secure these protections, who could?" she wrote.
Her contract with Nike thus effectively ended in December 2017. She is now sponsored by Athleta.
She now advocates for childcare help for athlete mothers and is planning to create a $200,000 childcare fund for 10 athletes who are mothers.
On August 12, 2019, a short time after Felix spoke out, Nike introduced a new maternity policy for all sponsored athletes. It guarantees that a pregnant athlete's pay can't be cut for 18 months around the pregnancy.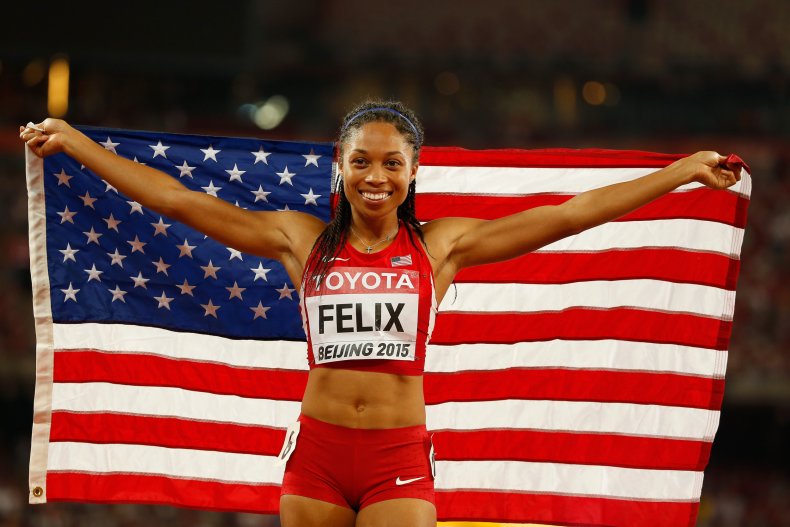 "When I think about the world that Cammy will grow up in, I don't want her—or any other woman or girl—to have to fight the battles that I fought," Felix told CNBC on July 12.
"It's really hard to balance being a mom and a professional athlete, and the reality is that there's a certain level of financial support and security that's necessary to be able to do it," she added.
"There has always been a silence and a fear surrounding motherhood in sports. I remember feeling like I had to choose between this sport that I love and my family."