Almost 10 Percent of Michigan's Population Without Power After Severe Thunderstorms
Thousands of Michiganders are without power after severe thunderstorms rocked the area.
More than 850,000 outages were reported statewide as of Thursday morning, according to the PowerOutage.US—a project that collects live power outage data from utilities across the country.
That's almost 10 percent of the state's population, which was recorded as approximately 9 million people in 2019.
DTE Energy, a Detroit-based energy company, had the most outages, with more than 573,000 customers affected. The company said it had 1,800 crews in the field working to restore power.
Users can report outages or downed power lines at DTE Energy's website under the "Outage Center" section. The page also provides information on the status of their power and outage map.
"We have called in additional out-of-state linemen to help with restoration efforts," the company said in a storm alert. "Stay at least 20 feet away from all downed power lines and anything they're in contact with and consider them energized and dangerous."
DTE Energy said in a Twitter post on Thursday morning that the outages were caused after two "intense waves of weather" hit the region late Wednesday and early Thursday morning.
"Wind gusts over 70 mph and heavy rain caused extensive damage, including more than 3k downed wires, broken poles and tree-related damage," the company said.
Consumers Energy, another Michigan-based energy provider, had the second-highest amount of outages on Thursday morning. More than 246,000 customers were without electricity, according to PowerOutage.US.
As with DTE, Consumers Energy customers can go to the provider's website to report an outage or view the outage map. Customers can also sign up for alert messages on outage updates.
Consumers Energy said on Twitter that it brought in crews from seven states to help restore power to Michigan residents and businesses.
Other energy companies experiencing outages are Great Lakes Energy, Indiana Michigan Power, Midwest Energy Cooperative and Lansing Board of Water and Light.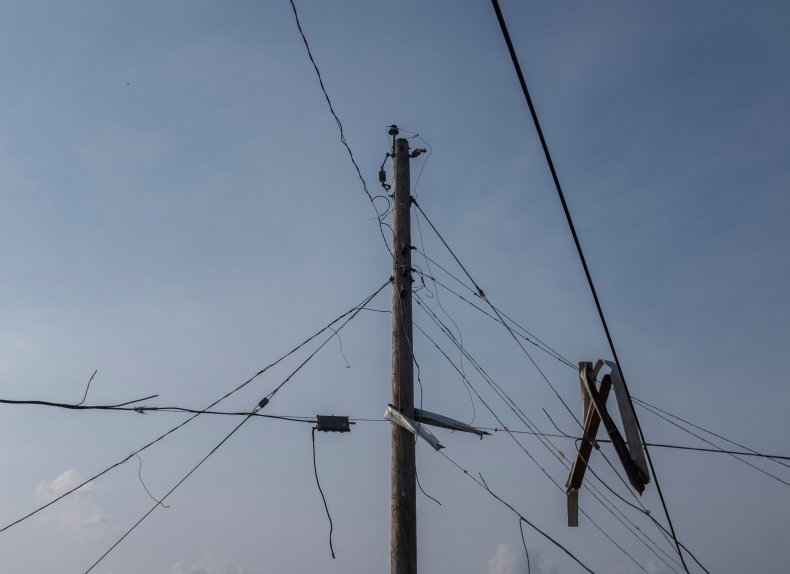 Flash flood warnings were in effect for Detroit, Ann Arbor and other Michigan cities on Thursday morning.
As crews work to restore power across the state, even more storms could hit Michigan overnight.
"Hot and humid conditions will exist again today. Afternoon heat indices well into the 90s. The environment will again bring the chance for showers and thunderstorms. Strong to severe thunderstorms are possible, greatest potential late this evening and overnight," the National Weather Service Detroit warned in a Twitter post.
Newsweek reached out to DTE Energy and Consumers Energy for additional comment but didn't receive a response before publication.