Michigan set a pandemic record Monday for children hospitalized with COVID-19, according to a state health department report.
The department said the state had 96 kids hospitalized with confirmed cases of the virus, with the majority of those coming from one health care coalition region alone.
"We are in a place that I don't think any of us imagined being in a year ago," Dr. Natasha Bagdasarian, chief medical executive for the Michigan Department of Health and Human Services, told the Detroit Free Press.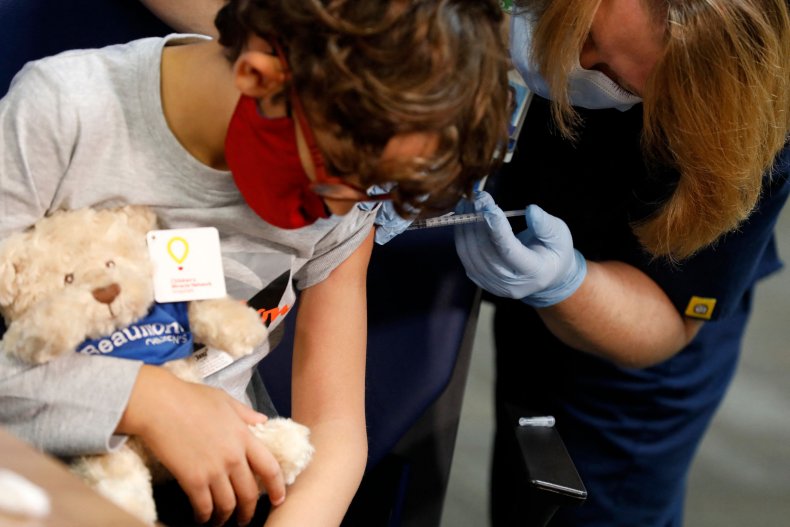 Sixty of the kids who are hospitalized are in Healthcare Coalition Region 2 South, an emergency preparedness program that is composed of Monroe, Washtenaw and Wayne counties. Around 2.2 million live in the region, which is the most populous in the state and includes Detroit.
The previous pandemic high for pediatric hospitalizations was 71, which was set on April 20, 2021. The latest data comes as the Omicron variant has caused a surge in all COVID cases for the state.
Michigan also experienced a rise in cases during the summer from the Delta variant, followed by a substantial uptick in the past couple of months for cases involving children. In early December, the state health department reported Michigan had an increase of 54 percent in pediatric cases in about a month's time.
"We've had a slow rise in cases since the beginning of the K–12 school year, followed by a more rapid rise when the weather got colder and people came inside," Bagdasarian told the Detroit Free Press.
She added, "The weather is still cold, people are still gathering indoors and our hospitals are really struggling."
Michigan also reported an average of 12,247 new cases per day over last weekend, which brings the current state total of confirmed cases from Thursday to Monday to 61,235.
Hospitalizations for adults are also up with 3,903 people aged 18 and older in hospitals for treatment due to the virus. Of those people, 799 were in intensive care units, and 504 had been placed on ventilators.
Fifty-seven percent of all residents of Michigan are fully vaccinated against COVID-19, according to state data. However, only about 31 percent of children ages 5 to 19 are fully vaccinated, while about 36 percent have had at least one dose. Approximately 15 percent of children in Michigan that fall between the ages of 5 and 11 are fully vaccinated. Children younger than 5 are not eligible for vaccines at this time.
"We are continuing to experience high transmission of COVID-19 in Michigan across all ages," a spokesperson for the Michigan Department of Health and Human Services told Newsweek. "We have especially low pediatric vaccine uptake in places like Detroit which is leaving these hard-hit populations more vulnerable to future surges. We continue to stress that vaccination is our best tool to fight the virus and to increase the numbers of residents who have been vaccinated."
Update 01/04/21 4:10 p.m. ET: This story has been updated to include comments from a spokesperson for the Michigan Department of Health and Human Services.