Almost 100 Million Have Already Voted Before Election Day
Voter turnout in the 2020 presidential election could be set to reach unprecedented heights after early voting figures revealed that nearly 100 million people had already cast ballots before Election Day.
Over 98.8 million Americans had voted in the election as of late Monday night, according to the United States Elections Project. The final tally is likely to be higher since not every state with early voting continuing through Monday had reported updated figures by the end of the day.
The figures include more than 35.7 million votes cast in person and over 63 million mail-in ballots. Out of 20 states that report the party registration of early voters, Republicans had an edge of around 720,000 in-person votes, while there were over 7.7 million more registered Democrats who returned mail-in ballots. In all states, there were over 29 million mail-in ballots still outstanding.
It is not clear how many of the outstanding ballots will be received in time to be counted. Some states allow ballots to be counted if they arrive days after the election, provided they have been postmarked by November 3. It is also likely that some voters requested a mail-in ballot before deciding to vote in person early or on Election Day instead.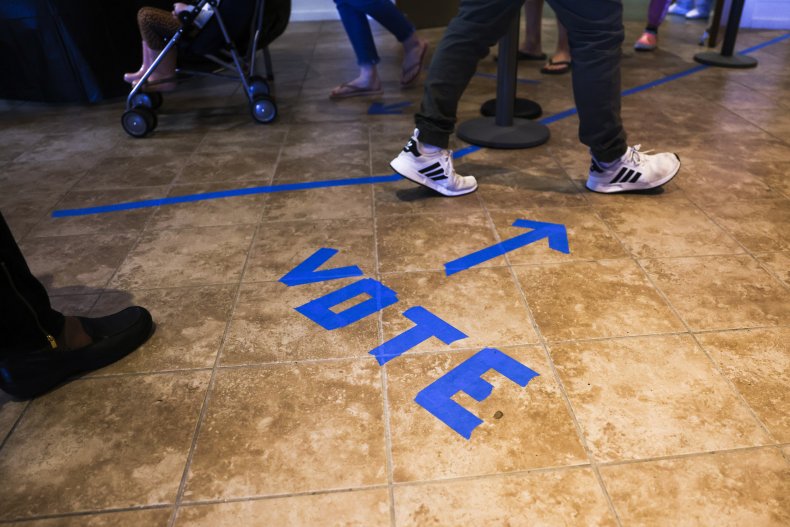 Early turnout was particularly high in several states where polls show a tight contest between the candidates. The almost 9 million early votes cast in Florida by the end of early voting on Sunday dwarf previous early voting numbers in the state, while approaching the 9.4 million total votes that were case in 2016. Notably, the Democratic advantage in early votes was smaller than in other states that report party registration, with GOP voters being only a little over 100,000 votes behind.
In traditionally Republican Texas, where polls show President Donald Trump with only a slight edge over Democratic presidential nominee Joe Biden, over 9.7 million had already cast ballots when early voting ended on Friday, about 750,000 more votes than in the entire 2016 election. The vast majority of early votes in the state, over 8.7 million, were cast in person. Texas does not report the party registration of those who voted early.
High voter turnout has often favored Democratic candidates but the impact of a potential record high overall turnout on the current election is not clear, with voting options being significantly expanded in most of the country due to the COVID-19 pandemic.
Party registration does not always reflect which candidate a voter ultimately chooses. However, the numbers suggest that a Democratic advantage in early votes probably does exist, with Republicans hoping to make up any deficit in a large Election Day turnout that favors Trump.
"I think it's safe to say at this point that Joe Biden is headed into Election Day with a pretty substantial lead ... in battleground states," Tom Bonier, CEO at Democratic data firm TargetSmart, told The Hill. "It just becomes a question at this point of whether President Trump and his campaign can climb out of that hole."
The choice of independent voters is also likely to play be a significant factor in the results of the election. Figures suggest that close to one quarter of those who voted early are not registered to either political party.
Newsweek reached out to the Trump and Biden campaigns for comment.