Almost 40,000 Children in London Will Rely on Food Banks This Christmas
Tens of thousands of children in poverty in England's most affluent city won't get a single Christmas present this year and almost half will not eat without food provided by charities, a new report has found.
London is often pitted against other areas across the U.K. for dominating the economy, jobs, and opportunities. But as with any major city, for all the areas of great wealth, there are pockets of extreme poverty, with rich and poor lying side-by-side, often impacting children hardest of all.
The capital city has the highest rate of child poverty of any English region, with 700,000 children living in relative poverty, according to the Child Poverty Action Group. With the hit to the economy and jobs caused by COVID this year, it is feared even more children than ever before will be plunged under the poverty line.
A new report released by The Childhood Trust reveals the extreme hardships that winter will bring them, including feelings of deprivation, isolation, loneliness, and hunger.*
The report, which surveyed charities representing 84,000 disadvantaged children aged 4-18 years old, revealed that 40 percent won't receive a gift this year and almost 50 percent - some 40,000 children - will rely on food banks to be able to eat during the Christmas break. In addition, 33 percent will experience fuel poverty, where their parents cannot afford to heat their home.
Leo Crump is a single parent to twin nine-year-old daughters Antonia and Hope, living in Paddington, west London. He was furloughed from his job at a children's nursery in April, where the government paid a percentage of his wages while he was unable to work. His furlough payments ended in August when he was offered a handful of shifts on a freelance basis, but he has not had any work since.
Crump is entitled to Jobseeker's Allowance, a government benefit, but says he has found it impossible to find part-time work as the sole carer to his girls. The payment is not enough for all three to live on. As a result, the family is dependent on food banks and charities for their survival and Crump says he doesn't know how he's going to get through Christmas.
He tells Newsweek he doesn't think it will dawn on his daughters how little they will be getting until they wake up without any gifts. "I put a brave face on, but I do find it very hard, how do you explain to children that Christmas won't be the same this year? The reality, I think, will click in on Christmas day," Crump says.
Like millions of other children, his daughters have given Crump a list of presents they want from Santa. But they have gone quiet on speaking about celebrating this year, he says. "They don't seem as excited as other years," Crump says. "The hardest thing is explaining to children without them getting upset. It's living on a shoestring all the time, I'm on my own here and I try in front of the children, to hide it, you don't want to put them on a downer. It's hard."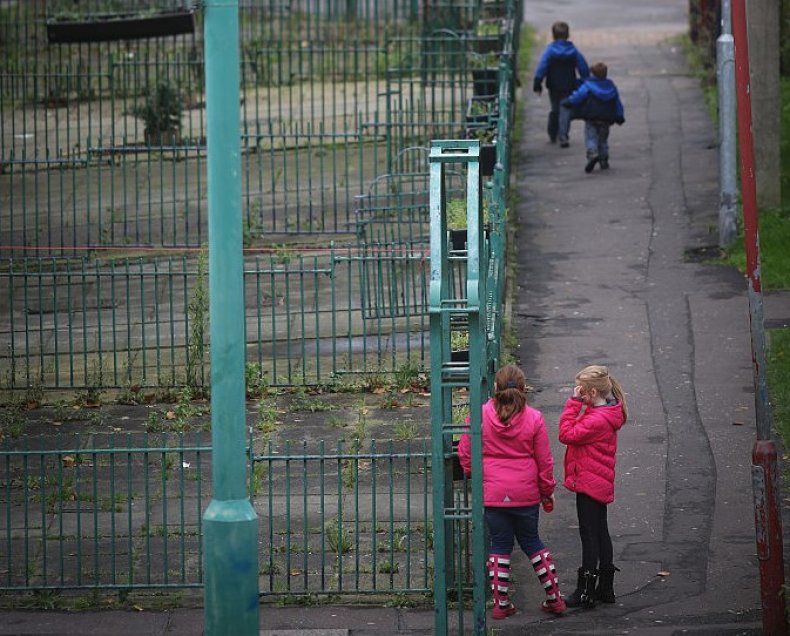 Crump hopes charities supported by The Childhood Trust will be able to provide some support over the winter break but without that, he'd "be stuffed," he says.
"If it wasn't for the food bank, we'd be lost. I'll be making a visit for Christmas, but even the food bank is very short now, the last time I went they just had the bare necessities."
While the country went into lockdown and schools closed, Crump was in charge of making sure his daughters didn't fall behind on their work, but he only has limited access to the internet through his phone contract and it proved a real struggle.
"The girls get very bored and I have to find things for them," he says. "I hope to have full internet soon because the girls are at that age now where they are taking my phone and talking to other children, they are speaking to their friends when they're not at school, but they can only do it for a short amount of time. I tried to keep up with the standard of homework, but it's hard when you can't access online links."
Crump now says he takes everything "day by day" but that ultimately, his daughters keep him hopeful for the future. "I don't know where I'd be without them, they keep my chin up," he says. "I'm a very proud dad. They're very thoughtful. My little girl Hope will come up and give me a cuddle and say 'not to worry Dad'. It does keep your mood up."
The Childhood Trust is aiming to raise £3 million by December 8 through its annual Christmas Challenge fundraising campaign*. It is the most ambitious target for the charity to date and will help over 80,000 children.
The Trust's CEO Laurence Guinness said: "We are gravely concerned about the growing number of children who have been forced into poverty by the Coronavirus pandemic.
"The scale of inequality has been made much worse this year by the economic and psychological impacts from the pandemic and the measures taken to contain it. Whilst Christmas is a joyous time for many, for disadvantaged and vulnerable children the experiences of poverty and destitution are much worse at this time so it's critical we get immediate aid to as many children in need as we possibly can."
Family Support Worker Nazia Rashid said: "We work with a number of families and children where one parent has lost their job, and it does cause real tension. Without access to help and support, funded via campaigns like this, I don't know where those children would be."
*Study methodology & notes
1. The Childhood Trust's Child Poverty, Coronavirus and Christmas report was carried out with nearly 40 charities supporting children in all London Boroughs, which are collectively supporting a total of 84,000 disadvantaged children aged 4-18 years old. The data draws upon children's personal experiences, in addition to the charity's knowledge of children and their families' experiences at Christmas.
2. The Christmas Challenge campaign is a matched fundraising campaign that doubles individual donations. Access and more information is online here.