Almost 500 COVID Cases Linked to Milwaukee Bucks NBA Gatherings, Health Officials Say
Milwaukee Health Commissioner Kirsten Johnson said on Tuesday that nearly 500 COVID-19 cases have been linked to fans celebrating the Milwaukee Bucks winning the NBA championship last month.
During a briefing on the state's COVID-19 response on Tuesday, Johnson said the Wisconsin Department of Health Services, in conjunction with the Milwaukee Health Department, has identified 491 people with confirmed or probable cases of COVID who attended the Bucks' winning game or the following victory celebration.
She noted the department could not differentiate from cases that came directly from viewing the game or gatherings in the Deer District area surrounding the Bucks' home arena, Fiserv Forum. The figure given for COVID cases related to the Deer District celebration, which had a crowd of 100,000 fans, was also said to likely be an undercount.
"We anticipated an increase in positive cases due to the Delta variant, but [a] 155 percent increase in one week is distressing," Johnson said.
She also said that anyone who had attended the celebrations or any similarly large events should get tested.
"I think it is important to recognize that any time there is a large gathering of people, we are going to see the virus spread," Johnson added.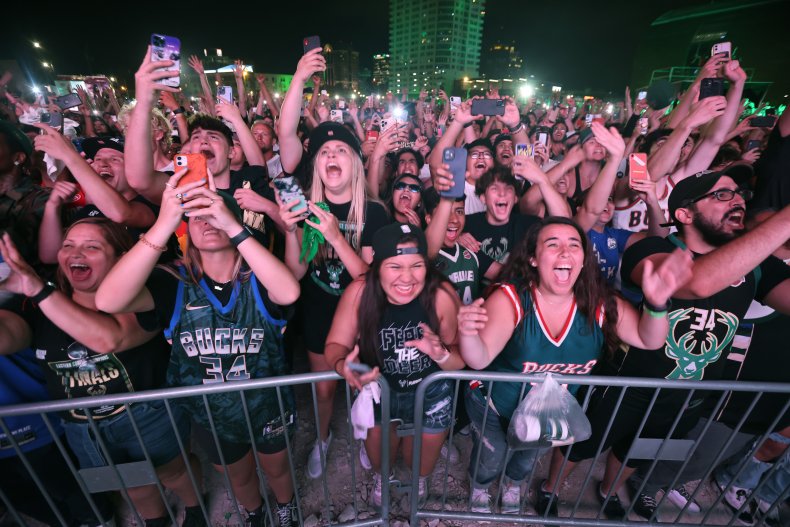 The Milwaukee Bucks won their first championship since 1971 on July 20 with a win over the Phoenix Suns. The victory, which happened on their home court, led to celebrations throughout the city, but especially so in the Deer District.
In related comments made during the briefing, Johnson said she has spoken with entertainment venues about the possibility of requiring proof of vaccination or a negative COVID-19 test before admittance, similar to the plan New York City Mayor Bill de Blasio announced for his city on Tuesday.
She also said capacity limits for bars, restaurants and other venues could potentially return at some point, but such a move is not presently in the works.
The Milwaukee Health Department has already issued an advisory for all residents to wear masks indoors, even if they are fully vaccinated. Members of the city council have previously sought to push through legislation that mandates masks indoors if the transmission level in the city reaches 100 or more cases per 100,000 people.
Dr. Ben Weston, director of medical services at the Milwaukee County Office of Emergency Management, also spoke during the briefing about a spike in hospitalization rates throughout the state.
"We have four times as many people hospitalized with COVID in Wisconsin as we did one month ago, from 74 individuals to 310 today," Weston said.