Almost 500 U.S. service members have been discharged so far for refusing the COVID-19 vaccine.
But that number is likely to climb as the various military branches continue the process of dealing with those who are refusing to get vaccinated against COVID-19, or have requested exemptions.
The Navy said on Tuesday that it has discharged 23 active-duty sailors for refusing the coronavirus vaccine. The Air Force, as of January 21, has discharged 111 active-duty airmen for refusing to get the shots.
As of January 20, the Marine Corps had discharged 334 Marines. The Army is the only service that has not yet initiated separations for active-duty personnel for refusing the COVID-19 vaccine.
But in a news release earlier this month, the Army said it had relieved six active-duty leaders, including two battalion commanders, from their positions for refusing the vaccine. The Army also said it had issued almost 3,000 general officer written reprimands to soldiers for vaccine refusal.
The 2022 National Defense Authorization Act, which President Joe Biden signed into law in December, prohibits service members from being dishonorably discharged for refusing to get the COVID-19 vaccine.
Last summer, the Department of Defense announced that it would make COVID-19 vaccination mandatory for all service members—active-duty, National Guard and Reserves.
In an August memo, Secretary of Defense Lloyd Austin said vaccination against COVID-19 is "necessary to protect the Force and defend the American people."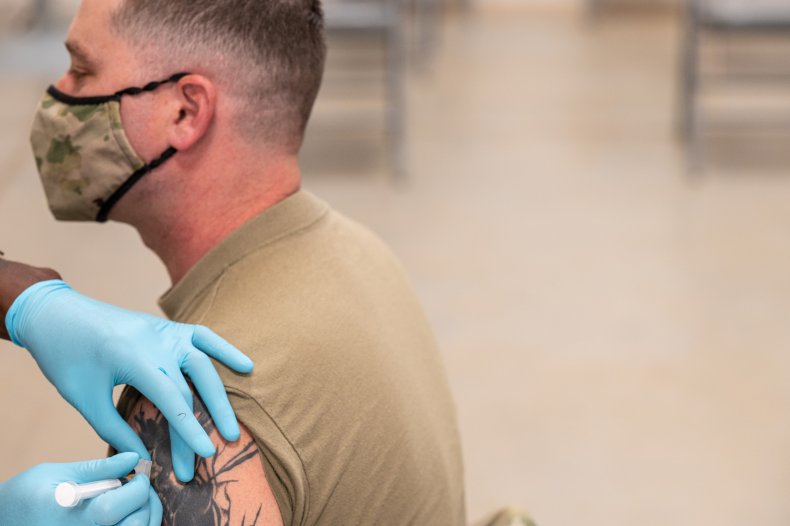 The Air Force set the earliest deadline for active-duty airmen to get vaccinated, November 2. The deadline for active-duty Navy sailors and Marines was November 28, while the Army's deadline was December 15.
Around 98 percent of active-duty service members are fully vaccinated, according to the Department of Defense.
"For service members, the situation is clear—get the shots or face the consequences," the department said in a news release last month.
Some lawsuits about the mandatory vaccine are making their way through the courts, according to the Associated Press.
Pentagon press secretary John Kirby told reporters at a press briefing last week that the vaccine mandate is "a lawful order."
"It's not uncommon for us to make vaccines mandatory after somebody has come in when something new develops, and so it's part of being a service member," Kirby said. "When you're ordered to get a vaccine, you got to get that vaccine."
Kirby added that the "vast, vast majority" of service members had complied with the vaccine mandate.
The military branches have been contacted for additional comment.