Almost 75 Percent of Voters Think Moderator Should Be Able to Mute Biden, Trump During Next Presidential Debates: Poll
After the flurry of interruptions that characterized most of Tuesday's first presidential debate, new polling data showed most voters believe moderators should be able to switch off nominees' microphones during the remaining scheduled discussions.
Results of a survey conducted by Morning Consult and Politico on Wednesday, which collected responses from more than 1,850 registered voters, found nearly three-fourths of those who participated support muting a nominee's mic when he speaks out of turn. The poll indicated 72 percent of voters think the proposal is a "good idea," compared with 19 percent who do not, and 8 percent who said they feel indifferent about the issue. Its margin of error is plus or minus 2 percentage points.
The polling statistics come on the heels of the debate between President Donald Trump and Democratic presidential nominee Joe Biden held at Case Western Reserve University in Cleveland on Tuesday night. The event saw both nominees arguing and talking over one another throughout its 90-minute run, although a subsequent review confirmed Trump accounted for more than 75 percent of interruptions. Fox News anchor Chris Wallace, who moderated the first debate, was often unable to finish asking his questions.
The Commission on Presidential Debates (CPD) acknowledged the torrent of public responses that noted how difficult it was to follow any of the debate's actual dialogue as a result of constant interruptions. On Wednesday, the organization, which sponsors presidential debates, released a statement recognizing the need for "additional structure" during events held in the future.
"Last night's debate made clear that additional structure should be added to the format of the remaining debates to ensure a more orderly discussion of the issues," the statement read.
"The CPD will be carefully considering the changes that it will adopt and will announce those measures shortly," it continued. "The Commission is grateful to Chris Wallace for the professionalism and skill he brought to last night's debate and intends to ensure that additional tools to maintain order are in place for the remaining debates."
According to Morning Consult, voters opinions about whether moderators' should have the ability to silence candidate's microphones when necessary were similar across parties. Results showed 86 percent of Democratic respondents, 72 percent of independents and 60 percent of Republicans advocated for the procedural amendment.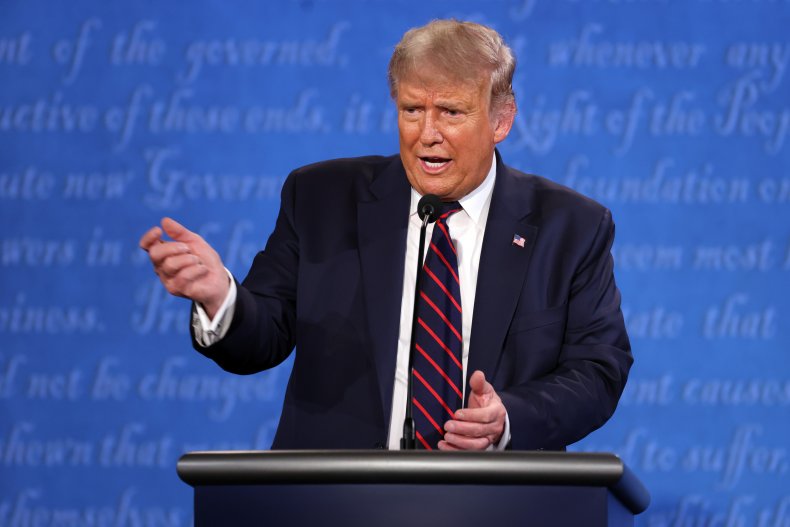 While slightly fewer voters said they would back new regulations that penalize a candidate for interruptions, that suggestion received support from the majority of survey participants as well. More than two-thirds of its respondents said imposing some form of consequence for interruptions is a good idea, while less than one-quarter said it was not. Another 12 percent of responses were neutral.
Tuesday marked the first of three debates between Trump and Biden in the final weeks leading up to Election Day. After next Wednesday's vice presidential debate, between Republican nominee Mike Pence and Democratic nominee Kamala Harris, Trump and Biden will reconvene on October 15 and October 22. The former debate will take place in Miami and the latter in Nashville, Tennessee.