Almost 90 percent of Americans Say They Want Grocery Stores to Place Buying Limits on Items
Item shortages, delivery wait times and social distancing guidelines have all forced shoppers to change their grocery shopping habits and beliefs.
A new survey conducted by C+R Research, a Chicago-based markets insight agency, found that 89 percent of American shoppers believe limits should be placed on grocery store items.
This may have to do with recent shortages. Many shoppers have gone to the grocery store for commonplace goods like toilet paper, yeast and even meat only to return empty-handed after others have taken to hoarding things they fear running out of.
With 88 percent of consumers unable to find items they normally buy, shoppers say that grocery stores should do more to limit the number of items that can be purchased. However, of the 2,000 people surveyed, 46 percent also admitted to buying in bulk.
Desperation to find and purchase essential groceries has also led to an increase in spending and decrease in brand loyalty. Almost half of consumers found themselves paying more for items with average weekly spending up roughly 16 percent. As a result of limited options, more than three quarters of shoppers no longer go out of their way to find their favorite brand of food.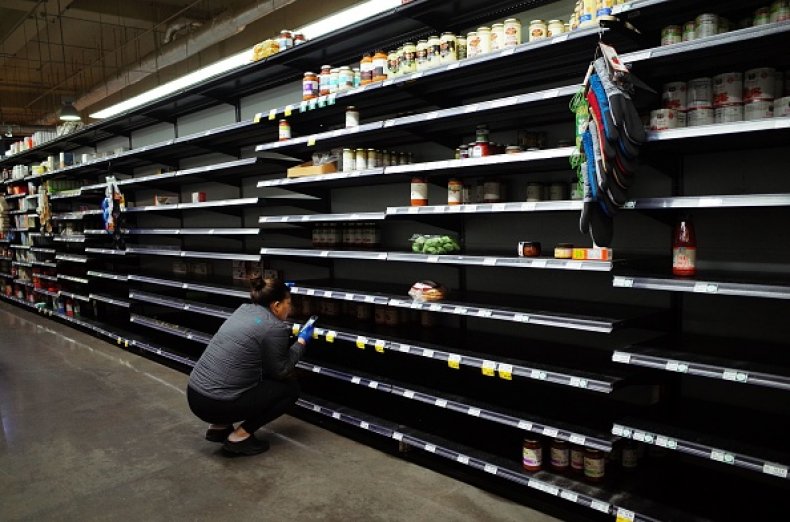 Fear of the new coronavirus, which has infected more than a million people in the U.S., has resulted in fewer in-person trips to the store. According to respondents, 73 percent are making fewer physical trips to grocery stores and 60 percent are fearful to shop at a grocery store.
Some Americans have quit in-person grocery shopping all together. Grocery delivery has increased three and a half times over pre-COVID-19 levels.
The sudden popularity in restaurant, meal-kit and grocery delivery services and apps have introduced new concerns over long delivery times and worker health and safety at companies like Instacart.
Grocery retailers have tried to add thousands to their workforce in hopes of expanding delivery slots and meeting the increase in demand. Last month, Eater New York, a food news site, described scheduling a delivery from big-box grocers "nearly impossible."
Even after Instacart's 300,000 new hires, the company has announced plans to bring on an additional 250,000 workers "in an effort to get back to same-day delivery across our platform," Instacart said in a blog post on April 23.
Among both in-person and online shoppers, food consumption has shifted. Forty-seven percent of consumers said they have changed their diets and eating habits since the pandemic. Almost half of respondents reported that they were eating more processed foods, and 36 percent reported that they were eating less produce.
Although eating habits may go back to what they were before food item shortages, the survey found that, "27 percent of respondents said they plan to continue to use grocery delivery apps once the pandemic is over and life returns to a state of normalcy."