Nearly half of Americans say they have no confidence in President Joe Biden to effectively deal with China, according to a new poll.
Conducted by Pew Research Center, the survey found 46 percent of Americans saying they lack confidence in Biden's ability to negotiate with the Asian country.
The percentage of Americans who said they have no confidence in Biden to deal with China was the most across several other foreign policy issues. According to the poll, 32 percent said they have no confidence in the president's ability to improve relations with the nation's allies, while 39 percent said the same for Biden's ability to effectively deal with the threat of terrorism.
The study also found that a majority of Americans—70 percent—say that the U.S. should work on promoting human rights in China, regardless if it harms economic relations between the two countries. On the other hand, 26 percent said that the U.S. should focus on strengthening economic ties with China, rather than human rights.
Pew Research Center surveyed 2,596 U.S. adults from February 1 to February 7.
Under former President Donald Trump's administration, the U.S. became the first nation to officially declare China's treatment of Uighur Muslims an act of "genocide." Shortly after this declaration, Biden's secretary of state, Antony Blinken, said he agreed with the designation that China has committed genocide against the Xinjiang region Uighurs.
The poll's findings come shortly after the Biden administration released a new strategy document outlining how it plan to approach dealings with China. The 23-page document, titled "Interim National Security Strategic Guidance," details how "America, not China, sets the international agenda."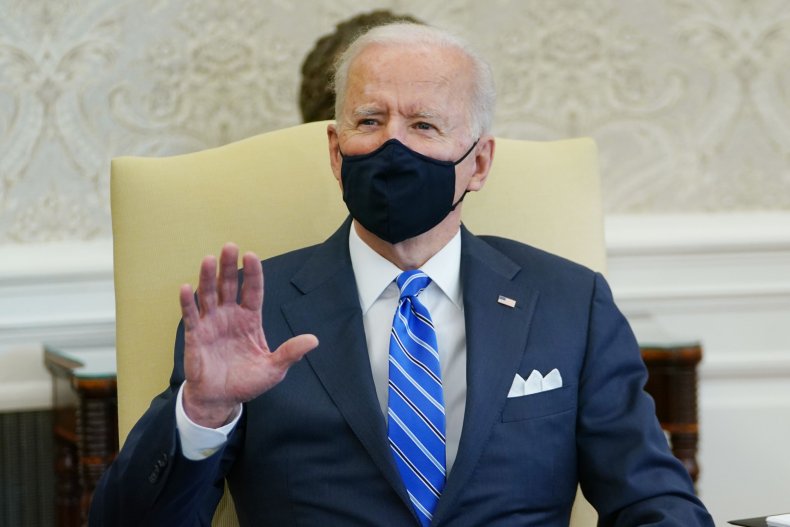 "The most effective way for America to out-compete a more assertive and authoritarian China over the long-term is to invest in our people, our economy, and our democracy," it read. "By restoring U.S. credibility and reasserting forward-looking global leadership, we will ensure that America, not China, sets the international agenda, working alongside others to shape new global norms and agreements that advance our interests and reflect our values."
"By bolstering and defending our unparalleled network of allies and partners, and making smart defense investments, we will also deter Chinese aggression and counter threats to our collective security, prosperity, and democratic way of life," the document added.
The White House directed Newsweek to the aforementioned document after a request for comment.
Prior to the document released by the White House, Blinken also spoke about the relationship between U.S. and China during a press conference on Wednesday, calling it "the biggest geopolitical test of the 21st century."
"Our relationship with China will be competitive when it should be, collaborative when it can be, and adversarial when it must be. The common denominator is the need to engage China from a position of strength," said the secretary of state.