Almost Half of Americans Think Life Won't Return to Normal Until 2021 or Beyond: New Poll
As the coronavirus outbreak continues to affect every aspect of national life, nearly half of all U.S. adults say their lives won't return to normal until 2021 or later, according to a new poll.
The poll, which was conducted by CBS News/YouGov, surveyed 2,000 U.S. adults from May 11 to 13. The margin of error was plus or minus 2.7 percentage points.
According to the survey, 48 percent of Americans said life won't return to normal in the next year or longer. Twenty-eight percent said they believe this will happen in the next few months, while 11 percent said in the next few weeks.
The 48 percent is a considerable increase from the response in a previous CBS News/YouGov poll, conducted in March, which showed 22 percent of Americans feeling the same way, while 47 percent said they believed life would return to normal in the next few months. As the number of coronavirus cases continues to grow in the U.S., these views have shifted to reflect a much longer timeline for a return to normalcy.
The new virus has infected over 1.3 million people in the U.S., forcing many states to impose social and economic restrictions to stop the spread. States have closed down businesses, schools, gyms and parks, and residents have been told to stay at least 6 feet away from each other in public and urged to wear protective face masks.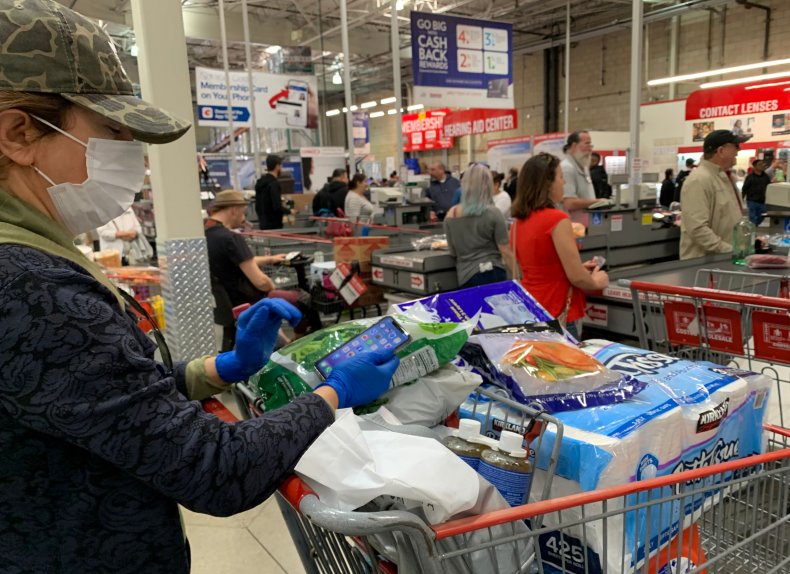 In an effort to revive their economies, a number of states have allowed businesses to reopen but with strict guidelines, including a constraint on maximum capacity to avoid creating crowds.
The new poll found that a majority of Americans, 56 percent, think they won't be comfortable in crowded places until after a vaccine or treatment is developed and readily available. For 45 percent, that will happen after medical professionals say it is safe, while 36 percent said contact tracking or tracing programs need to be in place first. Twenty-one percent said they are comfortable being in a crowded place right now.
Despite decisions in many states to start reopening, the poll found that 65 percent of U.S. adults feel the top priority should be staying home and slowing the spread of the virus. On the other hand, 35 percent said the first priority should be getting residents back to work and reviving the economy.
These findings were split when the poll looked at political party affiliation. Eighty-eight percent of Democrats said the country's top priority should be staying home and stopping the spread, compared with 62 percent of Republicans saying the opposite.