Almost Half of Louisiana's New Coronavirus Cases Are People Under 30
Nearly half of Louisiana's new cases of the new coronavirus reported on Monday were people under the age of 30, according to the southern state's health department.
Louisiana confirmed 846 new cases of the virus on Monday, showing a notable uptick in the state's testing positivity rate compared to the first half of June. The single-day positivity rate stood at 9.9 percent, whereas the average hovered below 6 percent during the first two weeks of the month. The overall positive testing rate now stands at 8.1 percent.
Additionally, the state's health department noted that 46 percent, or almost half, of the new cases were people aged 29 and younger. Nearly all of the new cases, or 96 percent, were credited to community spread.
A spokesperson for the Louisiana Department of Health told Newsweek that it is concerned about the uptick in new cases.
"We are concerned about the increasing number of COVID-19 cases, particularly among people 29 and younger, which is the largest group experiencing new case growth in Louisiana," the spokesperson said.
"It is critical for everyone to wear masks when out in public, avoid crowds and stay home if we are sick. Anyone experiencing symptoms of COVID-19 should get tested and self-quarantine until they receive those test results."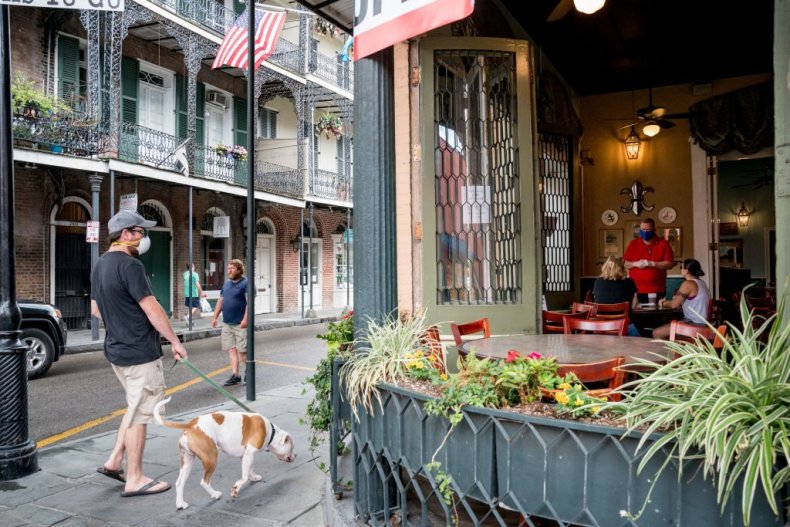 Louisiana Governor John Bel Edwards, a Democrat, signed a new executive order last week that prevented his state from moving to Phase 3 of reopening as was originally planned. "Our case growth is more than can be fairly attributed to the growth in testing," Edwards cautioned.
The uptick in new cases has come as multiple states across the country have seen surges in infections. At least 14 states, including many that were early to reopen, have paused their reopening plans, while several have re-implemented some former restrictions. Florida and Texas, which have seen some of the largest spikes in new cases, have ordered bars closed. California also ordered bars closed in several hard-hit counties.
Public health officials and lawmakers have begun urging younger Americans to take the pandemic and social distancing guidance more seriously, as their demographic has seen a significant surge in new cases over the past few weeks. Vice President Mike Pence said that half of the new cases detected in recent weeks have been among adults under the age of 35.
"Younger Americans have a particular responsibility to make sure that they're not carrying the coronavirus into settings where they would expose the most vulnerable," Pence said during a weekend White House Coronavirus Task Force briefing.
Younger people appear to be at lower risk of death or serious complications stemming from the coronavirus. However, pre-existing conditions such as heart disease, diabetes and obesity appear to increase the risk of serious complications. Public health officials are particularly concerned about younger Americans unwittingly spreading the virus to elderly family members or friends, who are significantly more likely to die or fall into critical condition if infected.
The U.S. continues to be the country in the world with the highest number of confirmed cases of the coronavirus, as well as having the highest death toll. As of Monday afternoon, the country had more than 2.5 million confirmed cases and has seen nearly 126,000 deaths. Last week, the U.S. set a record for a single-day increase in new cases, with 45,498 infections reported on Friday.